A couple of years ago, I was at an outdoor sporting event in the Boston area and over the course of a May afternoon, the weather went from baking sun, to near-gale-force winds, to torrential downpours, and back to hot sun. The athletes and audience were able to run for cover or slather on sunblock, but what didn't get any relief from the weather extremes were the outdoor graphics, which actually held up better than some of us in the crowd.
It seems like I say this in every story, but today's digital printing technology has greatly expanded the ability to print a wide variety of materials for outdoor use. Signs and banners are conspicuous forms of outdoor signage, but the market for one particular niche application has grown since many locations recovered from the real estate crash: construction site graphics. For example, if you have been to New York City recently, you know that construction sites abound in nearly every part of the city, and those sites are valuable advertising space, especially for the owners of the property who are looking to rent or lease units within ("Coming soon! Luxury apartments!"). Not every location is seeing such a building boom, but these kinds of sites can also serve as advertising space that can be sold, if municipal laws allow it.
One-time outdoor events like sporting events, festivals, and the like also have high demand for temporary outdoor graphics that promote the event, offer information, and—most importantly—promote event sponsors.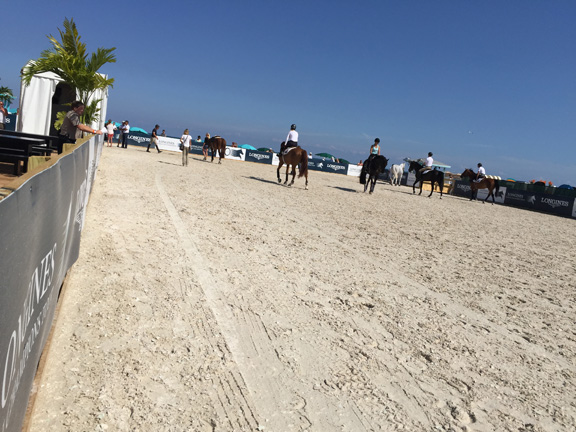 Miami's Impress DC Media specializes in outdoor graphics, such as those the company produced for the Global Champions Tour, an equestrian show-jumping event held in Miami Beach last April.
Regardless of the form outdoor graphics take, there are certain special considerations that must be born in mind when producing them, and especially when choosing the equipment and related consumables that will be used to produce them. Some of these considerations are obvious, some less so.
For example, take the weather (please!). Being able to withstand exposure to ultraviolet light—i.e., the sun—is perhaps the most important consideration. We've all seen what happens to prints that are not UV-resistant; they fade. If it's temporary graphics (it'll be up for only a few hours, like a one-day event), or will only be displayed at night, that may not be a big deal. But if it's intended to remain exposed to sunlight for any prolonged period of time, it will require a dye-sublimation or UV ink, although coatings can be applied to less UV-resistant materials to impart protection. And just as we are always warned in the summer that you can get a sunburn on a cloudy day, the same goes for weathering of display graphics.
Rain—and, as our friends in New England can attest, snow—are also obvious weather considerations, so graphics need to be waterproof.
One weather condition that seems obvious, but is often given short shrift, is wind. A good, howling wind can play havoc with outdoor graphics. Both rigid and flexible materials can be damaged or torn off, and depending on the magnitude of the wind, can even cause damage to other objects—and can even injure people. This isn't just an issue for whoever is doing the installation of the graphics; fabric banners with poorly sewn or reinforced hems or pole pockets can become detached from the mounting hardware. For street displays and building wraps, often a type of mesh is used, which has tiny air holes that let wind largely flow through the holes and create less of a force against the surface of the graphic. As we'll see below, sometimes air holes are incorporated into the design of rigid outdoor graphics.
It's not just the weather that can damage outdoor signs. Vandalism can also be a consideration, and not just in cities. Signs can be stolen, and of course they can be tagged with graffiti. Anti-graffiti laminates are available that allow the offending paint to be cleaned off relatively easily.
Generally, the outdoor conditions that any given sign will be exposed to will be a function of your geography and the time of year the signage will be displayed. If you are producing outdoor graphics in Arizona in July, you probably don't need to worry about snowstorms. At least not right now, anyway.
One company that has forged a niche in outdoor graphics—among other types of display printing—is Impress DC Media, based in Miami, Fla. The company had an interesting trajectory; Impress was formed 22 years ago to produce digital printing for fashion models, specifically, 5.5 by 8.5-inch "calling cards" that included a head shot and other salient information that models and their agents used to get work. As you can imagine, quality was job one. "Any imperfection in the output and we'd hear about it from the models and their agencies," said Michael Dean, a partner at Impress DC Media. The modeling industry doesn't print much anymore—head shots are now online—so the company began expanding into other markets like real estate. Twelve years ago, they added a wide-format division called DC Media to handle trade show graphics and other displays, specializing in outdoor graphics. This summer, the company has been in the process of merging the two divisions together under the joint name Impress DC Media.
Last spring, Impress DC Media produced all the outdoor graphics for the Global Champions Tour, an equestrian show-jumping event held in Miami Beach and televised on ESPN, and the Formula E Championship in Miami, an electric car racing event. For the latter, Impress DC Media produced directional signage, as well as on-course graphics such as speed limits.
One of Impress DC Media's biggest customers is the Miami Design District, an art, fashion, and luxury shopping destination comprising high-end retailers like Gucci. It covers a 12- to 15-block radius, and much of the District is still under construction, so Impress DC Media produces the construction site wraps and barricade covers "to make the place beautiful for high-end customers," said Dean. The graphics also indicate what retailers have set up shop in the District. New spaces are constantly being sold, so graphics are always being swapped out. "We put up a sign made of aluminum composite panels run on the [HP Scitex] FB700, overlaminated with anti-graffiti film," said Dean. It's a modular approach that suits the ever-changing nature of the location.
Impress DC Media produces the outdoor graphics for the under-construction Miami Design District.
Like other specialty graphics printers, Impress DC Media is seeing fabric become more popular, especially for outdoor events. "Customers like the look and feel of the fabric," Dean said. He is on the hunt for a better way to print on fabric. He currently uses HP Latex for very-short-term (i.e., a few hours) fabric outdoor graphics, and an HP Scitex FB6100 UV printer for longer-term displays. "That'll last longer outdoors, it's soft, and doesn't glare like a banner," said Dean. "Outdoor durable fabrics are what our customers are asking for, so it's our constant search to find better products." He is considering dye-sublimation, but is reluctant to go that route for cost reasons.
Other non-fabric substrates are also hot items.
"Perimeter fences for construction sites, and the aluminum composite panel printed with the UV inks with anti-graffiti overlaminate are very popular now," said Dean. "The customer pays more for the product up front, but they save in the long run because they don't have to reprint. We've done quite a few projects with those. It has wind holes that were integrated into the design, for high-wind areas. It looks amazing, and we've received a lot of compliments."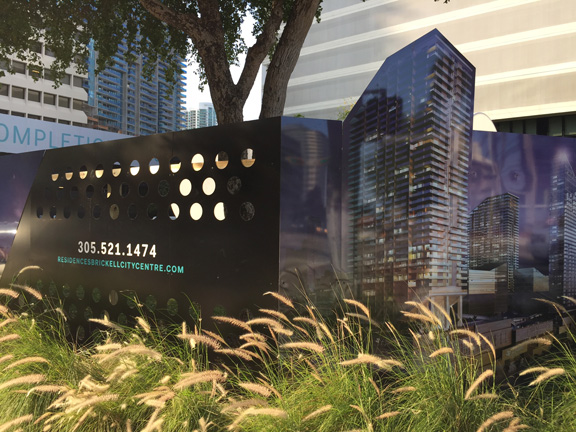 Impress DC Media print aluminum composite panels on an HP Scitex industrial UV press, adds an anti-graffiti overlaminate, and has air holes integrated into the design to protect against wind damage.
The anti-graffiti laminate has also opened up the opportunity for a not very pleasant, but possible, value-added service: sign maintenance and upkeep.
"The customers are responsible for cleaning off the graffiti, it's outside our scope," said Dean. But, he added, "if they need it done, we'll do it. For one customer, we put up some vinyl graphics on a wood barricade in the Design District and they paid us $100 a week to keep an eye on the graphics and make sure nothing happened to them." It's not a task they deliberately offer, but it's sometimes a part of being a full-service provider.
For Impress DC Media, putting ink on a substrate and making it look good is the easy part, but the devil is in the details. Especially with construction site graphics, specing out the job carefully at the very beginning of the process—and rechecking those specs—is the key to making those kinds of projects work.
It's the old rule of thumb in carpentry.
"Measure twice and cut once," said Dean. "Measuring once and reconfirming your measurements is the key to getting it to look good. If it's an active construction site, things can move or the fence can shift." So Dean's team goes back out and reconfirms the dimensions before hitting Print. "That saves us a lot of headaches later down the road."