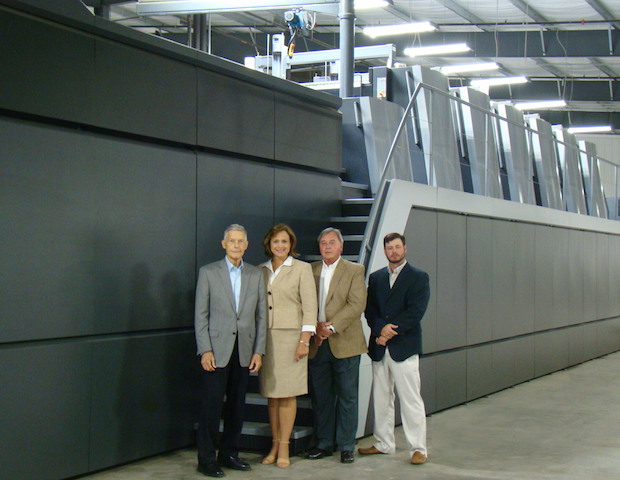 Three generations of leadership at Prystup Packaging Products, from left: J.Leslie Prystup, chairman of the board; Leslie Prystup Emory, CEO; James Emory, president; Jeff Emory, executive vice president. Behind them is the company's Heidelberg Speedmaster XL 145 sheetfed press.
Successful family-operated printing firms grow the same way strong families do: by being patient, disciplined, and focused on assuring the good of all concerned over the long haul. At Prystup Packaging Products, these family values are the bedrock principles of a business strategy that has driven growth for 34 years and is now propelling the company to the next level of competitiveness in the folding carton segment.
That will be fully achieved when the family managment team finishes equipping a very large format (VLF) sheetfed offset press the company installed last year to keep up with demand from its customers, many of which are Fortune 500 consumer product goods companies. The press, a Heidelberg Speedmaster XL 145, is the newest addition to an infrastructure that comprises four facilities and 330,000 square feet of space in the west central Alabama cities of Livingston and Demopolis. This complex currently generates about $30 million in annual sales and employs 126 people.
The core competency at Prystup Packaging Products is paperboard folding cartons and related items for consumer markets including fast food, snack food, electronics, health and beauty aids, and over-the-counter pharmaceuticals. Leslie Prystup Emory, CEO, foresees growth in all of these segments but knows that ground rules have changed for the printers and converters that serve them.
This is the result of major shifts in end-user behavior that bring about corresponding changes in production norms at companies like Prystup. "We're dealing with a new kind of consumer," Emory says. "They are the brand." She explains that because today's shoppers want to be identified with the products they buy, they can be "fickle" in selecting them. This means that the producers of those goods—Prystup's customers—will insist on new levels of flexibility, efficiency, and economy from print service providers as they try to retain loyalty with their branded packaging.
The "Excellence in Partnership" award that General Mills bestowed on Prystup in 2013 signals the family's understanding of what brand owners now expect. Emory says the recognition was given after a project to optimize the structural design of several of the food giant's packages. These improvements saved the customer $900,000.
Hitting targets like these can be done only with the help of the most efficient production equipment and supporting systems. The company believes it has the necessary prowess in pressroom with the Speedmaster XL 145, a six-color, aqueous coater-equipped machine with a 40.94" x 57.09" maximum sheet size. The Speedmaster XL 145 is a high-capacity press built for long runs, but it also has automation features that let it economically produce the kinds of reduced-volume work that nearly all packaging printers and converters now are having to deal with.
Emory estimates that the press, delivered last April and in commercial operation since the end of 2014, is now functioning at about 70% of full production capacity. She expects to bring the press all the way up to the mark once it has been outfitted with an additional peripheral system from Heidelberg (installation of this component is to take place in the fall). The press is equipped with Prinect Inpress Control, an inline sheet inspection system that uses cameras and software to report and correct color and register deviations detected during the run. Operating in support of the press are a VLF platesetter and a 145-cm. diecutter.
It's taken for granted everywhere in the industry that when a new, ultra-modern press comes in, older, less productive equipment will go out. At Prystup, the extent of capacity replacement has been dramatic. Emory says that even at 70% of what it can do, the Speedmaster XL 145 still has been able to take over nearly all of the work that used to be done by a pair of 40" presses operating on three shifts. She believes that the high efficiency of the Speedmaster XL 145 will be key to cultivating new packaging product opportunities that Prystup wants to explore, such as blister cards and laminated top sheets for corrugated cartons.
The company also is preparing for a major upgrade to its business management systems. Emory says that because volume growth has outstripped the capability of existing internal workflows, the time has come to augment Prystup's MIS with an enterprise resource planning (ERP) component. This is to be a combination of existing software, some new modules, and pieces that will be custom-developed. If all goes according to schedule, transition to the expanded system will begin in mid-July.
Prystup does not print digitally now, but in time it probably will. Emory says that she has been doing her homework about digital presses for packaging and has looked at least one model that would be a good fit. Her goal is to diversify both to meet the needs of her customers and to underpin the long-term security of the company. "I don't want to be cornered into one market or one capability," she says.
Given Prystup's roster of Fortune 500 CPG accounts, there's no surprise in finding that sustainability is one of the company's overriding objectives. Emory says that far as these customers are concerned, sustainability is a manufacturing process that the company is expected to continuously improve—just as it would strive for better performance in waste reduction or cost control.
To this end, Prystup uses recycled stocks for 90% of the work it prints. Chain-of-custody certification from the Forest Stewardship Council has been in place since 2011. The buildings have features for minimizing energy and water consumption, and deliveries are coordinated to reduce consumption of fuel.
Last year, Prystup built a 90,000-sq.-ft. facility at its Livingston site to house the Heidelberg VLF press, and Emory says that the family are "still catching our breath from this latest expansion." But, no moratorium has been placed on growth. A succession plan is in place, third-generation family members are on board in key positions, and talent is company-wide. "Competence is a given with our employees," Emory says.
Much has changed since her parents, Les and Kathryn Prystup, put off retirement to form a nucleus for the $30 million, multi-location company that exists today. Emory is confident that as long as family members remain at the helm now and in generations to come, the story will get even better.
"The future can pretty much be whatever they want it to be," she says. Today and tomorrow, the key to achieving success in the folding carton business is to go on believing that "if we do it right, it's always out there somewhere for us."