This article is sponsored by HP's Graphics Solutions Business unit.
EPS was founded in 1992 and merged with France-based Doublet in 2002. Its North American operation employs 80 people and generates approximately $15 million in annual revenues. The company began in the large format space, but added small format with the acquisition of Think Big two years ago. EPS Doublet has a broad production portfolio designed to meet a wide range of customer needs, including:
HP FB700 and FB6100 Printers; HP LaserJet XL5100; and two HP DesignJet Z6100 wide format printers
HP Latex 3000 industrial class latex roll-to-roll printer
HP Indigo 5600 Digital Press with white and infrared inks
A variety of dye sublimation printers for printing on textiles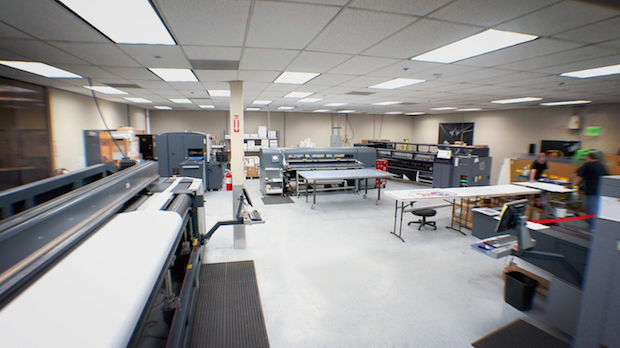 "Our business is booming," says Jon Leasia, President & CEO of EPS Doublet, "and we needed to upgrade some of our older equipment. We had an HP Latex 850 Printer, and both we and our customers were sold on Latex. So we chose to move to the HP Latex 3000 to gain more capability and throughput speed and take advantage of a broader color gamut. The same was true of our HP Indigo 5000 – HP has made significant advances in the Indigo line, and we wanted to take advantage of them, most specifically white and infrared inks and the ability to print faster and more cost effectively using its Enhanced Productivity Mode for CMY printing. That's why we chose to upgrade to the HP Indigo 5600."
Experiential Marketing
EPS Doublet is the official graphics provider for a wide range of high-profile events. Most recently, the company has supported more than 750 bike and walk events for the National Multiple Sclerosis Society across the country with graphics, bibs, helmet numbers and "I Walk For" pin-ons. For the 2015 New York City Marathon, EPS Doublet produced enough signage and graphics to cover 3-1/3 football fields. The company also supported both the 2010 and 2012 Olympics with indoor and outdoor graphics.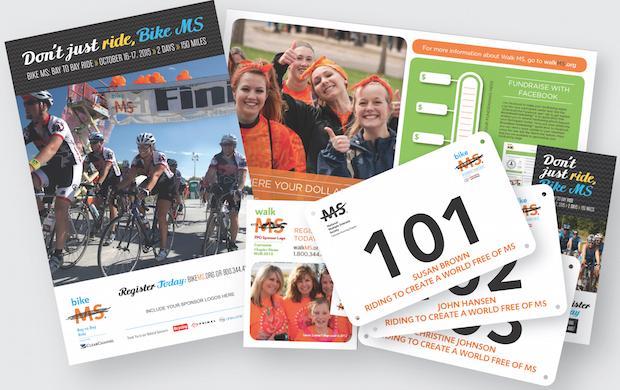 Other experiential events included a special event promoting Miami tourism with an "It's So Miami" theme; Acura Prism displays at the Sundance Film Festival; vehicle wraps and large, three-dimensional graphics for Mountain Dew Kickstart; the World Alpine Ski event in Vail; and a variety of outdoor graphics for the Pepsi Real Big Summer Carnival. EPS Doublet also counts among its clients the largest golf instructional chain in the country and the largest Yoga chain in the country.
"Our HP Latex 3000 was a champ at turning out signs, banners, backlits, wraps and more for these events," Leasia says. "With the addition of the HP Indigo 5600, we were also able to produce two-sided window clings, which we had to outsource before, and add security-based credentials to the mix. These were both extreme value-added applications for our clients and drew in new revenue streams for us."
The company has also turned its capabilities and creativity to the production of outstanding trade show graphics, retail point-of-sale displays and fast-food signage for a wide range of clients as well as wall coverings for events, airports, hotels and for corporate interior branding. "Many organizations are particularly attracted to our Latex printing capability," Leasia says, "since it carries the Green Guard Certification. It has no VOCs, and it is certified for hospitals, restaurants and day care facilities. This is something great we can brag about. It makes us and our customers better environmental stewards."
New Business – New Revenues
EPS Doublet has been able to add new offerings to its already broad portfolio and improve its cost base as a result of its most recent printer acquisitions. "We have migrated about 50% of our Indigo work to the Enhanced Productivity Mode CMY printing model," Leasia explains, "That saves both time and ink without any compromise in quality. The white ink capability has been great for improving the quality of backlits and enabling production of two-sided window clings, and we will be looking at how to leverage white ink on dark substrates moving forward. We have also been able to add event credentials to our list of offerings using infrared ink as a security measure, applied in one pass to the outstanding graphics demanded for these often-keepsake items."
Participant bibs and other participant identifiers, such as "I Walk For" pin-ons and helmet numbers, are also in the EPS Doublet offering mix. "Many of these are produced on Tyvek or other synthetic materials that cannot withstand the heat of traditional toner-based digital printers," Leasia comments. While printing bibs for events sounds easy, Leasia explains that the variable data aspects can be quite complex. "For example," he says, "the top 100 fundraisers might have special graphics on their bibs or helmet number labels, and we have to keep all of that straight while maintaining an efficient workflow."
Productivity is Key
EPS Doublet has put significant thought and effort into establishing an efficient workflow for its wide range of products and client services. "Our Marketing Resource Management (MRM) solution is based on PTI's MarcomCentral," explains Shawn Allison, EPS Doublet's CMO. "About 65% of our HP Indigo work comes through MRM, which uses templates to ensure that the production file has all attributes assigned at the time of template creation. Color correction, imposition, fonts, graphics and resolution are locked into the base art templates. If the user uploads an image or a database to the template, the system manages resolution and placement of the VDP. High resolution imposed files are delivered to hot folders for printing on the HP Indigo 5600 as well as our HP Latex, flatbed and UV printers. This eliminates the need for additional proofing and streamlines the production process, reducing mistakes and touches along the way." Allison reports that 15 franchise organizations are set up on the company's MRM system.
The company uses HP SmartStream Designer for complex variable data, including imposition and file set-up for work destined for both the HP Indigo and its fleet of HP wide format printers. "Files flow direct from clients or through preflight with Esko Automation Engine, and then to SmartStream for production on the Indigo or wide format," Allison explains.
The Future is Bright
With its newly refreshed production platform, EPS Doublet is on the path to continued revenue growth and is excited about the new capabilities that will allow the company and its customers to unleash even more creativity and innovation.