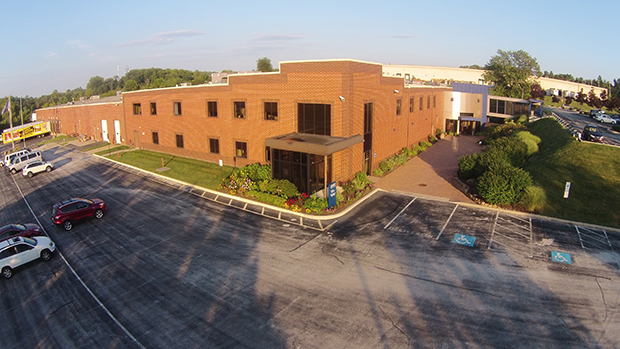 ANRO Communications in West Chester, PA
ANRO Inc. began in 1953 as a secretarial and duplicating service founded by Rose Rossi. Over the years, the company has reinvented itself numerous times and has grown into a well-respected provider of printing and communications services ranging from commercial, wide format and packaging printing to digital communications, direct mail and inventory/fulfillment services.
Paul DeSantis, Director of IT, was seeking a way to add production inkjet printing to the company's production portfolio. "We knew we needed to move in that direction," he says, "and we had been watching the market for some time. But for our business, there were two key and related limitations that made production inkjet printing a challenge. Most of the presses on the market were designed for lower coverage transactional and publication printing on uncoated stock, and that fit a very small percentage of what we do. We needed to be able to print on coated stock. The second challenge was drying capacity – if coated paper is on the table, we need to be able to dry it without slowing down the press speed."
By 2012, according to DeSantis, the stars were aligning in terms of print speed, press reliability, substrate flexibility, and costing. "We re-analyzed everything," he says. "Each player had different value propositions, but after our analysis, we felt that HP had done the best job of addressing the needs of the commercial print marketplace." In that same timeframe, he notes, the volume of installed production inkjet presses began to grow to what could be considered critical mass, so paper mills were paying more attention and investing in the development of more inkjet-optimized stocks, included coated papers.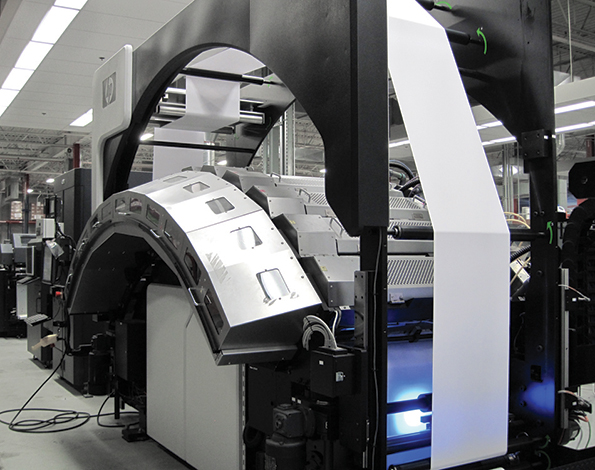 HP T300 Inkjet Web Press at ANRO
In February 2012, ANRO installed an HP T300 Inkjet Web Press with a 30" MBO finishing line. "We still had concerns about drying capacity," DeSantis says, "and those concerns proved to be valid with standard drying capability, which was still significantly more drying capacity than anyone else had. However, we were able to work with HP to boost drying capacity by 30% on each dryer." Prior to this modification, ANRO was running coated gloss stock at about half speed. Once the dryer modification was installed, he says, "Our dream of running coated gloss stock at full speed, 400 feet per minute, came to fruition."
Begin at the Beginning
Since ANRO produces a significant volume of highly personalized printing, the company faced another challenge in the form of RIP speed. "That was another part of my due diligence process," DeSantis adds. "Again, since the early entrants in this space were largely focused on transactional/publication printing, the digital front ends (DFEs) were challenged by the types of files we need to process. HP demonstrated a path forward for RIP expansion that gave me a level of comfort in choosing them as a partner."
When ANRO upgraded its drying capacity, it also upgraded to the T300's top tier RIP. "This is the pinnacle of performance," DeSantis says. The value was proven for a particularly challenging repeat job of 1.5 million pieces, highly personalized with different images for each person, and 13 pages of logic. "With previous levels, we had to break the job down into chunks of 50,000 records, meaning as many as 70 different files. Each took 68 minutes to RIP, and not only that, but I could not start the next one until the previous was finished. Now I can RIP the entire job in 7 minutes!"
Vertical Integration
Another aspect that was important to DeSantis was vertical integration on the part of the manufacturer. "I wanted to be sure that the press, software, heads and ink were all developed by the same manufacturer," he explains. "I spent a significant amount of time with another manufacturer during due diligence, and we got to the point where we felt we had overcome all of the challenges. But, when I asked about the path forward on the next generation of print heads, they were unable to answer effectively since they didn't control that part of the process." DeSantis was especially excited about the upcoming availability of new HDNA (High-Definition Nozzle Architecture) heads that ANRO will be able to install in its existing press. "This is validation of HP's path forward claims, and the ability to field upgrade is extremely important," he says. "Knowing that we can move to that new print head and architecture is comforting. The last thing you want to do is buy a new press and have to replace it in six months because it is not field upgradeable."
The Results
After installing the HP T300, ANRO was able to transfer a significant volume of work from offset and toner-based digital presses as well as to capture new work. "We have even been able to recapture a significant customer whose volume we had no longer been able to handle," he says. This customer had been sending jobs of 200,000 to 1.5 million pieces. "We had no problem handling that," DeSantis explains. "But then they told us they wanted to send jobs with 4.5 to 8.5 million pieces with the same window of production! If we could even have accommodated that work, it would have taken over the entire shop. Now that we have the HP T300, we have been able to recapture a portion of that work, and in fact, that was the work that drove the inkjet acquisition."
ANRO has also been able to bring back in-house internal newsletters for several retail clients that had been outsourced to a web offset house. "Those are printed on 27- or 30-pound groundwood stock that was not suited to our equipment, but with the T300, we are able to run them in-house. Even better, we have been able to offer cost-effective versioning of these newsletters to personalize them by region, mall and store. This was simply not affordable on web offset due to the high number of black plate changes required."
"If you want to play with the big boys, you have to have the right devices," DeSantis concludes. "With our HP T300, we are in that sweet spot. We're excited about the future for ANRO and for our customers!"