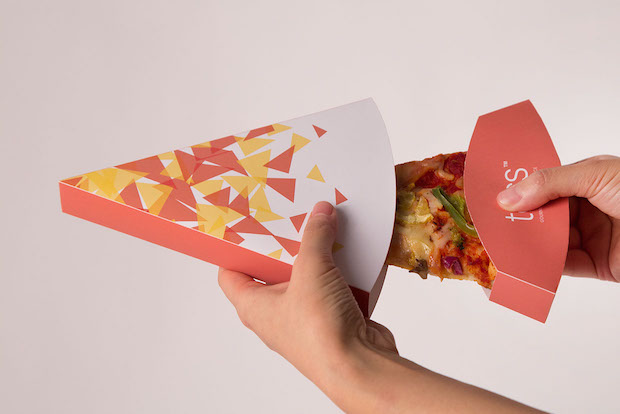 As packages go, pizza boxes typically don't inspire a lot of design creativity. The graphics on many of them seem to consist of the same generic image of the mustachioed chef, and seeing any printed in more than one color of ink is the exception to the rule. Structurally, they're the targets of even less innovation—after all, what does a pizza box have to be besides flat, flip-lidded, and square?
Yinan Wang,a graduate student at the Maryland Institute College of Arts, decided it was time to toss away old ideas about what can and cannot be done in the design of pizza boxes. "Toss," in fact, is the name she has given to her reimagining of this mundane container. It's a concept that may make it hard to think about take-out pizza boxes in the same way again.
The Toss box is as circular as the pie it holds and, like the pie, consists of eight "slices." Each slice is a sub-container that also acts as a serving utensil for the piece being eaten. A pull-out holder surrounding the arc of crust lets the pizza be enjoyed without getting grease on the fingers. The slices are easier to store in the fridge than a conventional box, and they can be printed with nutritional information on the back.
It's a brilliantly original approach that proves design inspiration can be wherever you want to look for it in the packaging world. The affordability of a container like the Toss box for the average pizza parlor is another matter. And, some pizza lovers might find the neatness thing a bit fussy: isn't folding the slice and accepting the grease part of the fun of gorging on a pie in the first place?
Ms. Wang isn't the only one caught up in the pizza-box aesthetic. In New York City, a fellow named Scott Wiener has collected 750 distinctive pizza boxes from 50 countries. They're anything but generic, and Wiener has written a book about how "weird and wild" in appearance some of them can be.
On Long Island, Freeport Paper Industries custom-designs pizza boxes and prints them by the millions. Some pizza places delight their customers by drawing to order on the boxes. Who knew they were an underappreciated art form? Savor the visuals, and never mind the grease.