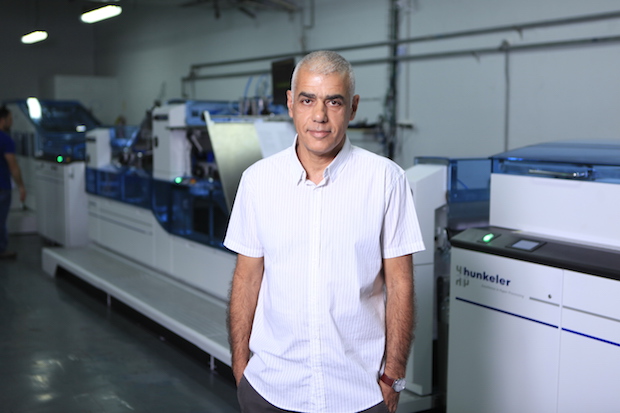 Gaby Duer, General Manager and Owner Cordoba Printing & Binding
At Hunkeler Innovationdays in Switzerland earlier this year, I had the pleasure of meeting Gaby Duer, General Manager and second-generation owner of Cordoba Printing & Binding of Israel. At the time, Kodak was celebrating his purchase of a Kodak PROSPER 1000 monochrome production inkjet press. Now the press has been installed, and Gaby shared with us his experiences with inkjet and the benefits it is bringing to his business.
Cordoba was founded in 1965 by Gaby's father and will be celebrating its 50th anniversary at the end of this month. The company was founded as a book bindery and is still the largest trade bindery in Israel. In addition to books, Cordoba also perfect binds many of Israel's monthly magazines that are printed elsewhere on offset web presses. Monochrome printing services were added with two 40" Heidelberg perfecting presses, and the business prospered.
Making the Inkjet Decision
However, Gaby had his eye on the future, and at drupa 2012, started investigating how production inkjet might add value to his business. Then, about 18 months ago, Israel began the process of enacting a new law, commonly known as the Book Act or the Authors' Act, that was set to dramatically change the book printing landscape.
Gaby explains, "In Israel, books were only being sold at deep discount prices. If a book's list price was ?99 (Israeli shekels), it might be sold at ?25. People literally bought books by the pound. This was good for readers, but not so good for publishers and authors. On February 6, 2014, the Law for the Protection of Literature and Authors in Israel went into effect. It prevents books from being sold at a discount for the first 18 months after publication."
As this law was making its way through the process of finalization, Gaby knew that it would have a severe impact on his offset printing operation, since it was expected to reduce the volumes of books sold, and thus, the run lengths publishers were willing to produce. He adds, "A larger publisher might have printed 5,000 books before if they thought the title would be popular, but now the first printing is more likely to only be 2,000 for a book the publisher believes will sell well. For other books, a first printing might be as low as 1,000. This has resulted in a 60% to 70% reduction in volume for black & white book printing and made it inefficient for some titles to be produced using offset printing."
Gaby reopened his production inkjet queries, traveling extensively to visit installed book printing sites with equipment from a variety of vendors. "I wanted to see the presses in action and speak with their owners," he says.
Ultimately, Gaby decided to acquire the Kodak PROSPER 1000 monochrome production inkjet press. "We created all kinds of spreadsheets and analyzed the data every which way," he says. "My advisors, who know nothing about the industry, came up with the most compelling reason for selecting the PROSPER press. Our analysis showed that a significant percentage of the books I produce are 8.3" x 5.3", and this size fits 3-up on the PROSPER web width of 25.5". This, combined with its more than 650 fpm (200 m/min) running speed, gave me significantly more throughput than I could get using a 20" web. Each press has its pros and cons, but ultimately they are all close in price and capability. The increased throughput was the ultimate decision factor for me, and to see the quality the press was capable of at that level of production made it all the more interesting." The analysis revealed that a competitive press would require two shifts just to break even on the equipment cost while the PROSPER breaks even on equipment cost in just one shift.
Another benefit of the analysis was Gaby's decision to reduce the number of book sizes he offers, further improving productivity by taking more variability out of the system.
Finishing the Deal
Cordoba also needed to acquire a new finishing line to complete the digital book production system. After viewing the Hunkeler Modular Book Block Solution at Hunkeler Innovationdays, Gaby chose to implement it in his plant. "While this equipment can go inline with the press," he says, "I have chosen to operate it nearline for now, keeping an open mind about putting it inline later. Since most of our work is perfect bound, this equipment is ideal and has functioned perfectly."
Cordoba does produce hardcover books as well. "Especially religious books in Israel are produced in hardcover with sewn signatures," Gaby explains. "The Hunkeler will allow us to dramatically expand our ability to grow our footprint in the hardcover market."

The digital production space at Cordoba Printing & Binding
New Business
Of course, when making an investment of this nature, it is one thing to change the way you are producing current business, but it is always important to look at the opportunities for new business development.
"Once I had made the decision," Gaby says, "I started noticing a lot more printed items around me that could be produced on this press. For example, I purchased a couple of pieces of large equipment from well-known brands. The instruction manuals were copied onto A4 paper using what appeared to be an office copier and stapled in the top corner with an office stapler. This was not a good representation of the brand, and I knew I could offer something better and at a lower cost." Gaby has begun demonstrating what Hunkeler calls its Budget Bind, with the ability to glue bind documents of any size. "It's early days yet," he adds, "but I am getting good response to the concept and believe that this will be an area of business growth for me. This is something I would not have been able to offer without the PROSPER and my Hunkeler book binding solution."
The Results
Gaby's proactive move to invest in production inkjet has made a difference in his business, not only in the ability to attract new business by producing new applications, but to counteract the decline in both book printing volumes and run lengths. "Before the Book Act, we were producing about 4.5 million books per year," he says, "and now we are at about 3.5 million.
While Cordoba will continue to use its offset presses, Gaby sees digital as the growth part of the business. "Our crossover point from offset to digital can be as high as 3,000 units, so that obviously means we will be moving volume from offset to digital. But what is more interesting to me is how the PROSPER 1000 helps me better serve customers. There is still an education process required with publishers in Israel to help them understand the benefits of print on demand."
Gaby cites a recent job as a great example. "During the installation process," he says, "we had already planned all of the initial work and the press was going to be quite busy in the first few weeks. But in came a customer with an 800-page soft-cover book that he needed right away. He had heard about my new press and thought I might be able to help. At first I told him I could not meet his deadlines, but he hung around the plant during the installation, and we decided to run his book as our first job. Initially he wanted 1,000 copies, and I asked him why, explaining that I could run a few hundred, and he could come back for more when he needed them." "But Gaby," the customer said, "that means I might be back tomorrow or the next day asking for more copies!" Gaby explained that that is exactly the idea, saying, "If you print 1,000, you might not sell them all, and they will just sit in the warehouse. With our new press, you can print the 300 or 400 you need right now, and come back for more when you need them." That's exactly what happened … he came back in a couple of days looking for 400 more books, and they were produced for him in just 4 hours!
Another discovery for Gaby was the issue of reprints. "When you print the first 1,000 books on offset," he says, "the costs are higher because of the plates. But for reprints, when you already have the plates, the cost per unit goes down. Again, this was an educational process for my publishers, because I needed to help them understand that for reprints, they no longer had to order a minimum of 1,000. While there is a higher unit cost – sometimes as much as 30% --the benefit to the publisher lies in improved cash flow and less capital tied up in inventory. In addition, with print on demand, they have fewer lost sales due to books being out of print. So if they take a longer term view, in the end they save money. And they are starting to understand that."
In Israel, publishers are connected to all of the book stores in the country and can easily see how many books are sold and how many are on the shelf at any given time. If one title needs 100 or 200 more copies, they will do nothing, according to Gaby, but wait until they need to print 400 or 500 before reordering. This results in lost sales. Gaby says, "I tell them, each morning, look in the system and see what books you need. If you need 50 of one, 300 of another, 150 of a third, just order those and we can provide them next day, or even same day in some cases. The result? Less cost of inventory, fewer lost sales, better revenues and profits! Think of me as your digital warehouse." He points out that with digital sheetfed printing, lead times can often be two weeks, and if you place a second order a few days later, it is another two weeks to get the additional books, while he can now deliver from one day to the next, eliminating those lead times.
"The future is exciting here at Cordoba Printing & Binding," Gaby says. "Not only are we getting traction with the larger publishers we have been serving, but we are working to attract smaller publishers and new work such as the instruction manuals. We have also been thrilled with Kodak support. We even had a recent visit from Phil Cullimore, the President of Kodak's inkjet business. Even though he is fairly new in his job, I was extremely impressed with the depth of his product knowledge, his ability to make suggestions to the technicians that they hadn't thought of, and his sincere desire to see us succeed. Had we not made this move, we would have struggled to stay in business. Now I can hardly wait to get into the office each day to work on the growth opportunities we have before us!"