Last month, The New York Times ran a feature about Editoriale Zanardi, a high-end book manufacturer struggling to survive a depressed economy in its native Italy. According to the story, the Padua firm once held a 30% share of the world market for "prestige" and arts books. But, things got so bad after the economic crisis of 2008 that one of its owners was driven to suicide. Now employee-owned, Editoriale Zinardi is trying to find out whether it can revive a business model based on the production of beautifully crafted bound volumes.
The conventional book market is under pressure on many fronts, not least of all from a slew of e-reading devices and the competition they represent to ink on paper. Still, the fascination with traditionally produced books refuses to die as publishers continue to explore ways to make them objects of ingenious beauty that readers will admire—and want to buy.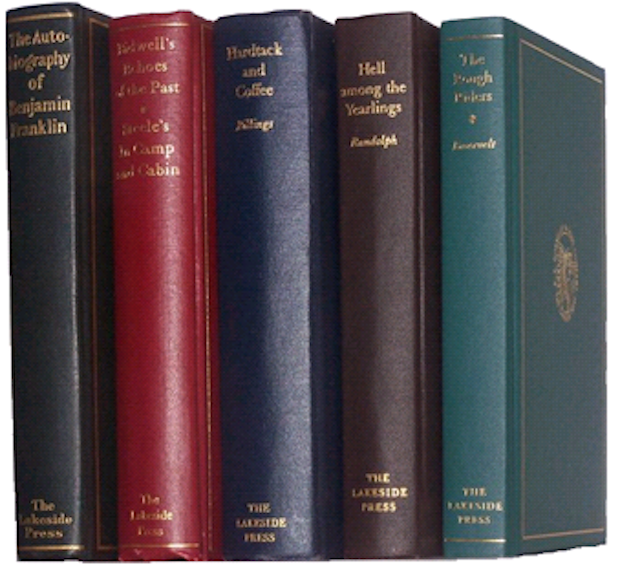 Lakeside Classics from RR Donnelley & Sons Company
Volumes in the Lakeside Classics series from RR Donnelley aren't for sale, but they have formed a bedrock of interest in book craftsmanship ever since the first specimen—appropriately, The Autobiography of Benjamin Franklin—was released in 1903. Over the years, Donnelley has used the best available technologies to typeset, print, and bind the books, which offer a panorama of American history and culture from pre-Colonial times to the early years of the previous century. (Some years back, this writer was fortunate to come into possession of a copy of no. 95 in the series, Fighting the Flying Circus by Capt. Edward V. Rickenbacker.)
The Lakeside books follow the traditional norms of book design. Others deconstruct notions of what a "book" is as a physical object, introducing radically changed structures that oblige book lovers to approach the reading experience in correspondingly different ways.
Imagine a book not as a codex—a sequence of pages bound on one edge between covers—but as a package of printed and illustrated materials that readers can engage with in any order they wish. This is precisely the format of Building Stories, a graphic novel contained within a boxed set of 14 separate printed pieces—maps, newspaper clippings, and even a game board—that readers "assemble" into whatever narrative lines the look and feel of the pieces seem to suggest. The structure of the book draws readers into a creative collaboration with author Chris Ware, who provides the fictional building blocks and trusts his audience to do the rest.

"Ship of Theseus" from S. (left); Building Stories
Television writer JJ Abrams and novelist Doug Dorst have done something similar with S., the centerpiece of which is a heavily annotated book bearing the title Ship of Theseus. Boxed along with it are numerous additional printed objects that may or may not reveal the whole thing to be a gigantic literary red herring. The boxed book's name comes from a philosophical debate about what happens to identity of things when their parts are replaced. What happens to the concept of "books" when instead of replacing their pages, publishers supplement them with adjunct printed materials that also have to be read if the books they belong to are to be understood and appreciated?
Less mind-bending, thankfully, is the cover treatment of On Such a Full Sea, reportedly the first book to be issued with a 3D-printed slipcover. The three-dimensional upslant of the letters on the slipcover creates the impression of a wave rising from the two-dimensional letters on the front of the book. It isn't as conceptually challenging as Building Stories or S., but it offers the same kind of proof that the possibilities of book design and manufacturing are far from being exhausted.
Just ask anyone studying craft bookbinding and printing at The Center for Book Arts in New York City or any of the enthusiasts who contributed to this book-inspired Pinterest page. They're spiritual kin to the artisans at Editoriale Zanardi in the quest to keep alive a vision of bookmaking that keeps changing even as it stays the same.