The last time we took a good look at Impika inkjet offerings was prior to drupa 2012 and the Xerox acquisition. Since that last article, Xerox has integrated the Impika organization into the Xerox organization, its former offerings into the Xerox portfolio and now into the Xerox master brand.
With this new announcement, Xerox is releasing the first true collaborative effort following the acquisition. The Xerox® Rialto™ 900 inkjet press is a major departure from the other production inkjet machines we have seen. It is designed as roll-to-cut-sheet press, and most importantly in a small footprint. Xerox is targeting this as easy to acquire and use, similar to its sheetfed toner-based devices. An earlier version of this press was shown as a concept press, introduced as Genesis, at drupa 2012. However, this release version highlights some of the Xerox-Impika collaborative efforts, including an increased output speed, new front end controllers, Xerox machine colors (no more green and black) and more.
The Rialto 900 transport 'is' the unique feature
Putting a sheeter at the end of a web press is not necessarily a new idea, but offering it all together in one compact package is.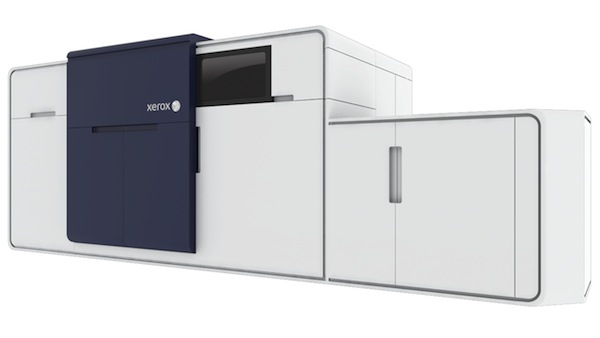 The base press dimensions in the standard configuration are 11'9"L x 5'1"D x 5'3"H (3580 mm x 1550 mm x 1600 mm). The standard configuration includes an unwinder, web cleaner, slitter/cutter with four side trimming, a top tray and a high capacity stacker. This is an impressive footprint since the Xerox Color Press can exceed that length with the addition of a high capacity stacker. One of the ways Xerox is able to keep it small is by not using turn bars as seen in the diagram below.
The Rialto 900 is a single pass duplex, tight web press which runs at up to 157 feet per minute (48 m/m), which translates into 171 one up letter size sheets (160 A4) duplex per minute. The printing width is 8.66" (220mm), with a web width of up to 9.84" (250mm). It supports paper weights from 60 to 160 gsm, on a web roll of up to 3.28 ft (100cm) in diameter.

It is a short paper path, so it includes chiller rollers to condition the paper and a very efficient dryer. It uses a peltier Infra Red (IR) dryer to dry the sheets. The peltier effect is the electric-current-driven transfer of heat from one material to another. It is a lower energy cost solution that can be used for both heating and cooling. It is also called a thermo-electric cooler or TEC for short.
Rialto was designed to be an extensible, evolving platform. At launch it will be available in the base platform as described above. Other integrated finishing options will be added and made available in the future. The recommended monthly print volume is 1.5 million to 5 million letter/A4 impressions per month.
Rialto 900 Imaging
The imaging is based on the proven Impika iEngine technology. This is DoD (Drop on Demand) Piezoelectric technology using the Kyocera KJ4B 600 dpi aqueous inkjet print head. The print resolution is 600x600 x 2-bit, and using Xerox Automated IQ optimization can print 4 levels of grey with 3 different drop sizes, 4, 7, and 11 picoliters. According to Xerox, this gives the output a perceived visual resolution of 1000 x 1000 dpi using the Xerox inkjet optimized screening. This provides smoother gradients and tints, and sharper text and fine lines. It includes 8 print heads per engine for each of the two included engines.
The press supports 4-color printing (CMYK) and only CMYK with pigment inks. You can print black only if desired or a mix, and the consumption model inkjet pricing can make that cost effective. The Xerox inkjet pricing model is a blend of maintenance, color clicks per linear foot, mono clicks per linear foot and ink cost. Many of the production inkjet press manufacturers are moving to this type of pricing model. It is different from what customers are familiar with, in digital toner/ink devices, but brings the pricing closer to the model used in offset and more representative of the output itself. The Rialto is positioned for transaction, transpromo, direct mail and book printing jobs.
It is equipped with an inline inspection camera and supports real-time print head optimization using Clear Pixel Technology, missing jet detection and duplex registration integrity. As is the case with all of the Xerox Impika presses, there is a built in automated head cleaning system that purges, wipes and caps the heads when not in use.
The ink is aqueous based HD (high density) pigment which uses nano particles in conjunction with normal pigments to achieve a significant increase in pigment loading and resultant color density and higher print contrast. It supports a wide variety of media including uncoated, untreated, inkjet treated and inkjet matte coated. Many different types of media have been testing, and the company is continuing to test additional media, with a tested media list available for both the U.S. and European markets.
Front End
The newly designed Xerox Impika Controllers are available as two different options for the Xerox Impika Rialto depending on your requirements. For those who are looking to primarily produce direct mail and commercial work, they can opt for the Xerox Impika PDF Controller. This is based on APPE (Adobe PDF Print Engine) 3.3, and supports PDF 1.7, PDF/X 1a, 3, and 4, as well as PDF V/T.
If requirements include IPDS, Xerox offers the Xerox Impika IPDS Controller which is compliant to the AFP Consortium (IS/3) format. It supports multi-resolution with an encapsulated PDF option. You can also add the APPE option to have full support for both IPDS and the previously mentioned PDF formats.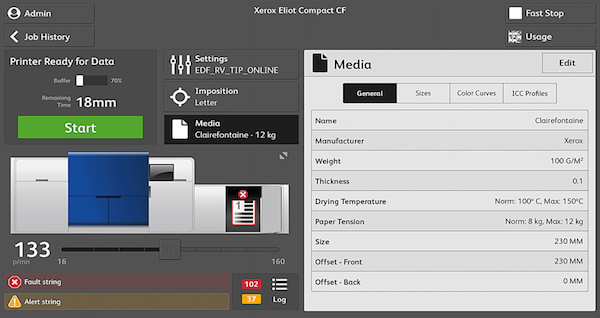 The press comes with a 24" tablet-style interactive touch screen, similar to what was shown at drupa on some of the other Impika machines displayed.
Imaging upgrade also announced for Xerox Impika Evolution
In addition to the new press announced at Hunkeler, while not specific to the Xerox Rialto 900, Xerox is also adding a VHQ (Very High Quality) imaging option to its top-of-the-line Xerox Impika Evolution Inkjet Press. VHQ mode uses 2 different nozzles to send 2 different drop sizes, instead of 1 nozzle for three drops in a standard grayscale mode. This mode addresses a number of issues. First, if a nozzle jet fails, instead of a white line you get a lower optical density line. Second, since it is firing two different nozzles at the same spot, you can achieve better registration, even with machine acceleration and deceleration. VHQ will be available as a one-time charge for existing installations and an option on new systems.
Conclusion
Xerox has introduced the Rialto 900 at a price point that is designed to lower the barrier of entry for those print service providers that have been sitting the fence about inkjet. Or in their words, "haven't crossed the bridge," hence the name Rialto (after the bridge in Italy), moving from offset or digital ink/toner to production inkjet. The base cost is between $600-700 K, but obviously it depends on the configuration and could go higher. As is the case for many of the production inkjet solutions, the per print cost should come in significantly less than cut sheet digital toner presses, with actual costs dependent on the ink coverage.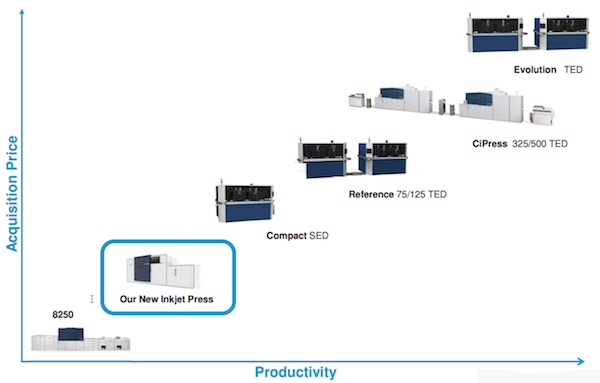 This introduction could impact page clicks of installed machines and sales of the Xerox digital toner devices, so this is a bold move on their part that both accepts the market realities, while leveraging their technological advantages. It also nicely rounds out the Xerox Impika production inkjet press portfolio which now includes; Xerox Rialto, Xerox Impika Compact, Xerox Impika Reference, and Xerox Impika eVolution Inkjet Press. It wasn't that long ago that many had written off Xerox in the production inkjet space, yet now they have one of the broadest portfolios in the market.
General availability of the Rialto 900 is mid-summer 2015 in the U.S. and European market, with the installations in the August/September time frame. Developing markets will follow.
Hunkeler Innovation Days was not short of Next Wave production inkjet offerings. In the next article I will be covering the new Canon Océ VarioPrint i300 sheet fed production inkjet press and the new Canon Océ ImageStream 3500 continuous feed press, with other manufacturers' production inkjet presses following close behind. Stay tuned for more in-depth reviews of these exciting announcements…