Outstanding Agenda and Prestigious Awards
We were pleased to see our own Frank Romano as one of the recipients of the 2015 Michael H. Bruno Award for outstanding contributions to the graphic arts industry. This year, he is joined by EFI CEO Guy Gecht and Deputy Managing Director of Ugra Erwin Widmer as recipients of this prestigious award. The award will be presented at the 67th TAGA Annual Technical Conference being held in Albuquerque March 22-25. All three will be present in person to receive their awards and likely, say a few words.
I had the opportunity to speak with Dr. Mark Bohan, TAGA's Managing Director, about this year's conference and to review the outstanding agenda lined up for the event. He tells me that this year's event is expected to draw attendance of about 150 printing professionals from North America, Europe and Asia. About a third of the audience is comprised of students, a wonderful opportunity for them to be exposed to the best of the industry we hope they are going to join once they graduate. The agenda features some great keynotes as well as presentation of 35 papers and 4 posters during the event. Papers cover new research that has not been presented before and come from both academia and industry.
TAGA underwrites student attendance and while there might be some student papers presented, students not only benefit from hearing the presentations, but teams from each school put together a journal, writing, designing and producing their own technical publications. Bohan said, "Last year, the Clemson team had a thermoformed cover on its journal. It's a big competition among the universities that is judged by the Board of Directors based on technical writing, design, production quality and interactive components." This is a great way to draw students further into the industry. We need them!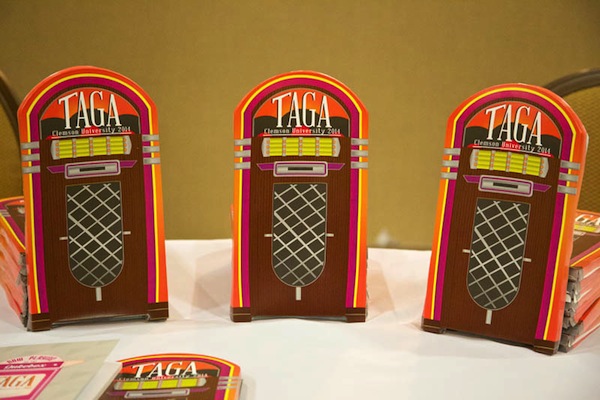 2014 TAGA Journal prepare by students from Clemson
Topics being presented range widely, with a lot of focus on color, as you might imagine, but also on advances in flexography, packaging, inks and coatings, the impact of optical brighteners and more. EFI's Udi Arieli is also presenting a paper on his Theory of Global Optimization. There will also be sessions touching on 3D and printed electronics. All in all, a very robust and thought-provoking agenda.
And the power of the agenda is reflected in historical session attendance numbers. Bohan says, "In many conferences, you are lucky if you get 75% of attendees showing up for sessions. It is not unusual for us to have 100% attendance. It demonstrates the dedication to learning that our attendees have."
Bohan explains that his attendance at TAGA meetings over the years and presentation of papers from University of Wales, Swansea, was the means of his introduction to North American graphic arts professionals and the beginning of many long-lasting relationships that ultimately led to him joining the Printing Industries of America staff.
Not a TAGA member or not attending the Technical Conference? Maybe this is the year you should change that.