EFI Staff and customers are celebrating another successful Connect – most would say the best yet. The final count revealed that more than 1,000 customers were present, and the total attendance exceeded 1,500. Many EFI staff were moved to other hotels at the last minute, as EFI made room at the inn (well, the Wynn Las Vegas) for late-registering customers. A nice problem to have!
CEO Guy Gecht's Fireside Chats have become a Connect tradition, and this year there were two. RR Donnelley CEO Tom Quinlan, who doesn't make many of these types of appearances, joined Gecht on the stage for an interesting discussion. He started by saying, "Taking care of the customer is the key to our longevity. If you don't have customers, you don't have a business." Customers were truly the theme throughout the rest of the discussion. In fact, our own Frank Romano reports that Quinlan used the word customer 127 times during the discussion!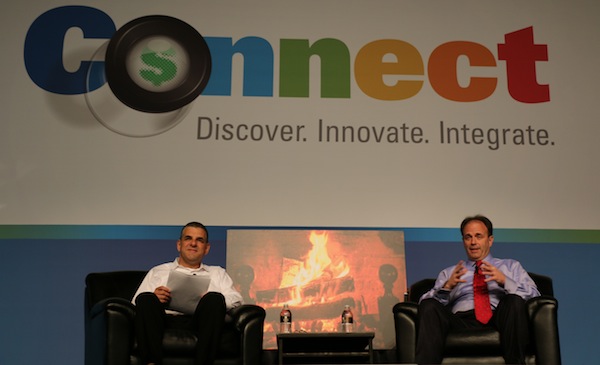 EFI CEO Guy Gecht Fireside Chat with RR Donnelley CEO Tom Quinlan.
As most of our readers know, RR Donnelley has been in business for 150 years. Quinlan quipped, "I don't want to be the person that didn't make 151 years; that would be a bad legacy to leave behind." He also pointed out that print is still important in what often seems like an all-digital world, saying, "Physical content drives you to an electronic device. JC Penney going back to its catalog means a lot for the industry." He pointed out that JC Penney and others have found that sales have declined because they didn't use print. But he also stressed the importance of synchronizing messaging across all channels and played off of the famous Mark Twain quote, saying, "Printing's death has been greatly exaggerated."
This Connect actually had two fireside chats. The second was with Avi Reichental, CEO of 3D Systems, a leading global provider of 3D content-to-print solutions including personal, professional and production 3D printers, integrated print materials and on-demand custom parts services for professionals and consumers. 3D Systems was also an exhibitor at the event. In a pre-show interview, EFI COO Marc Olin mentioned that EFI first began talking to customers about 3D printing at Connect four years ago, saying it was a trend that customers should be looking at. Reichental did a great job of articulating the future of this technology, and how it might benefit 2D printers. I was interested to learn that 3D systems is the only 3D printing company that can print in full color: CMYK + W, printing colors at the pixel levels in layers of 50 to 100 microns. He believes 3D printing is a natural extension of 2D printing, saying, "2D printing has been the tool of choice to create, share, collaborate, disseminate and manufacture. 3D printing is all about reimagining design and manufacturing with the third dimension added. The applications are similar, the channels are similar and the audiences re the same audiences." He points out that his company's 3D printers start at $1,000 as well as scanning and capture deposits that start at $399. Of course, prices and capabilities go up from there. We have a great video interview with Avi, so watch for that! You can also view the entire fireside chat here.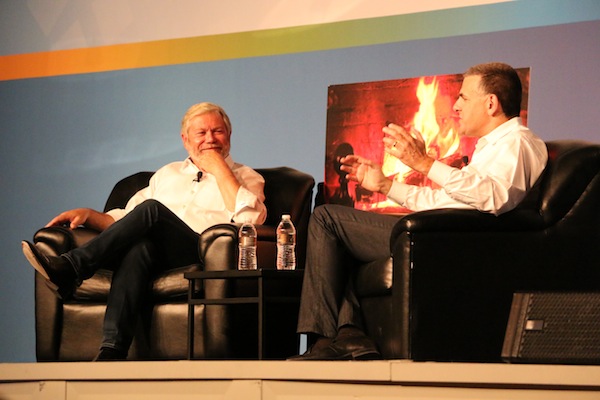 EFI CEO Guy Gecht Fireside Chat with Avi Reichental, CEO of 3D Systems
One of the highlights for attendees at conferences like EFI Connect is always the opportunity to network with peers and speak one-on-one with EFI and partner executives and engineers, as well as to learn about new opportunities. There was no lack of that at Connect 2015, and there was a vitality and energy that signaled renewed optimism among attendees.
For EFI, business is clearly good. Following Connect, EFI announced record full-year and 4th quarter revenue, on track to achieve its target of $1 billion in revenue by 2016.
We captured lots of great video interviews with customers and EFI executives, so stay tuned for those over the next few weeks.
Connect will be back at the Wynn in Las Vegas in 2016 – January 19-22. We're looking forward to seeing who will be joining Guy for a Fireside Chat!