In a continuation of the Next Wave of new production inkjet presses and technology series, we cover Super Web Digital, a 'Made in America' press manufacturer, which has introduced two new web press platforms based on new Memjet inkjet imaging technology. What makes this interesting is that both Super Web and Memjet have introduced new technology in these products, bringing both of their offerings to a new level.
Super Web has been manufacturing and integrating press solutions since 1971, when the company introduced its first business form print system. In 1975 they introduced Commercial and Direct Mail presses, and in 1992 Variable Print Size Presses were introduced in configurations that could be ordered for printing from one to twelve colors. They started early on "developing a better Didde press." Today, the goal is to "create world-class presses, with super-fast make-ready speed, at a price capable of fitting into virtually every investment budget." Super Web manufactures the presses and distributes its own parts at its plant in Babylon, NY, and boasts an installed base of over 3,000 Super Web units around the globe. The company has a reputation for building equipment that is reliable and very user serviceable.
We covered earlier Memjet printhead technology in a previous article with some examples of OEM developments, including an article on the Delphax elan, a B2 sheetfed production inkjet printer. Briefly, Memjet is headquartered in San Diego CA, with offices in Australia, Ireland, Taipei, Singapore, and Boise. To date, Memjet's 30+ OEM partners include; Canon/Océ, Xerox, RTI Digital and Xante, who have produced wide format products; Colordyne, who has produced table top and narrow web label presses; and Delphax with its B2 sheetfed press. Continuing the momentum, Super Web has introduced the SuperWeb DCOMM Commercial Presses, and the SuperWeb Webjet 280C Label Press. With the introduction of its two new platforms, Super Web Digital has moved from conventional print to inkjet.
Transport
Super Web Digital is not new to manufacturing web printing transports including conventional and servo-based drives. Of course the transports for these new presses had to be re-engineered to support the new imaging technology, since they no longer need to drive cylinders and ink trains. Super Web employs a tight web design, not only within each print station, but throughout the system, from the unwinder through to the delivery of a roll, cut printed sheets, or stacks.
The transports uses a modular design with ¾" steel side plates, each supporting one or more functions of printing, cutting, drying, or one of the many other optional finishing features that are available. It employs a servo web guide before each print engine to assure precise placement of images on the web, as well as automated servo and PLC controls for system management and media sensing for label gap, cut sheet, notch and black mark. As a result of the modular nature of the design, Super Web Digital press configurations can easily add slitting, web merge, die-cutting, sheeting, punch, perfing, and rewind functions as well as intelligent stacking modules to create an in-line production system.
Currently at the top end of Super Web's commercial print platform, the DCOMM 200 can perfect on media up to 17.28 inches wide (2x the Memjet printable width of 8.64"), using CMYK plus a spot color on each side. The DCOMM 100 is a half-size press that can print up to four colors plus an additional spot color on various types of media up to 8.64 inches wide. They also offer duplex models the DCOMM 200d, 100d with the same specs as above. They both print at an impressive rated speed of 275 fpm at 1600x1375 dpi. Since it is a tight web design, it supports a wide range of media options from very light weight up to 110lb offset for sheeting and even heavier for rewind, with a maximum media width of 17.5 inches on the 200 series. As is the case in many production inkjet systems, it is recommended that you use inkjet compatible media or pre-coat.
Since Super Web Digital builds these to order, they can be configured to your specific requirements including options for a web cleaner, dryers and a variety of finishing options as previously mentioned, including UV or aqueous coating. The system supports 10, 55, and 210 liter ink tanks.
One of their beta clients, High Cotton USA, located in Birmingham, AL., specializes in multi-channel "business product bulk mail" and transactional applications. This seems like a sweet spot for the current DCOMM offerings.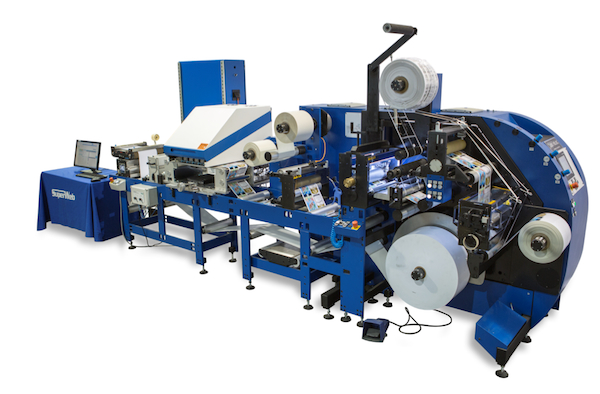 The 280C WEBJet Label press is designed for label production. It supports the addition of inline die cutting, embossing, lamination, and other label enhancements. It is designed as a single printhead width press at the present time, so the imaging width is 8.64 inches. It has a maximum roll width of 280mm and roll diameter of 750mm. It can run at speeds of up to 225 m/min depending on media and finishing. Super Web also produces a Model 100R with the Aspen print head that can be added to a Flexo press.
Imaging
The new Memjet Aspen production class print engine uses the same 'Waterfall' inkjet technology as its predecessor heads. The new head unit is still centered around an 8.77" wide printhead that can deliver up to 700 million 1-2 picoliter drops per second. It prints through 70,400 nozzles at 275 fpm at 1600 x 1375 dpi, and will shortly support up to 500fpm at 1600x750 dpi. Because it is a full letter page wide, Memjet claims the printhead virtually eliminates the head-stitching artifacts typically found on pages printed by other systems using narrow inkjet printheads. The inks and drop size allow significant ink laydown and quick drying on inkjet compatible papers. The ink densities and resultant print contrast provide an impressive production print product.
The big difference between this new head unit design compared to the older one is that this one uses a single head per color up to 5 colors, while the older one combined the 5 ink channels on one head. The ink heads are now installed on blades, one for each of 5 colors in a single unit.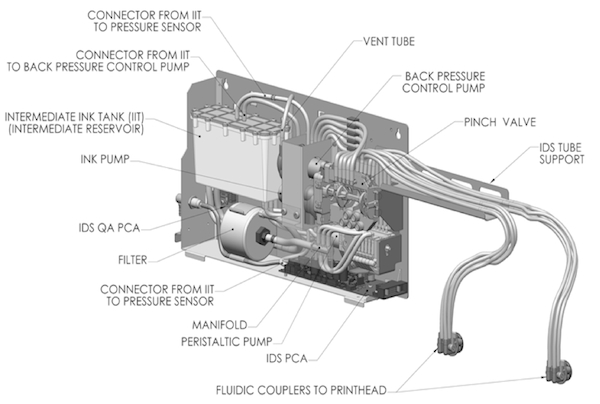 The printheads are easily replaced by the operator. Since each ink delivery system (IDS) is completely self-contained on a blade, your operator can swap an entire IDS in minutes. This makes for ease of maintenance, since the single head blades, along with their corresponding electronics can be removed and replaced individually.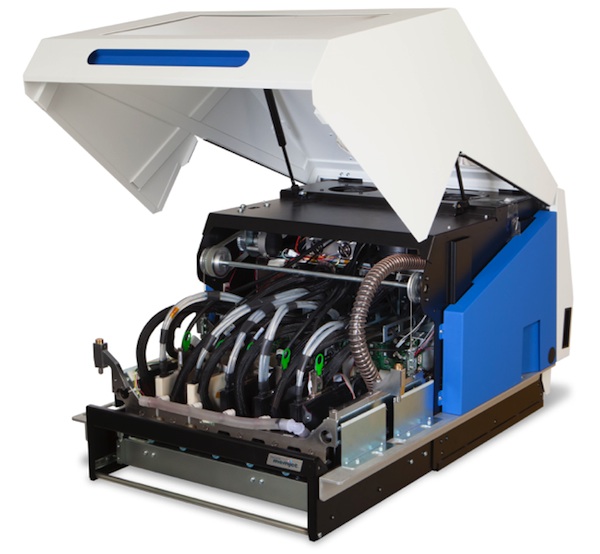 The 5 blades with the printheads are mounted in the Memjet print engine. It has an integrated automatic head maintenance chassis so the operator will rarely have to manually clean the printheads. In conjunction with the new head unit and Memjet's philosophy of ease of operator maintenance, the print engine unit has been designed to provide a simple mount for removal and replacement. This allows the operator to quickly swap out a replacement unit on the press and keep running while you are working on the removed unit. You can also have an extra maintenance chassis for offline diagnostics, maintenance and repair of the head unit or IDS and printheads.
Like the older head design, it is a fixed head which requires minimal warm-up time and prints in one pass without moving back and forth across the sheet as some other printheads do. This new Aspen design has also increased the head life considerably. It is estimated that head life is extended by 2x-3x. Memjet has newer technology in development that should extend it even further. Real-world printhead life expectancy is based on the volume of print and ink used in a production print environment.
The basic consumables are the ink and the printheads. Currently Memjet inks are water-based dye inks that are specifically designed to work with Memjet printheads, although they will be releasing a pigment ink in mid-2016. This will probably require some upgrade in the inkjet head system, although with the new blade and print engine head unit architecture it shouldn't be that difficult. Of course time will tell. We are also starting to hear about the Aspen print engine technology finding its way to Colordyne and would expect to see it appear on Memjet OEM products.
Front End
The DFEs for the Super Web Digital presses are supplied by Xitron. For those of you who aren't familiar with Xitron, they were founded in 1977, and have been one of the leaders in supplying RIP and workflow solutions to CTP and Press manufacturers for years.
The Xitron front end includes a Harlequin RIP with a pipeline workflow solution to create individual workflows, and supports a range of file formats and workflow tools including page imposition, job queuing management, file viewing, and other prepress functions through a touch screen. Operators use a simple drag and drop techniques for custom workflow creation.
Conclusion
The Next Wave of Production Inkjet offerings have been providing print service providers with some new opportunities for transitioning from Offset and even electrophotographic processes to inkjet. Of course, individual requirements should drive purchasing decisions and not technology itself. As we have seen recently, the bigger players like Canon, Kodak, Screen and Ricoh have all stepped up their game and products in this area. It is interesting to see smaller players like Super Web Digital bring lower cost, more tailored products like this to market. Undoubtedly, it is also a testament to the Memjet model of supplying easy-to-integrate printhead technology to support these efforts.
Finally, now that we have started a new year, we know that there are more Next Wave production inkjet solution announcements looming on the horizon, and we are all anxious to see what the other vendors will be announcing in this space, so stay tuned…