This article is sponsored by HP as part of an ongoing series on HP Production Inkjet solutions.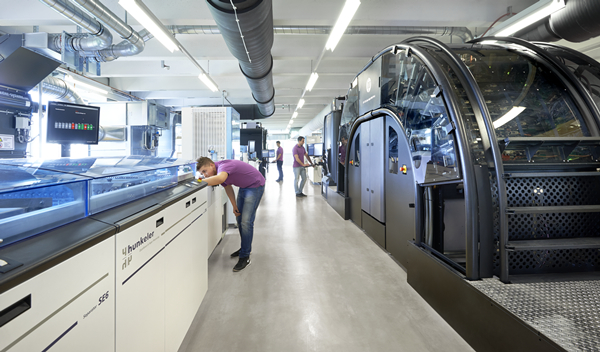 Swiss-based Trendcommerce AG prides itself on being an innovator, bringing many firsts to the Swiss printing marketplace. In 2012, the company recognized the impact production inkjet printing would have on the direct mail and transaction marketplace. A team headed to drupa 2012 to learn more about how this technology might benefit the company and its customers.
Founded in 1996, Trendcommerce generates around CHF30 million in annual turnover, up from CHF20 million in 2011. "This growth is almost all directly attributable to our acquisition of production inkjet printing technology," said Steven Stüdli, Director of Sales and Marketing for the company.
Trendcommerce saw the future coming its way, and that future was inkjet, according to Stüdli. The visit to drupa 2012 and some big new customers reinforced that vision, and the company acquired two HP T230 Color Inkjet Presses to start the process of revolutionizing its business.
"Prior to installing the HP T230s," Stüdli explains, "our customers outsourced a significant volume of offset to produce pre-printed shells for overprinting on black & white toner-based printing systems. With single-pass full-color inkjet printing, we have been able to migrate much of that work to our white-paper-in model. And the quality is fabulous. Further quality and speed-upgrades are in our testing-pipeline and will soon be launched. It's just amazing and truly revolutionary for us and our customers."
Stüdli also credits the company's T230s with increasing throughput by a factor of eight—from 30 million mail pieces per year to 250 million. "We never could have accomplished this without production inkjet," he says, "and we have eliminated a great deal of time and hassle by no longer using pre-printed offset shells, except on vary rare occasions."
Trendcommerce serves more than 300 banking, insurance, retail and other customers with 180 employees and a 4,000 square meter highly secure production operation. "With our new HP T230s in place," he explains, "we were able to implement a highly automated closed-loop production process with our two inline finishing lines. And our entire direct mail operation has shifted almost completely from toner to inkjet."
Keeping an eye on the future, Trendcommerce is not sitting still. "We are looking at lots of very interesting opportunities for business expansion enabled by production inkjet," Stüdli says. "We're even considering an 'off-the-wall' entry into wallpaper production—something entirely new for us and an innovation for the worldwide wallpaper industry. The opportunities are almost as limitless as our imaginations. It's a very exciting time to be in this business."
Trendcommerce is also investing a significant amount of effort in educating its customer base about the value of combining transactional and direct mail into TransPromo communications. "This is a concept that is slowly gaining acceptance among marketers in the Swiss market," Stüdli says, "but it will take some time to get the first few customers to move. Once that happens, over the next year, we expect this opportunity to grow quickly."
Trendcommerce has already made some progress with a large retail customer who is producing 110 million A4 customer loyalty communications per year with production inkjet technology. "These include offers based on customer buying habits, so are highly personalized and becoming very popular," Stüdli explains. "The future is bright, and our HP T230 Color Inkjet Presses are at the heart of our future strategies. The volume has grown quickly to a level that justifies adding another few presses to the mix! Investments have already been made and we will make further details available during Q2 2015."