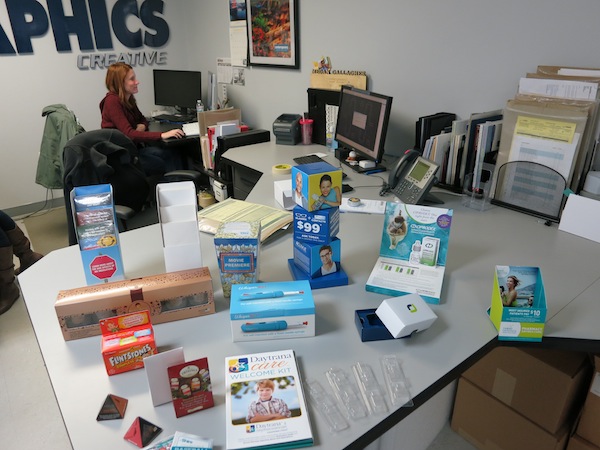 Packaging takes shape in the design department at Contemporary Graphic Solutions.
If you want to know just how minutely print production workflows can be analyzed, take a look at the "value stream map" that spans a wall in the continuous improvement office at Contemporary Graphic Solutions.
It's a whiteboard covered with a spaghetti of intersecting lines punctuated by colored stickies, arcane symbols, and dense notations. To an outsider, at first glance, the map seems incomprehensible. But Tim Moreton and his staff have found hundreds of thousands of dollars in savings in its ultra-granular breakdown of everything that happens from order intake to product delivery whenever CGS takes on a job—including packaging, which represents a steadily increasing share of this efficiency-obsessed printing firm's business.
Moreton, owner and president of the Pennsauken, NJ, company, estimates that 30% of his volume comes from packaging and another 15% from labels. But, he notes that when the definition of "packaging" also includes structural printing—pieces that get folded, diecut, and assembled into kits, sales sample boxes, or other kinds of containers, following the presswork—then its share rises to 85%.
When Moreton, a pressman's son, started the company 30 years ago, its only lines were hand assembly and kitting—services he continues to offer today. The full scope of operations comprises printing, packaging, finishing, mailing, fulfillment, design, and workflow solutions, carried out in a fully equipped, 24/7 manufacturing environment by more than 230 employees.
As the company's volume of marketing-related printing has declined, Moreton has made up for it by seeking more work in packaging. He says that about 70% of the packaging he produces is for pharmaceutical and medical equipment manufacturers, an industry well represented in New Jersey. Some of the industry's best known names are to be found on CGS's client list.
Supplying packages to this vast and complex market segment is no simple proposition for a medium-sized printing firm. "We can't compete on a billion Tylenol boxes," Moreton says. Instead, CGS makes its mark with precision manufacturing and adherence to strict and specific quality standards: those required by clients as well as the self-imposed rules that define pathways to efficiency on the value stream map.
Contemporary Graphic Solutions is one of just 10 U.S. printers to hold a G7 Process Control Master Qualification, a status it first sought in 2008 in order to raise its competiveness as a packaging supplier. The certification, reviewed quarterly and renewed annually, tells packaging customers that the plant maintains a high level of efficiency and predictability through standardization and process control practices.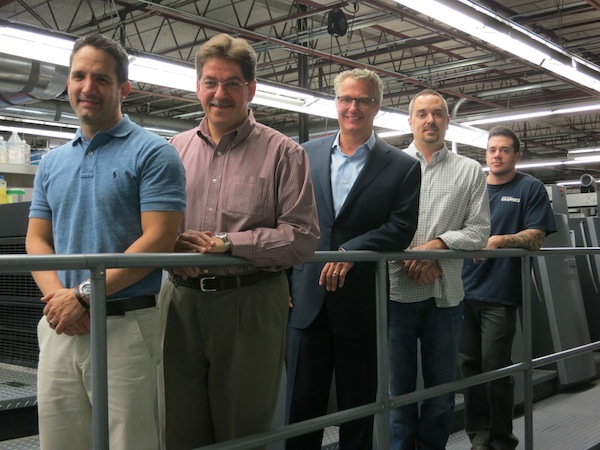 CGS personnel, from left: Leo Rodriguez, director of continuous improvement; Tom Zawistowski, plant manager; Tim Moreton, president; Tom McKean, pressroom manager; Brian Fitzsimmons, press operator.
For most customers, a printer's observance of ISO specifications for manufacturing quality is sufficient. To retain its pharma business, however, CGS demonstrates compliance with an even more demanding set of standards: the Current Good Manufacturing Practices (CGMP) regulations that the U.S. Food and Drug Administration requires drug manufacturers to follow. Moreton says that in adapting CGMP rules for its own use, CGS gains credibility with its pharmaceutical customers by being on the same page they are when it comes to manufacturing protocols.
The credibility is reinforced during the inspections that clients sometimes carry out at the plant—typically four visits per year, according to Moreton. He's proud of the fact that the plant has never been found in anything other than 100% compliance with FDA requirements during audits by that agency. "When you deal with the pharma industry, you have to be right all the time," Moreton says.
Packaging services for pharma and other clients include structural packaging design, prototyping, and the development of custom products. Many of the projects go well beyond basic ink-on-paperboard printing and diecutting with their complicated architectures and challenging materials. Blisters, clamshells, thermoformed containers, plastic boxes, flex packs, and other formats all come under the packaging umbrella at CGS.
Currently being explored as a growth opportunity is plastic moldmaking for packaging. A project of this kind is being undertaken in a locked clean room where gowned and masked technicians prepare molded containers to receive sensitive medical devices that will be shipped with printed literature and instructional CDs (the latter burned and boxed by CGS). Quality checks are double-vetted for reliability in keeping with the "200% inspection" regimen that prevails here, Moreton says.
Creative design for retail products is yet another aspect of the packaging picture at CGS. Staff artists and photographers collaborate with brand managers to devise purchase-triggering package and label designs, often working from scratch. Moreton believes that his design team's skills will be increasingly called upon as the CGS packaging portfolio grows.
Creativity of another kind emanates from the CGS IT department, where a staff of 11 specialists build print- and packaging-related software solutions for customers who need help with tasks such as web-to-print, e-commerce, social media strategy, and digital asset management. The team also has developed a number of online ordering systems that make it easy for customers to manage their stocks of stationery and print-on-demand sales materials. Internally, the group came up with a method of tracking impressions on the diecutters in a sequence that automatically alerts operators when it's time to replace the dies.
It all unfolds inside a 115,315-sq.-ft. riverfront plant that used to be the home of Lehigh Press, a printing business that ceased operation in 2008. After acquiring the building, Moreton began to transform its layout into one that would parallel the linear flow of jobs from one stage of production to the next.
Conforming to this scheme, all production areas in the plant can be covered in a single, continuous circuit without any of the doubling back or stair-climbing often necessary in plants with floor plans that aren't as painstakingly designed. It's also a high-security environment with cameras, key stations, and other features that protect the commercial integrity of the work being done.
CGS's exceptional dedication to manufacturing efficiency made the company an ideal candidate for the experiment that produced the value stream map and the savings it would lead to. This was Performance Plus, a consulting service from Heidelberg, the maker of the 40" and 41" Speedmaster presses in CGS's offset department.
In a Performance Plus consultation, the customer and Heidelberg agree to pursue a payback-generating target measurable in cost reductions or productivity gains. In CGS's case, the goal was to increase performance on the plant's six-color Speedmaster XL 105?by 30% within a 12-month time frame. Moreton made a top-down declaration of intent to hit the target by hanging a large sign with the aspirational percentage on the door of his office.
The project began in May 2013 with visits from Heidelberg specialists who counseled CGS on various forms of process improvement. The advisement included operator evaluation and training, press optimization, and monthly tracking of performance data. The introduction of the value stream map gave Moreton and his quality managers a dynamic tool for setting program milestones and for pinpointing value-adding as well as non-value-adding process steps in every department at each stage of the workflow.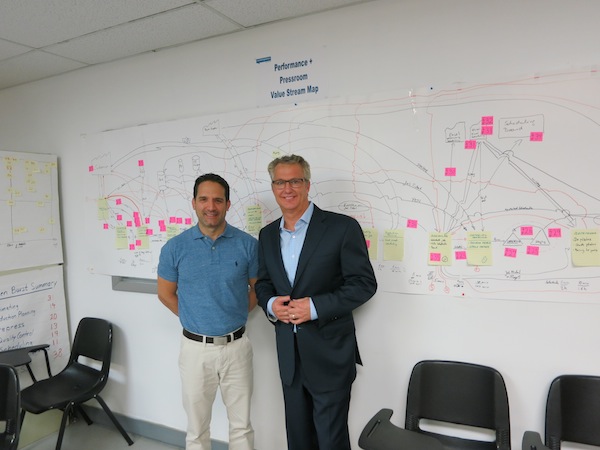 Rodriguez and Moreton at the value stream map for Performance Plus.
By the time the exercise was over, CGS had exceeded its own benchmark by boosting press performance by 40% and saving 1,000 hours of production time. These improvements translated into a bankable yield of $280,000, a portion of which was collected by Heidelberg as its fee. But, an even more telling indication of the program's success is the empty press bay where a second 40" machine had been in place when the consultation got under way. So much productive capacity was added on the Speedmaster XL 105 through Performance Plus that Moreton was able to take the now-unneeded 40" press offline and sell it.
He says that he's saving the space for the planned purchase of a 10-color perfecting press that can run both conventional and UV inks and coatings—a configuration that will support CGS's commercial work as well as its packaging accounts. For short-run and quick-turn jobs, the plant relies on an HP Indigo digital color press and a DI (direct imaging) press from Heidelberg. The production environment as a whole is green and sustainable, using no-VOC inks, responsibly sourced papers, and an array of best practices for recycling and waste minimization.
As the head of the company that became the site of Heidelberg's first Performance Plus consultation, Moreton was invited by the press manufacturer to recount the experience at a trade media briefing in Germany in December of last year. What made the program work as well as it did, he emphasized, was CGS's pre-existing commitment to systematic process improvement—a commitment that arose from the company's determination to be second to none in competence for high-end package manufacturing.
"You have to be best in the game" to succeed in pharmaceutical packaging, he said. This means not only exceeding stringent quality expectations, but doing whatever it takes to rank as the most cost-efficient provider of the products customers want to buy. For those who know how to look for them, both capabilities are plain to see in the value stream map at Contemporary Graphic Solutions.