A Conversation with Standard Finishing President Steven Reny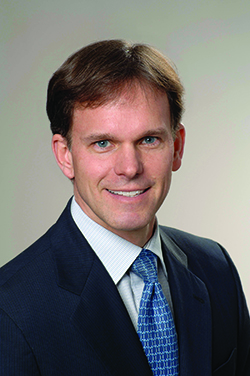 While many trade shows and in-person events have struggled to draw the type of attendance we have seen in previous years, Hunkeler Innovationdays stands out as a unique and growing venue for the printing industry. Held every other year and in its 11th iteration, the 2015 event is scheduled for February 23-26 in Lucerne, Switzerland. While it may be cold outside that time of year in Switzerland, the show itself is shaping up to be a hot event. We spoke with Standard Finishing President Steven Reny to find out just how hot it will be at the Lucerne Messe in February.
WTT: Steven, I have heard that the footprint of Hunkeler Innovationdays 2015 is quite a bit larger than 2013.
SAR: Yes, indeed. Two new exhibition halls will be used at the Lucerne Messe, an expansion in space over 2013 for both the exhibition halls and the conference program. In addition, the event is structured to be a much more pleasant environment for people to get lunch and network with each other, the exhibitors and speakers.
WTT: How many exhibitors are expected?
SAR: There will be about 80 exhibitors and 40 production solutions being shown during the event. As you are aware from having been to several of the previous events, this is quite a unique gathering in that full end-to-end multivendor solutions that an operation might want to add to its production platform are showcased. This is quite different than the individual vendor stands you might see at a traditional trade show. It is the most focused digital print trade fair in the industry.
WTT: Hunkeler Innovationdays also typically features some important announcements from exhibitors.
SAR: This year will be no exception. Hunkeler will be showing next-generation unwinders and rewinders, for example, that combine added convenience with faster roll change-overs, more robust production speeds, the ability to handle heavier weights. That's just one sneak peek.
WTT: The conference and co-located events are also an important element of the visitor experience.
SAR: Yes, they will feature leading practitioners in different segments of the digital printing ecosphere, including transactional, direct mail and commercial applications. The event will also include prestigious forums on these topics, hosted by DoxNET, INTERQUEST and the European Business Document Association where visitors can catch up on the latest trends.
WTT: I have to say I was surprised by the event the first time I attended. It is quite different than most of the other events we go to these days.
SAR: That's one of the things that is hard to explain if you haven't been there. It is a relaxed, collegial atmosphere devoid of some of the usual trade show sales hype, flowery language and difficulty getting to the point of a real discussion that sometimes happens in some markets, especially in North America. It is a refreshing take on what a trade fair can be and lends itself to a very different way of interacting. You learn a lot, can more easily have specific inquiries addressed in-depth and have a deeper level of interaction with peers and others in the industry. This is really a unique atmosphere that is worth that noticeable difference to make your way over to Lucerne in February to experience it.
WTT: It reminds me a lot of the "old days" when we had events like Seybold in San Francisco and Boston, and the early days of Xplor. That collegial atmosphere seems to have gotten lost over the years and you are right, Hunkeler Innovationdays is a refreshing experience in that regard. How is attendance shaping up?
SAR: Last time there were 5,000 attendees over the several days, and a pretty good contingent from North America. This year is shaping up to have an even larger attendance, and we are hoping there will be more visitors from North America as well.
WTT: What is the optimal time a visitor should plan?
SAR: Two days seems to be an appropriate duration. On the first day you can soak everything in, and on the second day, you can focus on the specific follow-ups and inquiries you want addressed. And spending a few extra days in Switzerland won't hurt anyone, mixing a bit of business and pleasure.
WTT: We will look forward to seeing you there, and to inviting visitors and exhibitors into our video studio to share some of the color with those who can't attend. Anything else you would like to add before we close?
SAR: People like to go to trade shows or fairs. They want to see equipment running and talk about specific applications. For a lot of reasons, especially at shows like Graph Expo and Print, the approach has moved in a different direction. In a way as you pointed out, Hunkeler Innovationdays is a throwback to the "old days" with a tremendous number of applications running live on equipment in a concentrated space with the ability to have in-depth conversations about what you are seeing. I encourage your readers to join us there for a terrific educational experience and some fun in Switzerland!