Most business owners will acknowledge that their companies have changed, adapted, and evolved over time to better serve their clients' needs. This is especially true in the world of print and marketing services, where the acceleration of emerging technologies continues to shift customer demands. These corporate course-corrections often result in the creation of new products and services, yet the original corporate identity often remains.
In today's world, the introduction of new offerings is not always enough. In some cases, rebranding in response to changing market dynamics is essential. During the rebranding process, an established company creates a new look and feel for itself to illuminate expanded services, highlight new capabilities, and differentiate products and solutions from the competition. The ultimate goal of rebranding is to influence a customer's perception about a company as well as its product portfolio. Rebranding can truly revitalize a brand and ensure that it reflects current market positioning.
Qdmh Holdings Becomes Innovairre
Qdmh is a worldwide leader in fundraising that provides support for partner agencies and non-profit organizations. Servicing more than 500 charities, the firm has 4,000+ employees and works across five continents. Qdmh sends out over a billion direct marketing packages on an annual basis to reach its targeted prospects and donors. In 2013 alone, the company's operations helped its non-profit and agency partners raise more than $5 billion.
Qdmh was built through start-ups and acquisitions, and the end result was nine different brands operating somewhat autonomously. All of the pieces were in place to offer a comprehensive integrated marketing offering (including creative, data analytics, direct mail production, and premiums), but the businesses were being run as silos. The company decided that it was time to revive its brand to reflect its true capabilities. Don McKenzie, President and Chief Growth Officer, explains, "Our leadership team realized that it was time to consolidate our brands and resources into a single go-to-market offering for the non-profit segment. Our customers want to limit the number of suppliers they deal with to complete a campaign. They also want a knowledgeable partner with expertise in multi-channel fundraising and communications. Our salespeople and business units recognized the importance of delivering integrated services versus dealing with local brands for a narrow subset of our capabilities." As a result, the company made the decision to integrate its various acquisitions into a single brand known as Innovairre. McKenzie continues, "Innovairre is much more than just a brand—it's actually a realignment of our skills and core values as an organization."
Of course, branding is not something that happens in a vacuum. A little over a year ago, Qdmh assembled a core team of twenty people from varying disciplines. This team of individuals set out to interview customers and employees to get a better idea about what they perceived as Qdmh's key strengths and weaknesses. These exercises played a critical role in helping the company understand how to effectively communicate its value proposition. Two core themes emerged—"your cause is our cause" and "innovate for good." Based on these themes, the Innovairre brand name was born.
Launching the New Brand
Innovairre's new team realized that effectively launching the brand internally and externally would be critical. The company laid out a plan to get employees and customers excited about its actions and new direction. The team made a conscious decision to launch the new brand on December 2 (#GivingTuesday) to cement its efforts in becoming the worldwide leader in fundraising. To build enthusiasm among its employees, Innovairre ran a food drive on #GivingTuesday. The company's employees ultimately delivered over three tons of food to three countries.
The company also introduced an "Innovarrian Award" for its employees to further generate excitement and action within its workforce. Don McKenzie elaborates, "Our employees are brand ambassadors. The Innovarrian award is designed to recognize our biggest asset—our workforce. More than our logo or an actor in a commercial, customers come to know our employees as true representatives for our business' mission. Establishing an award program is critical to recognizing the people that convey our brand to customers and prospects every day."
In partnership with Hawkeye Communications, Innovairre created a new website that clearly reflects the company's scientific marketing approach for fundraising optimization. Its key capabilities are well-articulated and include:
Advanced data analytics and insights
Progressive digital marketing
Leading-edge technologies
Sophisticated application of personalization
A proven creative and testing methodology
Unsurpassed capabilities in direct mail development, digital printing, and premiums for the nonprofit sector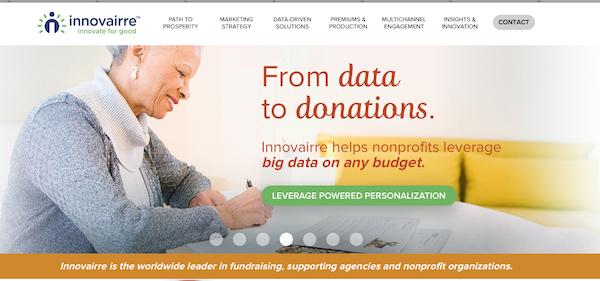 Figure 1: Screen Shot of Innovairre's Website
Social media was a critical ingredient of Innovairre's strategy. The company created a new Facebook account that was designed to share how its employees are collaborating to "innovate for good."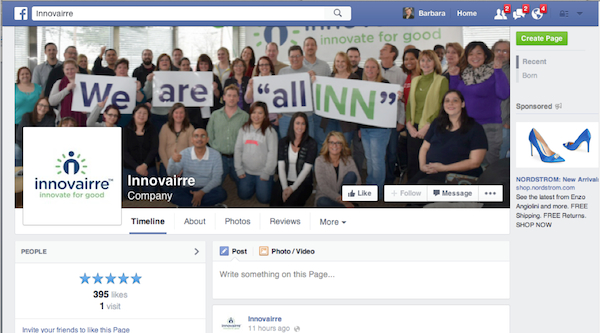 Figure 2: Innovairre's Facebook Page
A New Cloud-Based Solution
To help non-profits manage their operations and constituent relationships more efficiently without the complexity and investments of traditional software, Innovairre also introduced Innovairre MC. This cloud-based, integrated platform transforms the way that non-profits engage with their donors. The objective of Innovairre MC is to help non-profit organizations connect across traditional, online, social, and mobile channels to manage all aspects of their operations, from decisions to deposits. This platform was specifically designed to be easy to deploy and use.
The Bottom Line
Innovairre understands the importance of a meaningful brand on an internal and external basis. The company took actions to get its employees and customers involved and excited about the new brand, and these efforts are paying dividends. McKenzie concludes, "A strong brand in the market backed with the right products, solutions, and services is critical to customer as well as employee loyalty. A brand must have a purpose that people can really get behind, and good brand can inspire millions of people to join a community and rally them together for a common cause. Innovairre is a brand as well as a company, and we're focused on embracing our customers' causes as our own and innovating for good."