HP's Graphic Solutions Business (GSB) has several printer manufacturing businesses within it, and two of them recently hosted major packaging-related events:
• Israel-based HP Indigo supported a key finishing equipment partner, Kama, at a new finishing product premiere in Dresden, Germany. This folder-gluer can be paired with HP Indigo's B2 digital folding carton press.
• HP's U.S.-based inkjet press business worked with Obaly Morava, a corrugated printer in the Czech Republic. The two companies partnered to demonstrate Obaly Morava's use of the HP T400 to inkjet print liner media, for later lamination and conversion into corrugated packaging.
The two events, which occurred one after the other in mid-November, are representative of HP's far-reaching commitment to packaging within the digital printing market. The company addressed color digital printing for a range of packaging applications, including folding cartons and corrugated packaging.
It is important to note, however, that the full gamut of HP products can also address flexible packaging, as well as short-run and prototyping using the grand format HP Scitex systems. HP's strategy is thus to pursue color digital printing of primary and secondary packaging in all regions. This article provides a brief overview of both events.
Partnership with Kama
Kama, which just celebrated its 120th anniversary, is a manufacturer of diecutters, hot foil stamping systems, and folder-gluers. The company is also an established partner to HP Indigo for finishing equipment for use with HP Indigo's web and sheet fed presses. At its plant in Dresden, Germany, Kama unveiled its FlexFold 52 device as part of KAMA Finishing Days 2014. HP Indigo was a close collaborator in the development of this folder-gluer system, which will become commercially available during Q2 2015. This latest collaboration follows a similar collaboration on Kama ProCutters 76 and 53, as seen at drupa 2012.
The new FlexFold 52 offers automatic setup for rapid changeovers, making it suitable for producing short runs of folding cartons. Setup is handled via JDF and JMF commands, and the device can automatically adjust the length and width of the folding elements before gluing them together at a speed of 200 meters per minute with very quiet operation. Developed in collaboration with HP Indigo's team, the system matches the capabilities of the HP Indigo 30000 printing system, which was also on display at the event.

Kama's FlexFold 52
To control and manage the production on its devices (e.g., diecutting, foiling, folding, and gluing), Kama created its "Cockpit" control station. Designed to support the ProCut 76 and the FlexFold 52, the Cockpit is able to accept packaging outline files from the job's PDF and add to these the set up instructions for subsequent finishing processes using JDF. This information will be carried through all stages of the job, including setup and changeover; production tracking features will be available once this system is fully commercialized.
The KAMA Finishing Days 2014 event underscored the importance of finishing to the progress of digital printing in packaging; folding and gluing, along with cutting and other finishing processes, are critical to final product delivery. Kama and HP Indigo showcased solutions that enable manufacturers of folding cartons to succeed in a market where the incidence of short runs is increasing and time-to-market is getting shorter.
Demonstration of the T400 at Obaly Morava
HP's High-Speed Production Solutions business showcased its T400 inkjet press at the Obaly Morava open house. While the T400 is best known for its role in commercial printing, its focus at Obaly Morava the full-color printing of liner stock, which is later laminated to corrugated board for later conversion into packaging and displays.
Obaly Morava is a "corrugator"—it manufactures corrugated packaging using three- and five-layer cardboard to create various configurations, including tuck-in flap boxes and specialized packaging. The Czech company's equipment includes all the finishing elements needed to manufacture packaging (e.g., diecutting, folding, gluing, sewing), various analog print processes (e.g., rotary screen and flexo printing for up to five colors), and now, with HP's T400 inkjet press, digital CMYK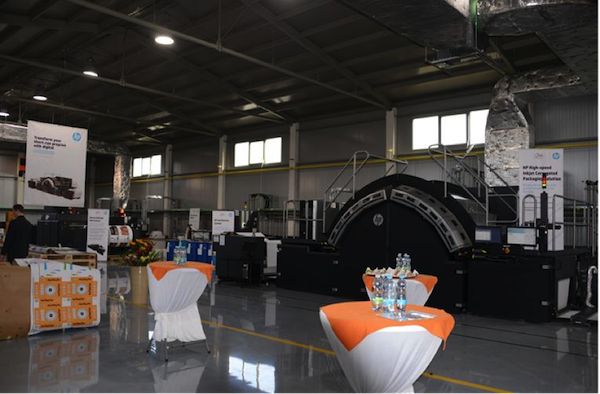 T400 Installation at Obaly Morava
By investing in the HP T400 and a near-line coater from Harris & Bruno International, Obaly Morava can now print full-color graphics on a range of liner substrates that can be pre- and post-coated as needed, and then laminated to corrugated board. HP's T400 has specifications that are appropriate for this high-productivity environment, including a print speed of up to 600 feet per minute and a 42" web width. Additionally, the underlying inkjet technology—HP's own thermal inkjet—has high nozzle density and multiple nozzles print in each dot row, enabling 600 dpi resolution and redundancy.
Obaly Morava's new digital focus will enable the company to maintain a high quality standard and improve its response times. Standard turnaround for corrugated print jobs is currently about three weeks, but Obaly Morava claims that its own standard is about 10 days. Using its new investments in digital printing and a new corrugator, the company aims to reduce its turnaround time to five days.
Another observation from the open house is that, like digital printing for most label, folding carton, and flexible packaging applications, the T400 digital press will operate alongside existing conventional presses. Creating full-color applications digitally enables Obaly Morava to improve operational efficiency and time-to-market by pulling shorter runs away from flexo presses and printing them on the HP T400. While Obaly Morava will continue to use its analog presses, the company has no plans to invest further in conventional color printing.
This solution—high-speed digital printing of liner media for subsequent lamination—has the potential to become a model for the many packaging converters that have not yet forged a digital strategy. Obaly Morava and HP have a strategic advantage of being among the first in the market to adopt digital technologies to better meet the challenges of the corrugated packaging industry. Other corrugated converters will likely follow Obaly Morava's example as they seek to meet clients' demands for short runs and quick turnaround.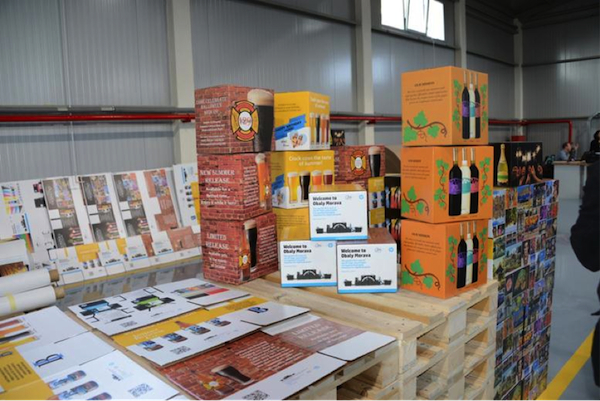 Corrugated packaging samples: printing by HP T400, plus lamination
HP's participation in these two major Eastern European events highlights the company's commitment to digital printing for packaging. One other takeaway was that an upgrade strategy is now a key element in HP's planning for its printers, with the aim of helping customers who may be weary of product obsolescence in inkjet printheads or ink delivery systems. Developing products and client contracts with a "future-proof" mentality has been part of HP's success in publishing, production mail, and commercial printing, and it will now figure into the company's budding placements for package printing.