As I write this, it is 27 degrees and an ice storm is ticking at the office window. At times like this, one's thoughts naturally turn toward summer and the beach.
Or, in this case, backward to the beach. At October's SGIA Expo, Epson staged a "beachwear fashion show" featuring models sporting garments designed by Carol Yeager, based on images created by artist Sohail Coelho, and printed on an Epson SureColor F7170 dye-sublimation printer.
Yeager is one of the founders and principals—with partner Stephen Moreno—of Los Angeles' MY Prints, a five-person digital print shop that specializes in apparel prototyping, printed handbags and makeup bags, and—by dint of being in L.A.—garments for costume houses serving the entertainment industry. Most of MY Prints' work is dye-sublimation-based, and the company has come to rely on its SureColor F7170.
Yeager has a fashion background, specifically the fashion merchandising side of that world. After several years of working with fabrics and garments, she had an epiphany. "I fell in love with prints," she said. "They're very emotional. You can have color and novelty, but prints are always emotional and people respond to prints in a very personal way."
Almost four years ago, Yeager and Moreno—he had been a vendor she sent work to—had the opportunity to launch their own business, and MY Prints was born. From the start, the idea was to explore the possibilities of dye-sublimation digital printing. Initially, they functioned as a digital output provider, executing other people's designs. When Epson approached Yeager with the beachwear project, Yeager saw an opportunity to get back into the design aspect of fashion.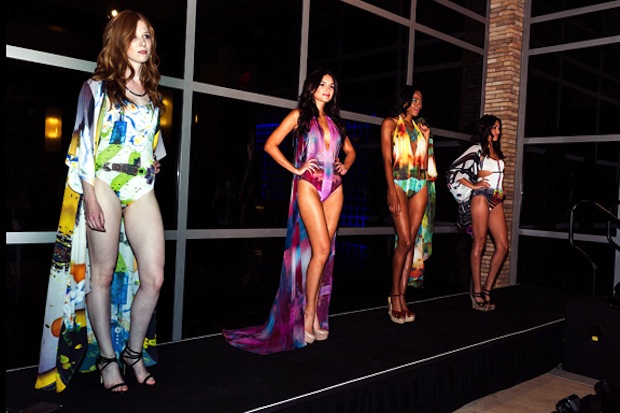 "Catalina [Frank, product manager for the Epson SureColor F7170] presented this concept of doing a small collection," said Yeager. "I don't do anything small! So it got a little bigger than I had anticipated, but it reignited what it is that started me on this journey into fashion: prints and the emotional side of them. When the flame reignited, I just saw something so much bigger than we had originally thought it could be."
The original idea was to print a couple pieces of swimwear. Famous last words. "For me, a couple wasn't enough," Yeager said. "It was almost like having an appetizer and skipping the meal. Catalina politely obliged my craziness and supported me 1,000 percent. It was a journey of half business, half crazy designer."
Yeager didn't want to do any old run-of-the-mill garment printing, or anything you could find on the market already. This was born the concept of, she said, "Art plus fashion meets ink technology."
Once the idea and the theme were developed, it was time to find the imagery itself. Yeager was familiar with the work of Sohai Coelho. "I had purchased a few pieces of his that were on metal that I loved, and I thought I could put his prints on fabric," she said. Essentially, she said, "I could put it onto bodies that would make those images come to life."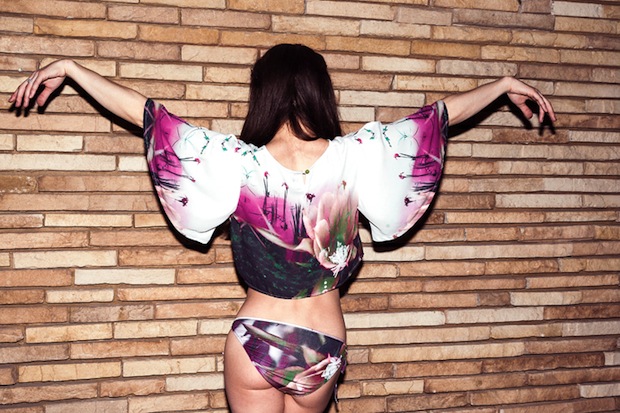 Once the images were purchased and the digital files obtained from Coelho, it was time to experiment with colors and fabrics. "I always start with the print and the concept," said Yeager. "The season—is it spring? Is it fall? From that, I think about what it is I am trying to make. We did a swimwear and a cover-up collection, so those limit me to the fabrics that I think would be appropriate."
Perhaps the biggest limitation—and one of the things that has thwarted the penetration of digital dye-sublimation into fashion printing—is that the nature of the dye-sublimation printing process requires synthetic fabrics like polyesters. Natural fibers like cotton and silk—and even semi-synthetic materials like rayon—won't work with dye-sublimation printers. However, synthetic substrates have been appearing that very closely mimic natural materials. "The most important thing to me was that they felt like silk," said Yeager. "Obviously, silk is still better quality as far as hand, but I still want to mimic that feeling of silk's traits, how it flows." "Hand," in the lingo, refers to how a fabric feels to the touch.
"When the girls walked down to the runway, the print and the fabric just moved—it was a beautiful thing," she said. "Those are all things you have to consider each step of the way."
Dye-sublimation printing—even digital dye-sublimation printing—is not a particularly new technology, but new systems and improvements in inks and substrates are allowing it to penetrate into new markets and applications. Leading the way have been soft signage banners and other display graphics, and the success of digital dye-sublimation printing in these areas has paved the way for other forms of textile printing to adopt digital dye-sub. Like fashion. And while we often associate fashion with clothing, furniture and other elements of décor are also part of the fashion world, and digital is moving into these areas, as well. However, as with clothing, there are limitations.
"You can print on upholstery fabric and wrap a chair," said Yeager. "But the problem is you have to think about is that sublimation has to use synthetic fabrics. Do people want to sit in synthetic fabrics as much as natural fabrics?"
"In the textile and apparel world, 99 percent of production is on analog because most of the fabrics are natural fibers like cotton, silk, and rayon," said Catalina Frank, Epson's product manager for the SureColor 7170, "but sublimation fabrics that are made out of polyester have changed a lot in the last 10 to 15 years. You now have fabrics that look like silk, cotton, and rayon."
As new synthetic substrates can more closely mimic natural fibers, they will become more and more suitable for these types of applications. Then again, maybe synthetic fabrics will become themselves fashionable. Some of us remember the 1970s.
Digital printing does offer its own set of advantages over analog—shorter run lengths and customization—indeed, the same drivers we cite in virtually every end-use print product category. Textile printing is no different.
"The designer can pretty much, on-the-go, print one piece to be a merchandising sample for a collection, for example," said Frank. "With digital dye sublimation, the fact that you can do one-offs to thousands of pieces—or even use tools within the RIP to change the color tonality of the print rather quickly—is the main advantage, to turn around collections in no time."
The print-only-what-you-need approach also has advantages in terms of inventory management: retailers selling these collections don't have to warehouse as much as they would of long analog production runs.
The lower barriers to entry make it easy for anyone to get into textile, apparel, and fashion printing—but there are challenges. And, somewhat paradoxically, those lower barriers to entry themselves pose a challenge.
"That's always been a struggle for Stephen and I because there are new print shops that are popping up left and right and their M.O. is, 'We're going to sell it to you cheaper, we'll sell it to you faster,' they'll get the cheaper inks and they'll get the cheaper paper," said Yeager. "And they're competing with us and we refuse to let that be our motivation."
We talk often of commoditization in the commercial printing industry, but certain parts of specialty printing—like banners and certain other types of textile printing—are themselves already on the verge of commoditization, if they're not there already.
"We always want to keep it about customer service and about quality," said Yeager. "There's that disconnect of chasing technology but maintaining some humanity to it. That is honestly what Stephen and I deal with on a regular basis, how do we keep updating ourselves on technology, on what is available, but meanwhile keeping it human about the service?
"Being true to your core values as a company—that's what Stephen and I really try to maintain as a focal point in our minds as we grow our business."