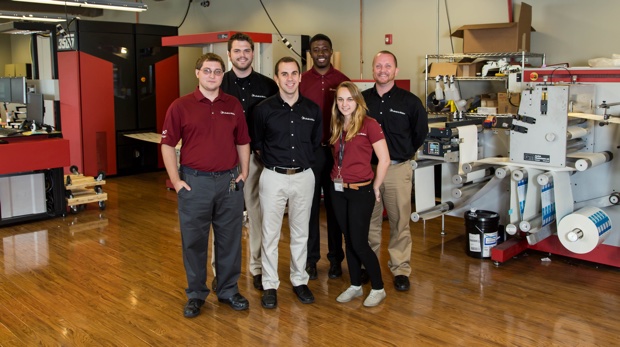 The team at Labels in Motion with their Xeikon 3500 digital web press. Back Row from Left - Stephen Kirchof (Vice President of Sales/Operation Manager), Eric German (Production Specialist), Kyle Carson (Lead Press Operator) Front Row from Left - Blake Trumbauer (Press Operator), Sean Cary (Senior Account Executive), Deanna Del Rios (Production Specialist)
Ever since the Dietary Supplement Health and Education Act of 1994 liberalized rules governing how dietary supplements and nutraceuticals could be marketed, there has been no stopping the galloping growth of the industry that manufactures and distributes them. Projected to achieve $16.4 billion in sales in the U.S. by 2018, the supplements industry delivers its products to health-aware consumers in untold numbers of containers—each one bearing a label that some printing business, somewhere, was responsible for producing.
In Orlando, FL, a small but busy captive label printing shop is handling the entire labeling volume of one of the nation's fastest growing producers of dietary supplements. Labels in Motion, owned by Xymogen, is expanding beyond its in-plant role by seeking additional outside clients of its own. The shop's ambitions rest upon the capabilities of a digital web press that not only prints attractive labels but also imparts a variably imaged security feature that exposes abuse in the carefully controlled distribution of Xymogen products.
So pleased is Xeikon with the things Labels in Motion is doing with its Xeikon 3500 press that the manufacturer brought a cohort of analysts and journalists to Orlando last week to see the machine in operation. Xeikon also used the occasion to brief the pundits on the place of its equipment in the label market and to update them on technology developments that are helping Xeikon users to be more competitive in label printing and other applications.
The seven young members of the Labels in Motion team call their red-cabineted Xeikon 3500 "Lola" after a similarly colored 1962 Chevrolet Corvette that figures in the Marvel Comics S.H.I.E.L.D. series. Less whimsically, the device is an LED-imaging, dry-toner, roll-fed electrophotographic press with a maximum media width of 20.3" and a top speed of 63 feet per minute. It can print at 1,200 x 3,600 dpi in up to five colors on substrates for self-adhesive and pressure-sensitive labels as well as on paperboard and synthetics.
The press runs in a dedicated space off the lobby of Xymogen's 136,000-sq.-ft. headquarters in Orlando, where all development, testing, and manufacturing of the company's products take place. Production at the two-shift in-plant sometimes consumes up to 10,000 linear feet of media per day, with run lengths varying from a few hundred labels to quantities in six figures. The press is supported by a near-line finishing system that UV-coats, laminates, diecuts, slits, and rewinds its output.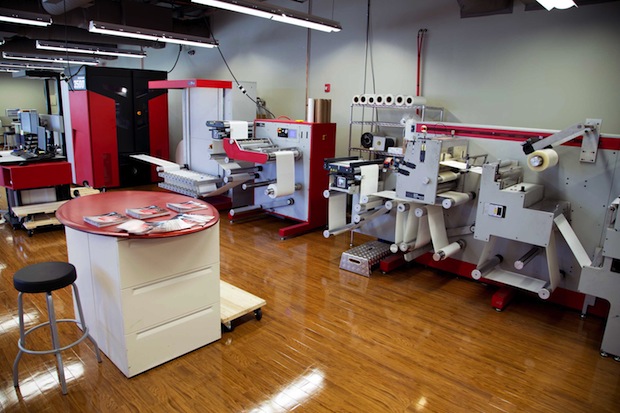 A complete near-line finishing system supporting the Xeikon 3500 press keeps labels in motion at Labels in Motion.
The Xeikon 3500 also prints variably, a feature that Xymogen relies upon to protect its brand integrity. Xymogen's policy is that consumers can obtain its products only from doctors, physicians' assistants, and other licensed healthcare practitioners—no unauthorized Internet sales are permitted. Nevertheless, Xymogen containers sometimes come into the hands of those who try to hawk them through unsanctioned online sources.
To combat this, Labels in Motion uses its Xeikon 3500 to imprint each label with a two-dimensional bar code and a patch of microtext that are generated when the container is ordered by the licensed healthcare practitioner who is authorized to resell it. These unique markers help Xymogen detect the presence of its products in illegal channels so that appropriate action can be taken.
Stephen Kirchof, vice president of sales for Labels in Motion, told the analysts and journalists that the individual bottle-tracking procedure has enabled Xymogen to eliminate about 90% of its Internet violators. As a result, he said, Xymogen soon will be the only truly exclusive source of proprietary supplements in the practitioner channel. He added that the initiative puts Labels in Motion and Xymogen ahead of the curve in implementing e-Pedigree, a track-and-trace mandate that applies to prescription drugs and some nutritional supplements as well. e-Pedigree requirements have been adopted by some states and will be in force nationally by federal law within 10 years.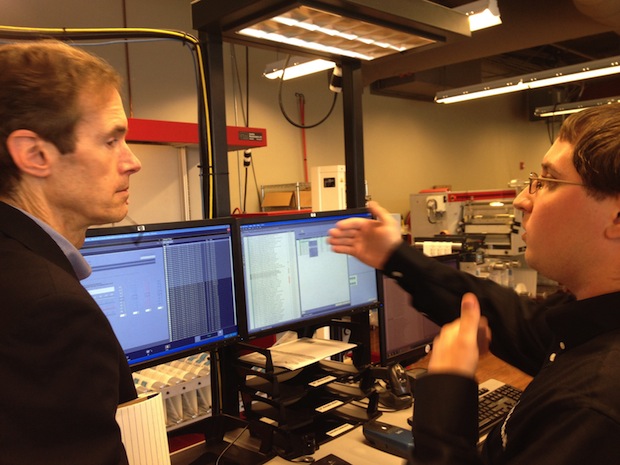 Press operator Blake Trumbauer (right) briefs Bob Leahey of InfoTrends on the Xeikon 3500's front-end capabilities.
As if all of this were not enough to have on its plate, Labels in Motion also is promoting itself as a commercial supplier of labels for consumer products. Kirchof said his goal is to build up outside accounts in categories such as sauces and salsa, beer and wine, health and beauty aids, and household cleaning supplies. He sees a particular opportunity in e-liquids for vapor-dispensing electronic cigarettes: a class of product that is largely unregulated now, but one that could soon face rules requiring the addition of labels for health and safety compliance.
The Xeikon 3500 at Labels in Motion is one of 318 Xeikon presses installed at label and packaging printing establishments worldwide, including 76 sites in the U.S. and Canada. Wim Maes, CEO of Xeikon, said that 2014 is the first year in which presses for labels and packaging have come to represent the largest share of the company's business, equivalent to 51% of revenue.
What's more, said Maes, almost every machine Xeikon sells within this space is a net new placement in a shop already doing business as a label and/or packaging printer. The privately held, Belgium-based company, which claims to be the first manufacturer to bring a digital press to market in 1993, has deployed several hundred additional machines around the world for document and commercial printing applications.
All Xeikon presses are webs, and they currently use dry toner (the company is in the final stages of development of a liquid toner technology called Trillium—see below). Among the three format categories that its six label-printing models fall into—simplex 13", simplex 20", and duplex 20"—simplex 13" presses represent the largest part of the installed base and produce the largest number of running meters in labels and packaging.
The principal uses for Xeikon machines in the field are self-adhesive labels (78% of volume), heat transfer labels (11%), folding carton (6%), and sticky notes and in-mold labels (2%). Xeikon works with technology partners, collectively known as Xeikon Aura, to offer specialized machine suites for most of these applications.
Filip Weymans, Xeikon's director of segment marketing and business development for labels and packaging, said that when the company thinks about devising new solutions for this market, it does so with four considerations in mind: the need, if one exists, for an alternative printing technology from Xeikon; the desirability of expanding the press line's color gamut; the goal of increasing running speed and productivity; and the achievement of reductions in operating costs.
Electrophotography, which represents 80% of all volume in digital label and packaging production, is the process that Xeikon will continue to prefer to inkjet, said Weymans, adding that inkjet is a "low priority" pursuit for the company at this time.
Xeikon has been pushing toner's performance on the dry side with ICE, a formulation for heat sensitive substrates and thermal transfer labels that fuses at 20ºC (68ºF); and in liquid mode with Trillium, the core technology of a four-color press that prints at 200 feet per minute at 1,200 dpi with a print width of 19.7". Xeikon recently installed the first of these machines at a document and direct-mail printer in France. Maes, in his remarks, said that a Trillium platform for labels and packaging could be a possibility in the future.
Weymans said that when Xeikon asked digital-only label and packaging printers about their color requirements, most replied that they were facing little demand for spot color and that they could fulfill most of their jobs with basic CMYK. Accordingly, absent a need for an expanded gamut in these applications, Xeikon will not add more standard colors to the five its presses already can print. However, customers can order custom colors from the company that can be used in the fifth toner station, which can also accommodate white toner.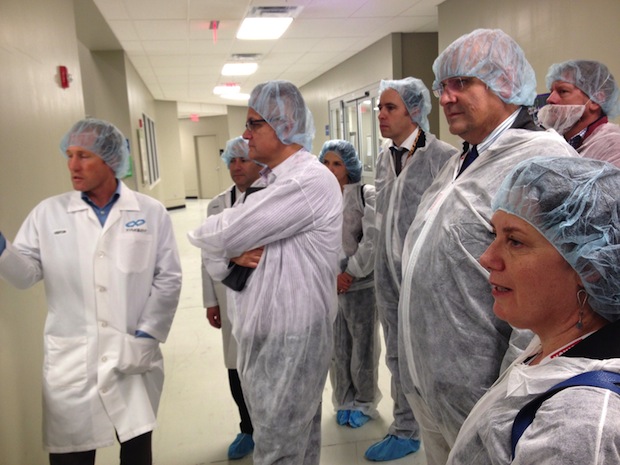 The purity of Xymogen dietary supplements is shielded against contamination by writers during a tour of the company's headquaters facility in Orlando, FL.
Press speed is a different matter. Here, said Weymans, Xeikon saw that some printers were adding machines to keep up with volumes that a single, higher-speed press would have been able to process more efficiently. This is what drove the development of Cheetah, a dry-toner press for the self-adhesive label market that Xeikon calls the fastest and most productive device in its class.
Running at nearly 100 feet per minute, the five-color, 13"-wide Cheetah is 56% faster than Xeikon's 3000 series press. Cheetah's high speed comes from a combination of rapid writing by its LED imaging heads; faster charging from the addition of more corona wires; ICE toner's low-temperature fusing; and faster-turning web drive motors.
Weymans said that all of this enables Cheetah to operate with 10% less cost than comparable Xeikon equipment for label and packaging printing. The company has sold eight Cheetahs since introducing the platform in September, including one at an undisclosed location in the U.S. Installations will take place in the first and second quarters of 2015.
Cheetah and other Xeikon solutions for label and packaging production will be showcased at the Xeikon Café Packaging Innovations event at company headquarters in Antwerp, Belgium, next March. In the meantime, those wishing to know what their labels would look like when run on a Xeikon press can find out by uploading files for free printout here.
The other aspect of presentations by Xeikon executives was a review of financial results. As our readers likely know, the company has been through several changes in ownership over its lifetime. But, in its most current iteration as a privately-held company under joint ownership of Bencis Capital Partners and Gimv, Xeikon is thriving.
Gimv invests from its own balance sheet and has about a 20% stake in the company. According to Maes, Xeikon is investing heavily in R&D, service, sales, and marketing to spur continued growth and stability. About 60% of its R&D investments are in the dry toner arena, with 40% in liquid toner.
In labels and packaging, Xeikon saw a CAGR of +25% from 2011 to 2013 and has already grown +28% YTD in 2014. Maes also stated that this growth is reflected by a +42% growth in running meters printed by Xeikon labels and packaging presses YTD as compared to 2013, with 50% of that growth coming from new customers and 50% from existing customers.