The finishing segment at drupa was just as good as advertised. There were great new advances and an industry clearly trying to address the needs of customers for more user friendly and end-to-end solutions. You could have selected postpress equipment just about any way you wanted it--inline, nearline, online and offline, JDF compatible and some UP3I-compliant.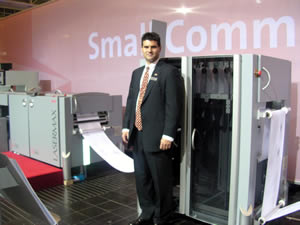 Clearly, there are few advantages to increasing productivity for presses and workflows if the finishing area still lags. It was never terribly important to increase productivity with litho printing, because the runs were long. There was plenty of time for all the manual adjustments that postpress equipment needed. Forward to 2004, and print job lengths are decreasing pretty rapidly. Digital jobs are growing, and they can be very short run. So now, postpress activities such as cutting, stitching and binding, have to be made ready much more frequently. Can you imagine adjusting all those clamps, guides and wheels etc. multiple times in an hour? Add to this the heart of digital printing, which is variable data, and now you have to consider the integrity of the finishing. The more manual intervention you have, the more mistakes are likely. With personalization, a lack of finishing accuracy could diminish if not negate the effect of the campaign.
At this show I saw finishing equipment that had every bit as much style, efficiency and innovation as their press partners. One trend was a strong commitment to producing products that would work for both digital and offset. For instance, one of the announcements from Duplo was the DSF-2000 Sheetfeeder which accepts electronically collated output from any digital printer including black and white laser printers and copiers, digital color and offset presses.
Another theme was systems. Finishing companies linked their own devices into each other to gain efficiencies and result in higher speed, more versatility, easier use and decreased cost. For instance, the Duplo UP3I compatible System 5000 was offered as "a complete finishing solution for printers." It incorporated the DC-10/60 collating towers, the dynamic DBM-500 bookletmaker, a face trimmer and a precision stacker optimized for both the digital and offset markets.
Finishing equipment had new and more efficient designs as well as digital capability. I saw many easy-to-use LCD panels providing automated job changes and production feedback with error messages. For instance, the Stralfors LX550 Unwinder, LX560 Cutter, LX565 Stacker, LX530 Buffer and LX568 Feeder appeared with Océ, IBM, Bowe, in PrintCity and at Xerox. They showed interactive touch-screen displays capable of remote diagnostics and enhanced error recovery. As you would expect from a core member of the UP3I consortium, their devices were UP3I compatible. As the postpress equipment becomes more digital, job data can also be stored for reuse, analyzed to improve margins and available to enhance scheduling or predict job completion.
Another trend was increased speed and application capability. Speeds are being increased to meet the needs of higher speed presses, and the more one device can accomplish efficiently the better for the finishing cycle. Standard Hunkeler, for example, presented in production lines with Heidelberg, HP Indigo, IBM, Océ, Weko and Xerox. They announced the CS4-2 longitudinal and cross cutting module. Separation of the paper web in the cross and longitudinal direction is a key function in digital printing lines. As the speed rises, the CS4-2 will set itself automatically via the UP3I interface plus automatic synchronization with register marks. They also announced the LS4, a large stack delivery station that enables he delivery and offset stacking of sheets up to 27 inches in length. The UM520-W for the Variweb System is the universal module for die cutting, perforating and longitudinal and cross cutting with gutter cut, increasing the diversity of production options.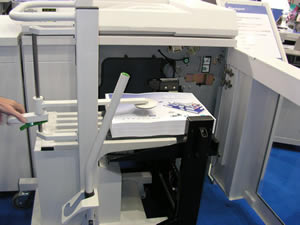 Some of my favorites were the ones I didn't expect. Consider the SigmaLine from Müller Martini, where, instead of fitting their finishing around someone's press, they just put the Delphax engine in their finishing line! Müller Martini's very apt booth slogan was "Integration Solutions--from A to Z." Another that got my attention was the Stralfors LX501 Stack Lightweight solution that handles paperweight as low as 60 gsm. It hadn't really occurred to me how popular lightweight paper is becoming in the print world, but obviously it allows printers to conserve space, resources and costs. Another favorite was the Stackport from Duplo, Xerox, GBC and CPBourg. Trying to eliminate the final manual job of moving paper, the Stackport is an intelligent paper transport system linking digital printing to near-line finishing environments. It has a ways to go, but I liked the idea. Packaging was on a high, especially from HP, who showed a laser diecutter, label design and printed holograms.
This may not be a trend, but a "digital back end" does offer a certain amount of modularity. By linking one piece of postpress equipment to another, a digital back end can run the show either nearby or remotely. Xerox showed three entire finishing lines run from three presses, all online, with the ability for each press to switch to another line. Standard Horizon showed their i2i solution with a postpress controller that intelligently managed multiple devices.
By and large, postpress embraced the JDF workflow, making use of the electronic job ticket information for finishing processes. Digital printing industry leaders promoted the message "Get productive with UP3I at drupa." The core members, Oce, IBM and Xerox, Duplo, Hunkeler and Stralfors, encouraged the finishing standard through live demonstrations in partnership with other members and in educational sessions in the JDF Parc. The principal aim of the UP3i (Universal Printer Pre- and Post-processing Interface) core members has been to define an open standard for end-to-end communication of data between the components of an integrated digital print line, enabling postpress integration with other workflows and standards. The one real live UP3I system I could find that was actually using UP3I was the Oce VarioStream 5000 with Duplo in the Océ booth. There were many other UP3I compliant pieces of equipment where the standard was not actually being used for process control. The hard part of a UP3I demo is that is looks a lot like a proprietary demo. Any well done protocol will manage the entire system. So, what's the big deal?
While there is little doubt that UP3i will improve productivity by allowing more time for printing and less setting up, and production will be optimized. But I like the freedom it brings to printers. Without UP3I, you cannot use the finishing devices of your choice with your press. You cannot expand and update the equipment when and how you want to. You will not be able to decide for each piece of equipment whether you want it inline, online or nearline. You are hostage to your press vendor and the choices they have made regarding finishing. This is not to say that the press vendors are not working hard to select partners and open opportunities. They are. And they are working hard to develop more modular approaches that will offer more options. But it's not the same as independence. What do you think?.