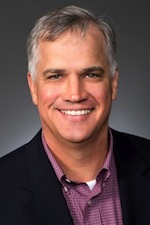 WhatTheyThink recently learned that HP is planning a dedicated user group to be known as Jetcomm and a conference for production inkjet users from around the world to precede DscoopX, scheduled for early March in Washington, D.C. A collaborative effort between HP, its customers and Dscoop, the group is designed to support the growing installed base of HP Inkjet Web Presses. I spoke with David Murphy, Worldwide Director of Marketing & Business Development - HP Inkjet Web Press Solutions, to get more information about this upcoming event.
WTT: David, what is the driver for holding a separate inkjet event in light of the huge success and high attendance rate at the Dscoop conference?
DJM: Well, nothing compares to Dscoop – it's one of a kind. Dscoop is a wildly successful community, growing to over 8,000 members in just ten years, most of whom are HP Indigo customers. Yet another smaller, but rapidly growing population consists of HP Inkjet Web Press customers worldwide. Their applications and markets tend to be a little different from the typical HP Indigo customer, but they share similarities in their creative drive and their desire to learn from and help one another.
So we met with the Dscoop board and with numerous HP Inkjet Web Press customers, and we agreed that a new dedicated production inkjet community should be established alongside Dscoop and with its guidance and support. The steering committee for this user group has been formed and planning for the first annual conference has begun. We believe this is the first worldwide production inkjet user community of its kind.
WTT: Do you encourage production inkjet owners to participate in Dscoop?
DJM: Absolutely. In fact, when companies purchase an HP Inkjet Web Press, they automatically receive their first year's Dscoop membership at no charge. Dscoop offers tremendous educational value for them. So we have two goals with this first inkjet user conference: First, to hold an educational and business development event that will benefit our Inkjet Web Press customers; and second, to have it coincide with DscoopX so that those owners can more conveniently benefit from the Dscoop experience.
WTT: Is there a formal name for the group and/or event?
DJM: First, we formed a steering committee of HP customers from the Americas, Europe, and Asia-Pacific, representing various business sizes, market segments, and application focus. These and other customers said they wanted to create an interactive worldwide inkjet community. With some brainstorming, they abbreviated InkJet Community into Jetcomm: a name that is both creative and descriptive, while also connoting speed, forward progress in communication and a sense of unity within the HP Inkjet Web Press community.
Once a year, Jetcomm will convene for a worldwide conference. Jetcomm 2015 will be the inaugural conference in conjunction with DscoopX. It will leverage the ingenuity and experience of the Dscoop board and volunteers, so we know it will be a world-class event. The experience will be a combination of education, networking and inspiration. As with Dscoop, we hope conference attendees will capture new ideas, secure new knowledge, and build new relationships that will grow their businesses.
WTT: When and where will the conference be held?
DJM: Jetcomm 2015 will be held March 4-5, 2015 at the Gaylord National Resort and Convention Center, a beautiful waterfront property just eight miles from Washington D.C. Conveniently, it is also the same location as DscoopX so attendees won't have to change hotels.
WTT: How are you going about establishing the conference content?
DJM: Our customers are driving content development. They said they want the experience to be education-focused and not inundated with sales pitches. They also want a conference that enables open discussion and idea sharing, without death-by-PowerPoint lectures.
Jetcomm 2015 will be driven by our customers for our customers in the same way Dscoop has been. The steering committee will take the lead and Paul Gardner of Hudson Printing in Salt Lake City has graciously agreed to chair this committee. As we learned with Dscoop, customers' creative involvement is critical to a successful conference, and we are working closely with them to design a valuable agenda.
We expect the curriculum to include sessions about inkjet market and business trends; partner solutions from workflow and production through to finishing and substrates; as well as expert and customer thought leadership sessions. We might even provide a sneak peek at future products!
Finally, we plan to visit a customer site in the area with a global printing operation, which we think attendees will find quite interesting and educational.
WTT: Is there anything else unique about being in the HP inkjet user group aside from attending the annual conference?
DJM: Dscoop has taught us that there is more to being a Dscoop member than attending a conference once a year. It should be a year-long experience with continuous networking touch points to other members, along with numerous educational and business development resources. That's a big part of what makes Dscoop different from other industry user groups. It has become a 365-day-per-year connected global community that transforms acquaintances into life-long friendships and ideas into success stories. We want to borrow some of that Dscoop magic to create a vibrant and dynamic inkjet community that lasts all year and gets better every year.
WTT: Do you think you will eventually merge this Jetcomm with Dscoop?
DJM: That will completely depend on the customers' desires. We believe Jetcomm and Dscoop will remain separate entities in the near term, with the ability for Jetcomm to leverage the many benefits of Dscoop membership.
WTT: Where can people find more information?
DJM: Jetcomm is establishing a registration site in conjunction with the DscoopX conference registration, which we expect to be live in early December.