This article is sponsored by HP's Graphics Solutions Business unit.
Operating as a family-owned business since 1947, Bridgeport National Bindery has a rich heritage in the creation of high-quality case and library bound books as well as rebinding of library books and school textbooks. "Although we had been rebinding school textbooks since the 1960s, in the early 1980s, we started a summer program around the rebinding of school textbooks as an opportunity to incubate new ideas," says Kent Larson, Vice President of the Print On Demand Division of Bridgeport. "As part of that program, we hire high school and college kids to work for ten weeks, and we collect books that need rebinding from school districts all over New England. This program has been a tremendous source of talent for us as well as an opportunity to test out ideas and workflows for the overall business in an incubator environment." Larson worked as a summer hire in 1989 and never left, a good example of talent the program has attracted for the company.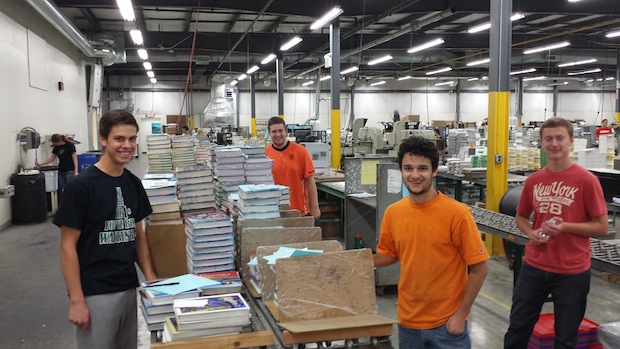 "One important thing we learned through that program," Larson explains, "is that our value proposition is not so much about the printing and binding. More importantly, it is about the technology solutions we developed out of our summer incubator program that allow us to manage the content for our clients." To that end, Bridgeport has developed two order-entry separate workflows. The first allows clients to order, submit the file, have it printed and then purge the content once the job ships. The second workflow is for publishers that are interested in maintaining their content in Bridgeport's cloud-based digital library. "For these publishers," Larson explains, "our system allows them to take advantage of the Long Tail, keeps them relatively inventory-free, and takes a significant amount of cost and waste out of the book publishing supply chain."
The company was specializing in short-run binding, down to a quantity of one, and realized that content owners didn't want to print a short run of books somewhere and then have to ship them to a different location for binding. "That's when we jumped into printing," Larson says. "It was a logical addition to our XML-based dynamic ordering system that allows late-stage changes."
Staying Current with Printing Technology
Bridgeport initially experimented with black & white and color toner-based digital presses, including an HP Indigo that was installed in 2006. As the business continued to grow, customers began requesting more products and services. "These are Internet and IT companies who were very impressed with our IT infrastructure," Larson says. "They wanted to be able to allow their customers to submit their files or to build books or magazines from within their interfaces for near-lights-out printing and binding in our plant. In order to accommodate this new business, we were looking for a solution that could efficiently produce both black & white and color book blocks in quantities as small as one, but could also handle longer runs. The new press also needed to support an expanded range of applications, including short-run high-quality magazines on coated stock.
"We looked at everything," Larson says. "We determined that inkjet was the next logical step, and these presses are a big investment for a family-owned business. We needed to be sure the investment would pay off in throughput, quality and the range of stocks we could run to allow us to accommodate this new business."
Production Inkjet: Enabling Dramatic Business Growth
Bridgeport chose an HP T230 Color Inkjet Web Press to meet its growing book and magazine printing needs. "One of the deciding factors," Larson explains, "was our ability to connect a LaserMax unwinder/folder/slitter to the inkjet press. We already had one inline with the Indigo WS7250 but obviously would need it to be able to handle a great deal more throughput. Lasermax was able to address that concern. Now we are running books in a 3-up configuration that folds, slices and collates, or a 2-up configuration that folds and collates, with offsets so you can see where one block ends and the other begins." Finished book blocks destined for perfect binding are dropped into a Muller Martini Sigma binding line which has made soft-cover book production much more efficient, enabling production of books one at a time as needed. The entire workflow is bar-code driven to remove potential for error and increase overall throughput.
Substrate availability was also a driving factor in Bridgeport's decision process. "We are using an Appleton coated without bonding agent, and the results are gorgeous. With the bonding agent, our uncoated stock delivers beautiful results as well."
"This has been an amazing transformation of our business, expanding the range of products we can produce and significantly increasing our throughput and our revenues," Larson adds. "We are running two shifts on the HP T230, and it is almost all new work, much of it from well-known anchor customers."
Bridgeport National Bindery Reinvented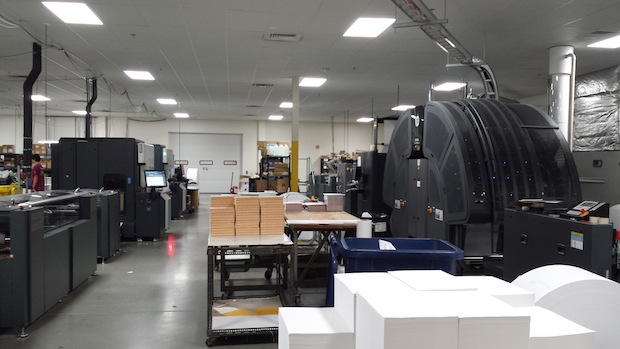 Today, the company has a 20,000-square-foot environmentally controlled print room that houses four HP Indigo presses (a 7000, 7500, 7600 and a WS7250) and its HP T230 Color Inkjet Web press, along with a variety of monochrome sheetfed toner-based presses. Bridgeport's Print-On-Demand operation accounts for 80% to 85% of all of the books the company produces every day and contributes 80% of the company's revenues. This has more than compensated for the declining volume of Bridgeport's traditional library binding work, which has declined by about half. "We are shipping about 2,000 library books per day from our traditional business," Larson reports, "but an average day in Print On Demand sees 9,000 to 10,000 books per day; we had a record day earlier this year when we shipped 21,000 books in one day! We could never do this without our HP T230 Color Inkjet Web press."
In addition to the new business enabled by Bridgeport's HP T230, the lower per-page cost of the T230 is encouraging more work to migrate from its toner-based devices. "We continue to refine our workflow and add new products," Larson concludes. "We see another production inkjet press in our future!"