Introduction
There's a quiet revolution happening in the printing industry. In an effort to jump-start innovation, printing companies are collaborating with vendors to apply new strategies, digital tools, and technologies. It's not about pontificating about the innovation process; it's about being lean, focused, and maniacally strategic in the delivery of customer services and solutions.
Xerox's European and Global Premier Partners met this week in Madrid, and innovation was front and center. The Premier Partner Congress featured Xerox Executives, users of Xerox technology, Xerox business partners, and industry analysts. All of these parties were focused on how print technology is evolving and how market innovations are enhancing its value as part of the overall communications mix.
Figure 1: Xerox's Premier Partner Advisory Board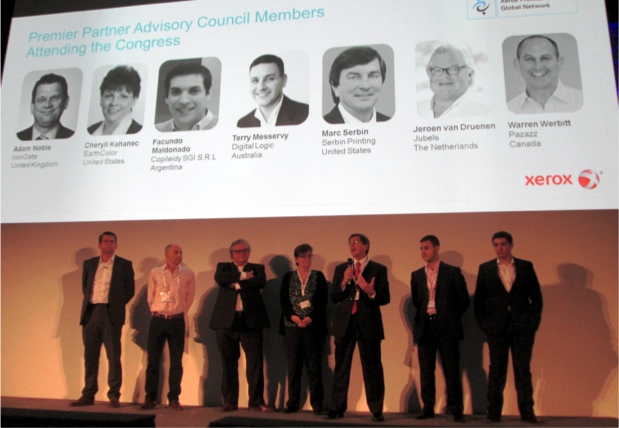 Xerox: Innovating with R&D
In her keynote address, Sophie Vandebroek (Xerox's Chief Technology Officer and President of the Xerox Innovation Group) discussed how Xerox wants to partner with its customers to help them create differentiation through innovation. Vandebroek highlighted five best practices for innovation that Xerox applies and how these are equally relevant for users of Xerox technology.
Clearly understand users' pain points and dreams. This involves striking a balance between solving the right problem and solving the problem right. At its R&D centers, Xerox has worked with clients to perform customer dreaming sessions in its development of new technologies.
Foster an innovative culture. Vandebroek stated, "The culture needs to be inclusive, and relationships are critical to successful innovation. Companies must utilize experiments to test new business models and ideas."
Focus on agility. Xerox has created a repeatable innovation process that starts with field study. The company determines minimum customer viability and then conducts customer pilots as new technological innovations are introduced.
Leverage the world. The emphasis here is to create an open innovation system. Find partners that can enhance the overall creativity of new, innovative ideas.
Manage a portfolio of opportunities and new business models. According to Vandebroek, "We are in a very dynamic environment. Companies must embrace change and see it as an opportunity rather than fearing it. Although firms certainly need to continue investing in their core businesses, they must also make investments in the areas where they want to be."
Figure 2: Sophie Vandebroek's Keynote at Xerox's Premier Partner Congress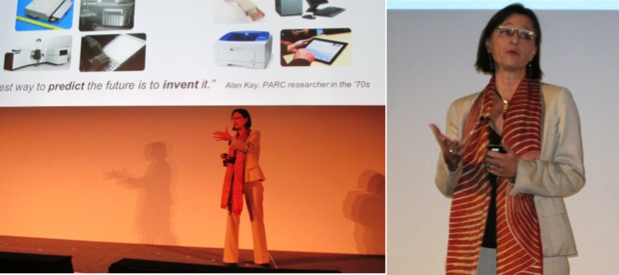 Inkjet: Innovation Drives Print Volumes
Jim Hamilton, a Group Director at InfoTrends, explained the growth in the digital color and inkjet markets to the Premier Partner Global Network at the event. He noted, "Innovation in the inkjet market is driving volume. U.S. and Western European digital production color volumes totaled 265 billion impressions in 2013, but InfoTrends expects them to exceed 500 billion by 2018. Meanwhile, production color inkjet accounted for 37% of the total production digital color volume in 2013 and will represent 59% in 2018. This occurs despite the fact that digital color toner is also growing at a healthy rate."
According to Hamilton, inkjet is taking hold in three critical markets:
Transaction documents: The concept of white paper in and full color out eliminates preprinted forms, which brings cost savings to providers. In addition, there will be white paper factories where letters, inserts, and envelopes will all be produced on the same web. InfoTrends also expects full variable color transaction documents to take hold.
Direct mail (including catalogs): The ability to affordably produce segmented full color direct mail means that relevancy will reign. Marketers will use more and more variable color for segmented and 1:1 communications.
Books and brochures: On demand printing is becoming a reality. For books and brochures, organizations will be moving toward just-in-time manufacturing. The printer will become a virtual document warehouse that produces only what's needed in extremely short runs.
Partnering to Deliver Innovative Solutions
Sometimes innovation is linked with the creation of strong partnerships. One of the sessions at the Premier Partner Congress featured Mike Peterson (CEO of Gabriel Group) and Jeroen van Druenen (Director of Jubels). At Gabriel Group (St. Louis, MO), the company's ongoing business of providing a Web-based repository for a global Fortune 1000 company was in jeopardy. The client wanted more personal service in Europe, but Gabriel Group's former partner preferred to provide fulfillment only, not personal contact. Peterson realized that it was time to take a new and innovative approach. Peterson logged on to the Premier Partner website and conducted a "Find a Premier Partner" search. The result was a suggestion to collaborate with fellow Premier Partner Jubels b.v. (Amsterdam, The Netherlands). This new partnership involving Jubels has surpassed the customer's expectations for more personal customer service in native languages at European locations. The partners jointly service the $1 million account, each producing about 15 to 30 jobs per day. Jubels has won a new client, which the two Premier Partners service jointly. For Gabriel Group, having the capability to print internationally gives the firm global credibility, which attracts clients—even if those clients don't immediately use the international capabilities.
Figure 3: Session Featuring Mike Peterson and Jeroen van Druenen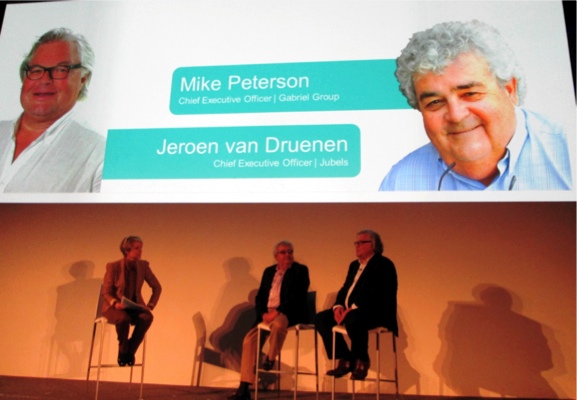 Innovation with XMPie
At the heart of innovative solutions for service providers is the movement into cross-media communications. XMPie is a solution that helps service providers make the migration from printer to marketing partner. Companies like Poland-based Emerson and Pennsylvania-based Ditto Documents have recognized that the time had come to innovate with cross-media services.
In business since 1992, Emerson services its clients by offering a combination of experience, professionalism, and innovation. Thanks to its dynamic development, the firm is currently one of Europe's largest producers of direct mail, letter shop, and transaction-based applications. According to Sales and Marketing Manager Michael Banaszczyk, "Our next major area of innovation was cross-media communications. In addition to investing in XMPie, we hired an Art Director and several Project Managers. We already had strong IT capabilities in place with our existing IT staff. We branded our offering Pinpoint and sent out targeted cross-media campaigns that combined direct mail, e-mail, personalized URLs, SMS, and video. We have been at this for three months and the business has taken off. We are always investing in innovative technologies, and we continuously expand the range of our products and services to drive new revenue streams."
Nineteen years ago, Ken Schriber and his brother Steve founded Ditto Documents as a copy and production center for law firms and corporate legal departments. While the company still services the copying needs of its law customers, this portion currently accounts for only 2%-3% of business. Ken Schriber elaborates, "Our focus is now on direct marketing and printing production, and we are targeting medium-sized and large corporations in Pittsburgh and the tri-state area. We work with marketing and IT departments to implement solutions that help solve problems or create outcomes that grow revenues. We have been especially successful in implementing Web-based portals for our clients using a combination of best-in-class digital print equipment and software tools like XMPie."
Becoming a David in a Goliath World
Also during the event, InfoTrends Group Director Barb Pellow talked about how the digital era presents a unique paradox for industry leaders. While it can cause disruption in the short term, it also creates an unprecedented opportunity for companies who can rapidly adapt to the new normal. Pellow provided a number of examples illustrating how the smart use of digital can enable smaller service providers to access new geographic and demographic market segments, develop customized products and services, deliver a richer customer experience, and reduce the cost of service delivery. Because they are more flexible and nimble than their larger counterparts, smaller companies are uniquely positioned to compete against the Goliaths of the business world by quickly responding to change and leading with new digital communications services offerings.
Software Innovators Deliver New Business Opportunities
A panel of three software innovators shared emerging technologies that can drive new revenue streams for print service providers. They included Ted Stine from GTxcel, Peter Lancaster from documobi, and Julio Sola from Blippar.
According to Stine, "Digital Publishing has become more complex than ever before. Marketers and publishers are being asked to create everything online in addition to printed form. Under the Unified Publishing Platform, GTxcel will help printers offer services to drive new revenue streams by helping customers publish to all devices and all screen sizes."
Lancaster highlighted the capabilities of his own company. He explained, "documobi is a mobile app that has changed the game. Anything already printed, or printed in the future, can now be made to connect directly to the mobile-optimized web. This is great news for printers that are looking to offer unique value-added services to their clients, easily generate new business, and significantly increase their bottom line. documobi creates value for the entire marketing communications supply chain through its iPR (intelligent Print Recognition) and iAM (interactive Advertising Mail) solutions."
Sola noted, "Blippar's technology enables service providers to offer interactive AR to existing and new clients. Users can quickly design exciting, interactive mobile experiences using Blippar's new self-publishing tool, Blippbuilder. Put simply, this means an opportunity for new revenue streams."
Backed with Business Development
In today's ever-changing market, no one can go it alone. Service providers need partners in innovation. According to Hubert Soviche, Marketing & Strategy General Manager of Graphic Communications Europe, Xerox is partnering with InfoTrends and a local network of consultants to deliver business development services that will be customized to a specific Premier Partner's individual needs. Soviche elaborated, "We have created five offerings that we know are of critical importance to our customers. They include support in building business strategies, understanding target markets, selling digital print and variable data, and forming effective sales and operations. Everything starts with a discovery call—InfoTrends, the local consultant, and the Xerox Premier Partner collaborate to develop a workshop that is specifically geared to the service providers unique needs."
The Bottom Line
While inventing a new idea is important, what really drives revenues is bringing that product to market, putting it into practice, and further exploiting its innovation. Today's service providers are quietly and intently focusing on using emerging technologies that ultimately generate new products, services, or systems that add value or improve quality. Now is the time to join your peers and jump on the innovation bandwagon!