Although the show floor was smaller this year and formal attendance numbers have not yet been released, Graph Expo 2014 did not disappoint. Going into the show, I personally was excited about the many new and interesting announcements exhibitors were making and was looking forward to seeing some of them live as well as interviewing key players in our video studio.
Despite a smaller show floor, it is still too big for one writer to cover everything—which is why we had a team there, and you have been benefiting from our written and video commentary as a result. In this article, I will be highlighting a few of the things I personally found most interesting and applicable to the future of our industry.
Please, dear readers, time and space doesn't allow me to cover everything, so if your product or company is not mentioned in this article, it is likely that it is covered by one of my colleagues or in our videos. These are just highlights. Note: I'm leaving coverage of wide format to my colleague Richard Romano!
Press Conferences Can Be Fun!
I have to start these highlights with congratulations to EFI for one of the most fun and innovative press conferences I have ever attended, perhaps the best press conference in the history of press conferences. It was framed around the 25th anniversary of the fall of the Berlin Wall, and coincidentally, EFI's 25th anniversary, and projected out 25 years to what we might see in the world and in the industry. Very creative. You might recognize some faces in this "future of print journalism" image, including the robot version of Frank Romano. EFI was also honored with a record-breaking 11 Must See 'ems awards at the show.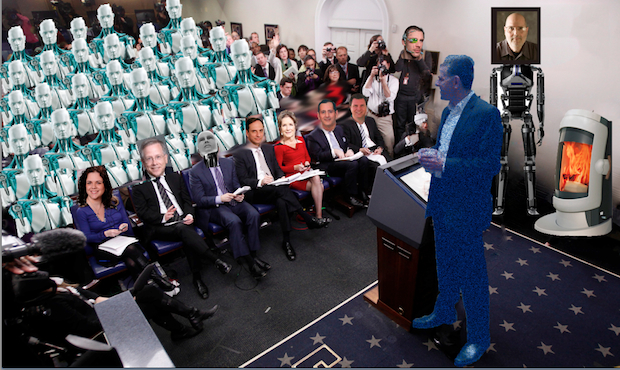 Also of note on the press conference scene was the announcement by KBA and HP about their collaboration to develop high-volume inkjet solutions for the corrugated packaging market. It was artfully staged so that the news went live at just the right time during the press conference. In fact, collaboration among suppliers to the industry jumped out as an important sub-theme at this year's show.
In the Clouds and On the Ground
As you might have expected, there were many cloud-based software solutions on display at the show, some new, some more mature, and some being shown as technology demonstrations, as well as a plethora of licensed software. Keep an eye on our Print Software section for Product Spotlights and other coverage in the all-important software arena. The following highlights are listed in no particular order.
Ricoh continues to expand its TotalFlow workflow portfolio, with the addition of TotalFlow Batchbuilder for simplification of the batching and scheduling of short-run digital work, and TotalFlow Path, an easy-to-use workflow integrator that allows different systems to speak to each other.
Hybrid Software showed Cloudflow, an HTML5 modular prepress production workflow system designed to be run in a private computing cloud. Because it is developed in HTML5, it can be operated or accessed from any web browser or tablet.
Avanti continues to enhance its Slingshot offering, now with a JDF Framework that makes it easier to connect the MIS to a wide range of digital and offset workflow solutions. And PTI Marketing Technologies has added Salesforce.com integration to its MarcomCentral marketing automation solution. Watch for an upcoming video series that explains this in more detail.
I was also able to spend some time with the folks at CHILI Publisher, an online document editing solution that can be integrated with a variety of workflows, from web-to-print and brand management to packaging and magazine publishing. CHILI Publish was creating personalized labels on demand for booth visitors, and applying them to bottles of good Belgian beer.
Xerox was showing off its FreeFlow Digital Publishing Solution, based on GTxcel (formerly Texterity) for a speedy and accurate responsive design approach to producing high value interactive digital publications from InDesign files for output to any mobile form factor as well as the web. While this solution only works within the Xerox framework, if you are a Xerox customer, it is well worth exploring. Over the past several months, I have written a significant amount about the business opportunity this type of service provides to both publishers and enterprises, and this solution lives up to that promise within the Xerox ecosystem.
In the technology demonstration category was a solution from Aleyant Systems. Print Job Manager is a new technology that will bring the basic benefits of streamlined management of work flowing through the shop to printing companies of any size without a great deal of complexity or expense. In fact, according to Aleyant President Greg Salzman, a printing operation can be up and running with a basic Print Job Manager implementation in as little as 15 minutes. This type of innovation is important as print shops work to continue to streamline operations, and many are intimidated by conventional MIS implementations.
CTP: Some Interesting Offerings
While CTP is largely a replacement market, the digital plate business seems to be booming. Kodak was featuring its process-free Sonora plates, and claims a 300% year-over-year growth rate in that business.
Presstek had a variety of plates on display, but perhaps the most unique offering was its JT Direct Inkjet Plate, an aluminum plate designed for imaging on an Epson inkjet printer with standard ink. Plates can go directly to press for runs of up to 5,000, or baked in a standard oven for longer runs. Oh, and the Epson printer? It can also be used for wide format printing and proofing. This makes the offering quite interesting, especially for smaller shops who are looking for an affordable price and a compact footprint.
China also entered the fray at Graph Expo, with CRON, the largest manufacturer of CTP in China, announcing a joint venture with ECRM that will be offering systems that can image thermal, violet or UV plates, and the plates to go along with it. The UV plate imaging technology uses violet diodes to expose a UV plate and was also quite interesting, with the company claiming that costs for this low-chem plate will be in the range of $5.50 to $6 per square meter (approx. $.50 to $.60 per square foot), based on experience with the product in China and Europe. This different approach to high quality platemaking drew a fair amount of attention at the show and does require the use of a CRON-ECRM platesetter. It is our understanding that one of the major plate manufacturers is also distributing CRON technology in Latin America. CRON's platesetters offer a 2-year warranty, with 3 years on the laser diodes.
The Press Room
For some time, Graph Expo has been morphing into a digital, versus an offset, show. This year, the only conventional press on the show floor was a Ryobi UV offset press in the GSNA booth. Its five-color, 8-up RYOBI MHI 925 press with LED-UV instant curing system drew a fair amount of interest. Presstek was also showing its DI presses. But the days of huge offset presses dominating the show floor are gone.
Even drupa will be shifting more towards digital. A telling sign is the fact that, after holding Buildings 1 and 2 at Messe Dusseldorf seemingly forever, we hear that Heidelberg has withdrawn to Building 1—shared with partners—for drupa 2016 while HP has contracted for the entirety of Building 17.
But there were many digital presses on the show floor, both toner-based and inkjet, showing a variety of applications and, in the case of inkjet, continuing improvement in the quality and the variety of substrates that can be used. HP's Indigo 30000 B2 folding carton press was shown for the first time in North America and drew a great deal of interest. Ricoh showed off its new Ricoh Pro VC60000 production inkjet press, the successor to the InfoPrint 5000 (which the company will continue to sell) and also developed in collaboration with Screen. The VC60000 incorporates a number of innovations that were covered in detail in a recent article by David Zwang. Canon isn't standing still, either, with the U.S. debut at the show of the Océ ImageStream 3500, and theater presentations about its Niagara sheetfed inkjet project. Xerox's Impika eVolution, with its modular, scalable architecture was also present at the show.
Sharp had its own stand this year, highlighting its dedication to an upmarket move, having shown its Pro Series Color Document Series in the EFI booth last year. It features a unique 15.4" high resolution touch screen display serves as the primary operation panel for the Pro Series as well as acting as the interface for EFI Fiery Command Workstation, a unique configuration. Its attractive industrial design as well as the slick user interface attracted my attention. I also found it interesting that it can print full bleed booklets that only require a face trim to finish.
Please refer to additional articles from my WhatTheyThink colleagues for information about the plethora of other digital engines on display at the show. You can also visit the Graph Expo page on WhatTheyThink for a collection of all of the news from the show.
A Great Finish
There were lots of comments around the show floor that the mailing and finishing vendors seemed to have invested the most in exhibit floor space, highlighting the focus on sophisticated finishing solutions, and they were there in force.
Ultimate Bindery from Montreal-based Ultimate Graphics is a good place to start. It offers 17 different finishing machine JDF drivers that allow operators and managers to manage finishing automation from a computer or tablet. It's worth a look if you are looking for a better way to manage your bindery operation. It can even validate that a job can be finished as directed—before the job is printed, which can save valuable time and resources.
As finishing requirements in the digital printing world become more complex, die cutting solutions for short-run printing are a great way to add value to print jobs. I was particularly interested in the Standard Horizon RD-4055 Die Cutter premiered at the show. It creases, perforates, slits, kiss cuts, hole punches and creates round corners with feeding, die cutting and stripping in a single pass. It uses a flat die plate mounted on a rotary cylinder and comes in two different models, both surprisingly affordable. While Standard Finishing representatives didn't provide me with specific ROI at the show, my assessment is that this piece of equipment would have a fast payback for a printing firm that is aggressively selling these types of advanced finishing techniques.
The Highcon Euclid is pricier and targeted more toward short-run folding cartons, although the company was showing other applications such as kiss cut labels and greeting cards (we understand American Greetings has installed two units). Highcon and Konica Minolta shared a vision of the future of "web-to-pack" with the debut North American appearance of the Highcon Euclid shown converting packaging products printed on the Konica Minolta KM-1 production UV sheet-fed inkjet press, a co-development with Komori. Highcon is also working with HP, Xeikon, Caldera and others.
Other value-added digital finishing techniques include Scodix Ultra, the latest version of its digital enhancement press which now includes Scodix SPOT for easy application of a spot varnish look. The company has also developed a web-to-print module that allows customers to see what the effects of adding Scodix digital enhancements to their print product will look like, offering the opportunity for up-selling in the world of web-based print buying.
MGI continues to enhance its JETvarnish series and is also partnering with Konica Minolta for distribution of a JETvarnish product developed exclusively for distribution by Konica Minolta, the JETvarnish 3DS. The company also introduced its first in-line finishing unit for the Meteor series of digital presses, enabling cutting, trimming, creasing and perforation in a single pass.
More conventional finishing options from the likes of Bell & Howell, Muller Martini, Hunkeler, MBO, Standard Finishing, Pitney Bowes and others continue to improve, adding features, functionality, and more automation to enhance bindery operations and make them more flexible and efficient. While the individual products are too many to detail here, readers should take the time to look at all of the new offerings to determine whether their bindery operation is really up to snuff. One unique offering that MBO is pursuing is a complete assessment of your bindery operation, recommending what to keep, what to let go and what to add to make it as efficient and flexible as possible. With all of the changes happening in this arena, taking advantage of the MBO service could be a valuable opportunity to step back and take stock.
Next Year
We're already thinking about next Graph Expo. Are you? It will be fascinating to see what is in store for us as the digital revolution continues to roll through the industry. It's back at McCormick Place and runs from September 13th through 16th. And dare I say it? drupa 2016 is right around the corner! I am sure there will be lots of surprises for us there as well.