This article is sponsored by HP's Graphics Solutions Business unit.
Last spring, I was pleased to visit with Hudson Printing while in Salt Lake City, and to talk with Paul Gardner, Director of Innovation on video. Six months later, I checked back in to see how things were going for the company as it ramped up production on its modified HP T350 Color Inkjet Web Press and range of new finishing equipment.
Paul Hudson, CEO of Hudson Printing, recently purchased the second-generation business from his brother and has been busy making a number of changes, including the addition of an HP T350 Color Inkjet Web Press to address shorter runs that are becoming cost prohibitive on the company's fleet of web offset presses.
The 100-year-old company has seen many changes and a great deal of innovation over its lifespan, but perhaps the most dramatic changes have occurred in the past year or two, spurred by the addition of digital printing capabilities.
Hudson Printing installed its first HP Indigo sheet-fed press, a 5600, two years ago, and its second, an HP Indigo 7600, this summer. "The larger sheet size on the 7600 gives us more flexibility in production of covers," says Paul Gardner, Director of Innovation. "We are using the Indigos for direct mail, short runs of booklets and catalogs, and publication covers. It was also the beginning of the introduction for many of our customers to the increased flexibility available to them with digital printing for versioning and personalization."
With all of the furor within the printing industry about color production inkjet printing that has been building since the so-called "inkjet drupa" in 2008, Hudson Printing identified ten companies that either had or planned to bring to market soon a production inkjet press, narrowing the field to five players that Hudson felt were viable partners. While some of these five had great products, Hudson felt that HP was the best choice as the only company that manufactured all of the technology itself—print heads, software drivers, and ink.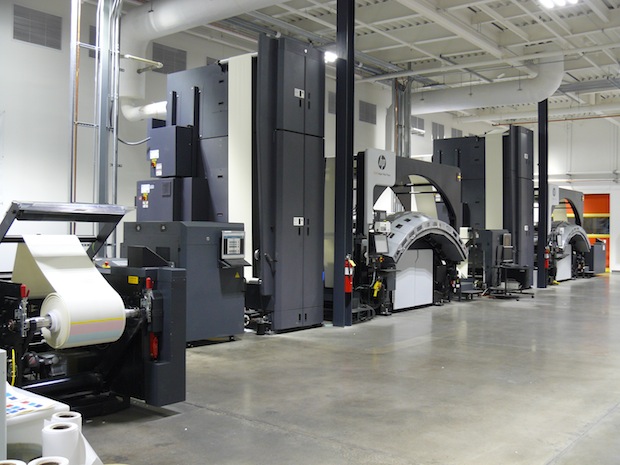 HP T330 at Hudson Printing's facility in Salt Lake City.
Hudson settled on the 30" width as being the most flexible, but needed modifications to the standard HP T350 Color Inkjet Web Press to meet its application needs. "We collaborated with HP to develop enhanced drying and remoisturizing capabilities, which allows the use of a broader range of substrates," Gardner explains. "Drying towers, which are taller than the printing engine, not only provide extra needed drying, but also allow for more dwell time before the printed surface hits the rollers. Another critical modification was the remoisturizing unit that ensures we have a flat sheet at the end of the process." Hudson Printing has dubbed this the HP T330 Color Inkjet Web Press (although HP does not make such a model). "We believe HP was the only supplier that could tune the press to exactly what we needed it to do," Gardner continued.
Gardner adds, "The combination of heavy ink coverage and lightweight paper can cause rippling or other artifacts of unevenness. After remoisturizing, we let the rolls sit for 12 to 24 hours before sheeting, and that ensures a flatter book for these heavy coverage items. Lighter coverage and heavier stocks are not an issue."
The extra drying capacity built into the Hudson press is all about broadening the range of substrates that can be used for a wide array of products, according to Gardner, including those printed on coated and gloss stocks. The company does use HP's integrated bonding agent on some jobs, primarily uncoated and matte coated papers not optimized for inkjet.
Hudson's decision to enter the world of production inkjet is paying off. Just a few months into production on the HP T350, the press is at 70% capacity on a single shift. "We see that growing to two shifts soon," Gardner says, "and we have already built out the facility to accommodate a second press."
Hudson Printing is producing a myriad of commercial print applications on its HP Color Production Press, including postcards, saddle stitch magazines, direct mail pieces in the hundreds of thousands, catalogs and books. Gardner says, "There is nothing we are running on our web offset presses that we haven't sent some variation of to the T350."
One example of the kind of customer service Hudson can offer with these new capabilities is with a company that was exhibiting at a trade show in Salt Lake City. The day before the show opened, the company called Hudson, saying they did not receive the 500 catalogs they needed for the show. "I'm sure there is probably nothing you can do for us," they said, "but we thought we would ask if it is possible to produce them by tomorrow."
Another example is A Guide to the Electronic Document Body of Knowledge (EDBOK Guide) printed on behalf of Xplor [insert image]. Gardner explains, "This book represents the sweet spot for us for non-variable products that have generated a great deal of success for us with the T350 at Hudson. It was a short run, about 2,000 copies of a 270-page full-color book that would not have been cost effective to run on offset with all of the required plate changes.
One thing Hudson Printing hates is saying "No." So of course, they answered "Yes," much to the surprise of the caller, and were able to bail them out of what seemed to be an insoluble problem. Gardner comments, "I am here to facilitate and be a willing co-conspirator with our customers. Customers are where the magic comes from. And if what we can do makes a difference for their business, it helps both of us. In our experience, HP has this exact same attitude. It's a great partnership."