Editor's Note: In 2011, David Zwang began a series that looked at the current production inkjet product offerings from a wide range of vendors, discussing how they are being, or could be, used. He also looked at some of the new inkjet technologies that were just starting to be seen in product introductions and technology demonstrations during drupa 2012.
Now that time has passed and many of the production inkjet vendors are beginning to introduce new offerings, David will continue to look at many of these new products as they are introduced in the context of what was learned in the original series.
As expected the next generation of production inkjet press releases are coming fast and furiously. Recently I covered the new Canon ImageStream 3500, and the Kodak Prosper 6000, and now we will look at the new Ricoh Pro VC60000.
As you recall, I wrote about the predecessor platform of this new press, the InfoPrint 5000,in my pre-Drupa production inkjet series. This previous platform was originally marketed by the IBM Printing Systems Division prior to its staged acquisition by Ricoh starting in 2007 and will continue to be marketed by Ricoh for the foreseeable future. The InfoPrint platform was one of the earlier entrants into the production inkjet space, and has been very successful for IBM, Ricoh and Screen, who was the manufacturer and a partner in the machine's development. Between the two companies, there are currently over 700 of these units installed worldwide. Screen markets it as the Truepress Jet520, but essentially the two presses are cut from the same cloth. Even with the many enhancements Screen and Ricoh each incorporated over time, the platform was ready for a refresh. It's not just that other production inkjet press manufacturers were entering the market, it's that the underlying technology, in print heads, ink, and media, have moved production inkjet capabilities to new levels and users are interested in using the technology for higher coverage applications beyond the transactional applications for which it was originally designed. New developments across the vendor base have now extended the reach of production inkjet into higher quality applications, furthering the migration of volume from toner and liquid ink to inkjet, but from offset to inkjet as well.
While the InfoPrint platform, with its three different models, is strong in Transaction and Book applications, this new platform which has been in development for over 6 years, is designed to address Commercial Print, full color Books, Marketing Collateral and Direct Mail. While Ricoh expects this to coexist with the 5000 series for a while, make no mistake, the new Pro VC60000 is truly next generation, and has more of the Ricoh DNA than the InfoPrint 5000. As one of the largest print equipment manufacturers in the world, Ricoh has significant resources that the company has been able to take advantage of with the development of this new platform. It should also be noted that Ricoh has continued their successful partnership with Screen in the development of this new line of inkjet presses. The new Screen version is the Truepress Jet 520HD, and I will be covering this press as well as some of the other new Screen introductions in a later article.
I would be remiss if I didn't also mention that Ricoh has an extensive line of color and monochrome toner based presses as well as a wide format portfolio.
Ricoh Production Inkjet technology
The older InfoPrint platform used Seiko Epson inkjet heads and inks; however, this new platform uses Ricoh's own print head technology. Many may not realize that Ricoh has been an inkjet print head manufacturer for about 30 years, with more than 20 years of developing and manufacturing piezo heads. However, most of those heads have found their way into other manufacturers' products in industrial and specialty printing applications, including wide format, textiles, 3D modeling and laminate printing applications.
The implementation of the Ricoh print heads on the Pro VC60000 is very interesting. While all production inkjet manufacturers have had to balance resolution and speed with cost, Ricoh has approached this implementation in a fairly unique way. The aqueous-based pigment heads are rated at native 1200 dpi, which is more than sufficient to address the quality needs of commercial print applications. However, the way they achieve this is by creating a print head module comprised of an matched array of 600 dpi heads, placed in scanning direction to make print head adjustment and sheet inspection easy. This new implementation achieves the currently rated 50 meters/minute at 1200 x 1200 dpi resolution on the Pro VC60000, while maintaining the ability to increase the speed in the future and keep costs down. It has the requisite print head cleaning and capping system to ensure quick startup and imaging consistency. The press can also be operated at 70m/m at 1200 x 600dpi, or 120m/m at 600/600 dpi. Additionally, now that Ricoh is no longer compelled to use Epson inks, the cost of ink should be more competitive as well.
The Press Transport
The newly designed transport of the Pro VC60000 is modular, making it flexible for many applications and installation requirements. It is designed to produce ~40 million duplex impressions/ month.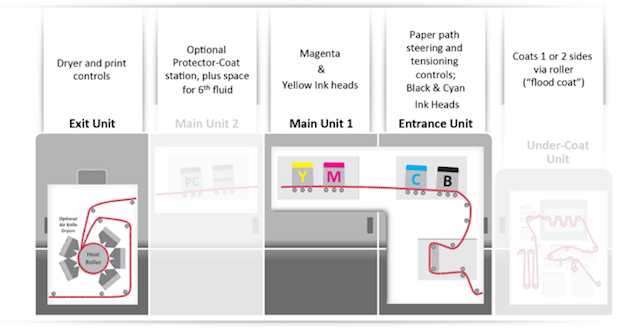 While the Pro VC60000, like most of the new generation of production inkjet presses, can run a wide variety of conventional offset and inkjet treated papers, Ricoh has chosen to include an Under-Coat unit that currently supports a flood coat on 1 or 2 sides of the media. Additionally, there is an optional Protector-Coat unit, which can be activated on the available 5th cartridge station to improve 'smear resistance.' It is currently applied to the whole page at a lower coverage, but I believe that it may allow spot coating and perhaps gloss at some point in the future. This combination of pre- and post-print units allows the press to support wide range of media from uncoated to offset glossy, at paper weights from 40-250 gsm at widths of 165-520 mm.
Ricoh's ink cartridge system consists of two10-liter disposable containers per color and sits independently from the engine. Inks can be changed on the fly, without stopping the press, and the machine automatically switches to the new cartridge when the other one is empty.
Ricoh Front End
Ricoh designed a completely new digital front end (DFE) for the Pro VC60000. The open standards architecture supports multiple print streams, including PS, PDF, PDF/VT, AFP/IPDS and JDF/JMF. It uses the Adobe PDF Print Engine (APPE) in addition to some of its own core technology to support legacy AFP/IPDS formats.
The Pro VC60000 has a new, user friendly, browser based interface to control the press. which can even be accessed remotely. In addition to all of the press control and status information, it also includes an enhanced job preview that shows the RIP'd file and its individual color separations. It supports new color management functions that can address differences in media side and file object type as well as spot color dictionaries. It also has imposition capabilities, including saddle stitch, cut & stack, and trim marks.
Of course, in addition to the new DFE, Ricoh has an extensive line of TotalFlow workflow solutions in its portfolio which integrates nicely. We will be covering the new TotalFlow announcements, including enhancements to Process Director and Process Director Express, as well as the new TotalFlow Batch Builder and TotalFlow Path solutions in a future article.
The VC60000 is already in beta testing in Japan, Europe and the US, and commercial availability starts early in 2015. Depending on the configuration, the machines cost is in the range of $2-3 million, and Ricoh expects the total cost of ownership (TOC) to be very competitive. While this is the first of the new Ricoh-designed production inkjet machines, I would expect to see more models from the company in the future that will take advantage of the many technologies it has at its disposal.
There are many more production inkjet presses including those from Screen, Xerox, and others being released at Graph Expo, and I will be covering each of them over the next few months. Stay tuned…