KBA's sheetfed offset division in Radebeul, Germany demonstrated that it is fully in tune with the company's drupa tagline - "People & Print: Driving Advances - Together". In March, KBA invited 1,500 printing executives and trade press from 38 countries to a three-day Pre-drupa Open House at its Radebeul location.
The event was the first of this magnitude in the history of KBA. It covered the entire industry spectrum, from 20" format with the Genius 52 to truly super large offset with the 81"-wide Rapida 205.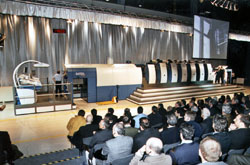 Just one example of the innovation KBA displayed is the side lay-free infeed of the new 41" Rapida 105, which was represented at the open house by a six-color model with inline coating and high-line delivery extension. We watched as two pressmen demonstrated a lightning-fast job changeover and the output of 18,000 sheets/hr with 130 gsm paper and 350 gsm board alike. Also, the new Rapida 64" (six colors plus coater) produced a very demanding BMW brochure with metallic spot colors at 14,000 sheets/hr – in a quality indistinguishable from that of a modern medium-format press.
Printers interested in smaller format presses (29") were treated to the world premiere of the new Rapida 74 G (with Gravuflow keyless inking units), which produced postcard and brochure forms in eye-popping quality. The demo we witnessed produced just six sheets of start-up waste.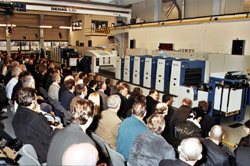 The waterless Rapida 74 G opens up new avenues for cost-effective printing on expensive substrates and guarantees ghosting-free results for even the most critical forms. It combines the virtues of the flexible unit-type press design (up to 8 colors, perfecting, coating, perforating, numbering...) with the distinctive benefits of the patented GravuflowTM inking unit, which is already widely known from KBA's 74 Karat press. A conventional Rapida 74, similar in new design and with many new features (automatic plate changing, impression cylinder washing...), joined the action, printing various jobs at 18,000 sheets/hr.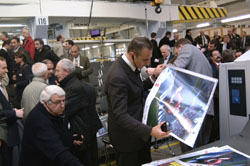 The new Rapida 81" is a very impressive press, not just because of its features - but it looks stunning. The super large-format press (format:
60x81") was presented on the premises of Plakatfabrik Radebeul with two different printing jobs and a fast substrate changeover between. The first pass of a demanding 72-page motor industry brochure (on a single
sheet) was followed up with a display poster at almost 9,000 sheets/hr, in a quality and with register accuracy, that would have previously been unthinkable in this format class.
KBA showed new applications for the 29" 74 Karat with integrated
coater, too. These new applications for the 74 Karat, developed in
collaboration with HumanEyes Technologies, include 3-D photographic printing on plastic and foil using oxidative inks. Because of the high quality printing, the excellent registration and the 10 sheets startup Waste, printing on lenticular is a great application for the 74 Karat digital offset press.
The printers in attendance at the event were about evenly split between KBA customers and print firms who have never purchased a press from KBA.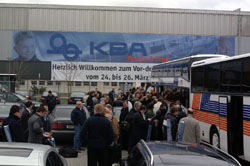 Not only did we mingle with printers from around the world, we met printers representing some of the biggest and most successful firms in North America. An executive from one of the largest printing companies in the U.S. told us that KBA was making the right moves in North America. While KBA is not the primary brand within this commercial printing firm, this executive said KBA would be given even stronger consideration in the future. "KBA has really impressed us over the last two years with their new products. Most importantly, their management team has worked very hard to communicate KBA's commitment to North America." A large packaging printer from Los Angeles was equally impressed. "We have one KBA press now and have been very pleased with its reliability as well as the support from KBA's technical staff. Events like this further show that KBA is second to none when it comes to innovation."
KBA President and CEO Albrecht Bolza-Schünemann summed things up. "At KBA, we don't just philosophize vaguely about innovations and new business models for the future; KBA gets down to work and presents them today."
For more information, please visit www.kba-print.com/vt/
Search for KBA in the industry's largest archive!