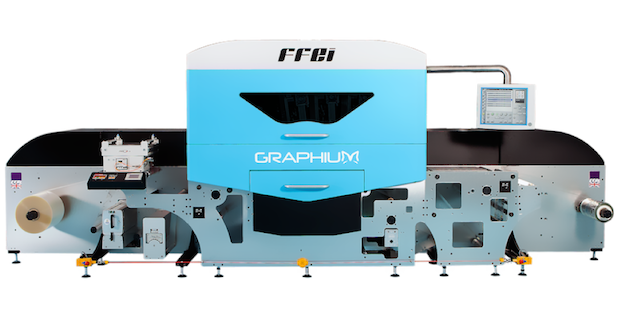 Digital printing has been in the commercial print space for some time now. We are continuing to see equipment enter the marketplace that is geared to packaging applications. The latest product, called Graphium, is from a unique partnership. Fujifilm's J Press is a hybrid of a conventional sheetfed press and a digital printing unit. The Graphium offers a combination of digital printing, conventional flexo and various finishing options geared towards the tag and label market.
Fujifilm Electronic Imaging (FFEI), formerly Crosfield, and now a private company, created the concept and the digital press. EDale provides the flexo units. Fujifilm created the inks and provides the distribution, installation and service network in the United States. Xaar provides the inkjet heads.
You have heard the story before: run lengths are getting shorter, and more specialization is taking place. More marketers are looking to create dialogues with their customers, and packaging could prove to be a valuable link in the chain. This area is just starting to be explored by marketers because of new digital presses entering the packaging market.
The Graphium is a totally modular solution. At its heart it is a digital press that has five or six UV inkjet heads. This base press can be combined with two conventional flexo stations pre-digital and four post digital. Inline finishing (slitting, die cutting and laser) can be added. Inspection, foiling, lamination and integration with third-party equipment are also available. This allows printers to configure the press to fit the needs of their customer bases. The flexo units can be added at a later time if you want to start with just the digital press.
Having the flexo units is a great advantage in adding spot colors, flood coating primers, varnish and adhesive for cold foil and laminates. Process colors can only go so far in creating an accurate spot color such as a logo or corporate colors. The flexo units allow you to add additional colors as needed.
The inks are a critical component of the press. Fujifilm has over 20 years of experience making flexo inks as well as a long history of making inkjet inks through its Sericol division. A main feature on this press is a one-hit white that runs at full press speed. An outstanding opaque white makes the difference between an okay label, useful in a limited number of applications, and vibrant labels that satisfy the needs of a wide range of markets. The white needs to be white and not grey.
There are also other technical factors such as a broad adhesion range on a wide variety of substrates, scratch resistance, and light fastness. Often, printing processes—not just digital—need to print slower or double-hit the white in order to get the required opacity. The Graphium can print an excellent opaque white at full press speed in a single pass.
The Graphium comes in two widths, 13 in. and 16 in. It runs at three speeds: 82 ft/min., 114 ft/min. and 164 ft/min. Most of the time the press will be running at the 82 ft/min. speed to get the best quality. The resolution is 360 X 360 dpi with eight levels of grey. While some people may not consider this good enough for commercial quality, resolution alone does not determine the appearance of a piece.
The Graphium incorporates intercolor pinning between each inkjet head. Inks are partially cured via LED pinning lamps. This controls the spread of ink on media creating a very sharp dot. With the eight grey levels and droplets as small as 6 pl, the Graphium has a perceived resolution of 1080 dpi. You need to see samples from this press to understand how good the output looks.
Substrate flexibility is an important consideration for any digital press. The Graphium is equipped with acorona treatment to increase the surface energy of films, foils, and paper to improve wettability and adhesion of inks, coatings and adhesives. The web clean ensures consistent corona treatment. This allows the press to print onmost coated papers, uncoated papers, high-gloss papers, cast-coated papers and thermal paper as well as filmic such as PVC, PE, PET, PP and metalized materials. Pressure sensitive labels with a variety of adhesives and carrier materials as well as different coatings on the face material also can be used. Substrate minimum thickness is 40 micron (0.0016"), maximum thickness is 250 micron (0.01").
Finishing flexibility is especially important in digital equipment. A host of auxiliary equipment can be incorporated to finish the job inline. A sync mark can be incorporated while printing to facilitate further finishing. When finishing a reel of labels, a printer will be required to slit and rewind many small rolls of labels on cores suitable for specific label applicators. Each roll may be of a different length, and to do this manually requires the operator to stop the press, cut the web, seal each roll, then load new cores and start printing again. This often drives digital equipment to be used with near-line finishing processes.
Graphium can integrate perfectly with third-party devices such as AB Graphic's Vectra multi-turret rewind using sync to marks. These marks also ensure the register of flexo and inkjet when using Graphium's inline hybrid printing capability. This brings sophisticated automation to what are usually repetitive and time consuming tasks. When a multi-turret is used with Graphium within inline die-cutting, a 16" web can be slit and die-cut and rewound to multiple cores with core changes occurring automatically.
The Graphium has no click charges. The base digital unit cost approximately $800,000. With all the ways it can be configured it is hard to predict a total cost. Fujifilm estimates most machines will be sold in the $800,000 to $1.2 million range. Again. the flexo units can be added later.
With a number of digital printing devices entering the packaging market, marketers are sure to start requiring digital capabilities of their packaging printers. The Graphium provides a flexible cost effective solution.