This article is sponsored by HP's Graphics Solutions Business unit.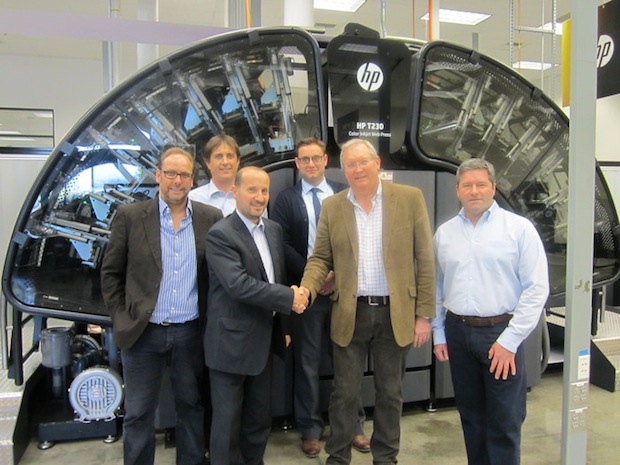 Looking Ahead: GI Solutions secures high-speed web press. Pictured right to left: Patrick Headley Deputy MD, GI Solutions; Jan Woelfle HP; Aurelio Maruggi HP; James Matchett Business Improvement Manager, GI Solutions Group; Robin Welch Group Managing Director, GI Solutions Group; Ifor Pedley Operations Director, GI Solutions
GI Solutions Group, located in Leicester in the UK, was founded in 1992. Today, the company has 248 employees in the UK as well as staff at its location in China. Estimated turnover for 2014 is £37 million with a projected profit of £2.2 million. The company supports every aspect of the communications cycle with imaginative personalized direct mail, email and multi-channel communications, as well as secure transactional mail services.
"We were founded as an inline litho printer with heatset web offset presses and then entered the mailing business about a decade ago," explains Patrick Headley, Deputy Managing Director. "We had the first ever web presses in the UK with inline inkjet heads for black-only personalization of direct mail pieces."
GI Solutions quickly saw the value of migrating some of its work to production digital inkjet as those products began to become available, introducing this service in 2007. "Those presses were getting a bit dated, though," Headley says. "We knew we needed to update them to newer technology in order to stay ahead of the game."
Preparing for the Future
Headley and the team at GI Solutions examined many of the production inkjet solutions on the market, including presses from its existing vendor, looking for the best quality, more speed and capacity, and a technology partner they felt was adequately investing in R&D to ensure the ability to continue to meet emerging market needs.
"We are still doing a fair amount of hybrid work," Headley says. "By that I mean a mailing that may have some offset and some inkjet components. We need to make sure the quality between the two production technologies is close enough so that these packages present the type of image our customers expect. And those expectations continue to grow—quality, time to market, and an innovative approach to solving customer problems. We needed a partner that was dedicated to the same objectives, and HP is that partner for us."
Speed and Quality with No Compromises
"One of the issues with our existing production inkjet presses, which have a rated speed of 420 feet per minute, was that we had to cut the speed in half to obtain the quality we needed for many jobs," Headley reports. "This reduced the throughput to 210 feet per minute and was becoming quite a bottleneck. Priority number one was to find a solution that gave us both speed and quality, with no compromises."
Part of the due diligence process involved a visit to HP's Inkjet High-speed Production Solutions (IHPS) headquarters in San Diego, California.
GI Solutions chose to partner with HP in making this investment and acquired two HP T230 high-speed production inkjet presses. "These presses print high quality at 400 feet per minute, which instantly doubled our capacity," Headley says. "We don't have any more problems with streaking, and we really like the head redundancy—if there is a problem with one inkjet head in the system, another one immediately compensates until we perform necessary maintenance. So not only are we getting higher quality and more throughput, but we have less downtime and wastage to boot."
More Versions, Shorter Runs
Like most printing businesses, GI Solutions is seeing its clients produce an increasing number of versions of their direct mail and transactional work. "This is due to the fact that customer databases and their ability to target communications to smaller groups is improving," Headley says. "They are also looking to incorporate more color and variable imaging to add value to those communications. That means a larger quantity of shorter runs that is simply not cost-effective to produce using web offset."
Looking Ahead
Headley and the team at GI Solutions understand that they are operating in a dynamically changing environment, and while they have just made a significant investment with their two new HP T230 production inkjet presses, they already have their eye on the next major change they see coming their way.
"We are ripe for replacement of one of our 40" web offset presses," Headley says. "We are closely watching market developments with respect to the expansion of substrates for production inkjet. In the future, we will likely replace that older web offset press with a brand-new HP T410 production inkjet press. It's much more suited to the job mix we see today and in the future that another web offset press would be."