Introduction
There's no doubt about it—change can be difficult. Many businesses will resist change to the point that it threatens their very existence. Changing how you are perceived in the minds of your customers is one of the biggest challenges that print service providers face. You've been selling printed materials to your customers for years, so why would they consider you as a partner for offering more value-added marketing services?
A number of print service providers are embarking on a journey to alter customers' perceptions of their business, but this process is not for the faint of heart. Altering your company's image is an inside-out endeavor that requires commitment and perseverance. The simple truth is that your customers won't change their perception of your business unless you can find a way to create a new experience.
Success Strategies for Service Providers
Some service providers believe that altering their image is as easy as creating a new slogan or marketing campaign, but just saying something doesn't make it so—you have to walk the talk. This involves delivering more relevant value to your customers. As outlined below, Today's successful service providers are typically pursuing one of three strategies.
Reinventing Yourself While Maintaining Your Existing Identity
The key to success in this first instance is contingent upon your ability to help consumers "unlearn" the perceptions they have about your current brand. Once you have done this, you can encourage them to think differently and create new associations. The bottom line is that you have to create a more relevant experience for your target markets.
Apple provides one of the best examples of a company that has reinvented itself while maintaining a consistent identity. Apple's greatest reinventions came when it the company shifted its attention away from computers and began focusing on handheld devices. The iPod, iPhone, and iPad were not the first devices of their kind, but their design and advanced touchscreen technology truly revolutionized the gadget industry. These wildly successful products prompted a huge wave of "me too" introductions as other vendors hoped to capitalize on the success that Apple experienced, and the company has firmly established itself on the cutting edge of the mobile device market.
The printing industry has seen similar successes. One of my favorite examples involves Chicago-based Tukaiz (pronounced "two-kays"). This company was originally owned by a father and son team who both had the surname Kirchner—hence the play on words with the pronunciation of "2 Ks." When Frank Defino Sr. purchased the six-month-old company in 1963, he kept the Tukaiz name to honor the original owners and also because of its uniqueness. Although the company originated as a prepress company, it has since transformed itself into a market-leading provider of digital print, specialty print, interactive media, and marketing communications. The Tukaiz name is widely recognized today, and not just for prepress services. The Defino family has reinvented the brand to mean much more in its customers' eyes. With over 100,000 square feet of space, Tukaiz has reinvented the experiences that it offers to its customer base. Clients are now offered complete media flexibility from design and capture to print and Internet.
Maintaining Your Identity, but Focusing on a Different Customer Set
Another strategy involves repositioning a business to deliver a wider variety of services to a more specific customer base. Scott Mallen, President of Spectrum Creative Services (Poughkeepsie, NY), bought a struggling quick print franchise in 1995. In 1996, he exited the franchise, changed his company's name to Spectrum Graphics & Print, and created a new "one-stop shop" for local businesses. The company handled creative work, printing, and mailing. It found early success by focusing on creative and strategy for campaigns. Print cost became a non-issue because it was always bundled into the project. Mallen elaborates, "Our print prices were always higher than what larger printers were charging, but we made it easy for our customers to see the value of our offering—the entire project was handled by a single person."
Over time, Spectrum came to realize that not all customers were created equal. Certain market segments were easier to do business with. As the company moved into the realm of cross-media services, it recognized an opportunity to position itself as a value-added services partner for educational institutions. Spectrum had already established relationships with a few universities that truly understood how cross-media communications could drive enrollment and recruitment. The company has since reinvented its business to deliver expanded services to a targeted client base. Spectrum is now continually innovating in higher education recruitment, providing groundbreaking software and marketing solutions to colleges around the country.
One of Spectrum's differentiators is that it leads with software. Mallen explains, "Most of our customers don't even realize that we print their materials in-house. We combine strategic higher education enrollment practices with a cutting-edge CRM marketing platform technology to create advanced admission programs, and we specialize in helping schools navigate ever-expanding media channels to reach students with timely and meaningful marketing. Software sales are now very profitable for us, but our integration of print into our CRM makes our offering unique to the higher education industry."
Figure 1: Screen Shot from Spectrum's Website – EMP Platform for Higher Ed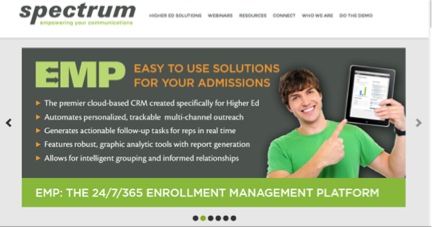 Creating a New Brand/Position
Still other service providers determine that the best strategy is to create a new brand from scratch. Ultimately, this might be a more prudent decision for some businesses than attempting to change current perceptions. For example, some service providers might feel boxed into the commodity print segment. The might determine that the best way to move into a higher-margin business is to reposition themselves by adjusting their portfolios and changing their strategic direction. Inventing a new brand is typically combined with significant positioning alterations, pricing adjustments, and fundamental changes in products and services to become more attuned to a new target segment.
In some instances, firms establish sub-brands. This strategy makes sense if the core brand does not really resonate with a new market that the business hopes to reach. For example, greeting card manufacturer Hallmark created two sub-brands to reach new segments:
The Shoebox brand was launched to create a line of irreverent cards that were not in keeping with Hallmark's traditional image.
The Mahogany brand is designed to appeal to the African American market, in which Hallmark had little credibility. This business is run by an African American and has many additional African Americans on staff.
In the printing industry, GLS Companies (Brooklyn Park, MN) has achieved the same goal by acquiring a set of agency services. The company acquired NEXT to facilitate its delivery of precision marketing. Meanwhile, the Segerdahl Group (Wheeling, IL) underwent a full-scale identity shift in 2012, even changing its name to SG360°. As part of its rebranding effort, SG360° positioned itself as a company that offered the full arc of Empircal Direct Marketing Solutions, built on three foundational pillars: BRANDIRECTions, IMPRESSions, and EXPRESSions. Using SG360°s proprietary customer analytics model, marketers can communicate with customers on a personal level. The company enables its customers to hone their messaging with national online testing panels, behavioral segmentation, predictive modeling, and lifecycle integration.
The Bottom Line
At the end of the day, there are no absolutes or easy choices when it comes to changing established perceptions about your brand. Clearly communicating your new value often proves to be a challenge for companies of all sizes. The keys to success include having a clear purpose and vision, developing the determination to stay the course, and learning to make the right investments.