Canon has credentials as solid as any other manufacturer's in the digital graphic production space, and it has been displaying them with style and self-assurance in a series of recent promotional events in Europe.
During a showcase for customers in demo facilities in Poing, Germany, and in a related trade media briefing at an R&D center in Venlo, the Netherlands, Canon highlighted the pending launch of what it says will be a game-changing sheetfed inkjet press. The company also announced the European introductions of several other printing systems that eventually will be available in the U.S.
Taking place in the same time frame, the FESPA trade show in Munich, Germany, served as the backdrop for the unveiling of a flatbed inkjet device that marks the Canon-Océ partnership's most determined move into wide-format production.
The events were part of an ongoing marketing push by Canon to raise awareness about its recently completed integration of Océ, a digital printing systems manufacturer it acquired in full in 2012.
The facility in Poing, a manufacturing center for Océ, now also serves as a drupa-like demo space for the companies' combined strengths in hardware and workflow for cut-sheet and continuous-feed production in toner and inkjet. The Venlo facility is one node of a global network of R&D centers where Canon's bid for league-leading status in graphic systems manufacturing is being played out.
FESPA is an international trade exposition for wide-format printing systems, consumables, and software. At FESPA 2014 (May 20-23), Canon and other equipment manufacturers announced new solutions for the production of signage, packaging, POP, and other wide-format applications.
Canon for Business 2014, as the program in Poing was called, aimed to acquaint several hundred customers, dealers, journalists, and analysts with the full range of Canon-Océ capabilities. But the main attraction clearly was an inkjet press being brought to market under the working title "Niagara."
Discussed with customers at drupa 2012 and previewed as a concept at the Print show in Chicago last year, Niagara combines best-of technologies from Canon and Océ in a platform that Canon is positioning both as a replacement for offset and as a rival to existing digital presses that lack its unique features.
"Only the market will decide whether Niagara will become an icon in the history of Canon and Océ," acknowledged Dennis Amorosano, vice president in charge of marketing and professional services for Canon's Business Imaging Systems Group. But he added that at this point, the only "killer feature" the not-yet-shipped press doesn't have to offer is "availability."
The editors and analysts saw the press running in Venlo and received in-depth briefings there about its capabilities. However, Canon withheld the release of certain key technical details, and some particulars of the launch strategy also remain under news embargo until further notice.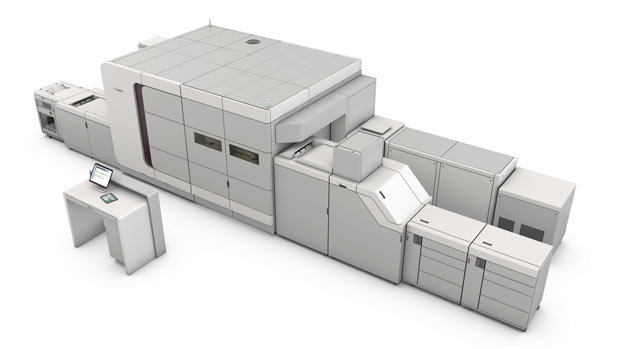 Canon's "Niagara" inkjet production press
What is known is that the Niagara is a B3 (19.7" x 13.9"), cut-sheet press that uses Kyocera piezo inkjet heads and Canon-developed aqueous inks. Niagara's heads are similar to those found in Océ's ColorStream continuous-feed inkjet presses, while its pre- and post-processing technologies are derived from the Océ VarioPrint 6000 line of high-speed electrophotographic presses.
The color gamut of the Niagara press is CMYK, expandable to six colors in the future. Media sizes can be 7" x 10", 8" x 8" to 12.6" x 19.2", and full B3 on media weighing 60 gsm to 300 gsm. The press feeds from two paper drawers and will eventually ship with four. Total input and output capacities, says Canon, are 9,400 sheets and 6,000 sheets respectively (load and unload while printing).
Production speed can be as high as 300 impressions per minute, equivalent to 8,500 duplexed A4/letter sheets per hour. The manufacturer rates the Niagara's duty cycle at 1 million to 10 million A4/letter impressions per month.
A big machine at 30' long, 10' deep, and 9' feet high, the press features a PRISMAsync controller running Océ PRISMA workflow software. Inside, a looping paper path flattens sheets for delivery to a high-capacity stacker after infrared and hot-air drying. Inline connectivity to third-party finishing systems is built in, and roll-to-sheet production with partner equipment will be among future options.
Canon built the Niagara to fill a gap in speed and capacity that exists between the high end of its toner-based, cut-sheet imagePRESS series and the entry-level model of its ColorStream continuous-feed inkjet press platform. David Preskett, Professional Print Director for Canon in Europe, said that the Niagara press will help printers cross the "offset to digital transition zone" with a solution that stands comparison with offset in print quality, production efficiency, and media flexibility.
Target applications for Niagara are transactional printing, direct mail, books, and manuals. During the briefings in Poing and Venlo, Canon executives emphasized the attributes that they said give the Niagara its game-changing potential in digital production.
One is its ability to run color and black-and-white jobs on the same platform with equal cost efficiency. Knowing that they can consolidate monochrome and color pages on the same press will encourage printers to migrate offset pages to digital production with Niagara, according to Canon.
Another key performance characteristic of the press, says Canon, will be its ability to run the same kinds of coated and uncoated media that offset printers routinely use—an objective that inkjet production must achieve in order to win broad acceptance across print market segments.
In light of a spate of announcements about B2-format (20" x 29") digital presses introduced or previewed since drupa 2012, Canon made a point of explaining why the Niagara was configured for launch in a smaller size.
Canon says that B3 is the industry's preferred format for digital printing because it offers the widest range of opportunities for automated paper handling and finishing. These options are limited and expensive in digital B2, according to Canon, which maintains that the "pile-in, pile out" workflows of B2 production aren't suitable for the applications that Niagara is targeting.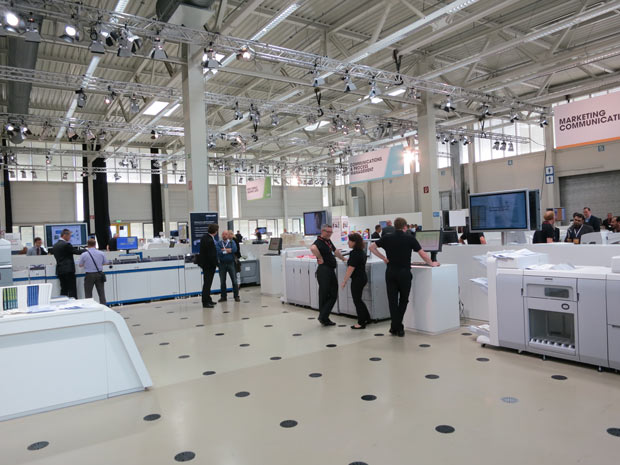 The Canon Customer Experience Center, Poing, Germany
The attention paid to Niagara didn't overshadow announcements about other new products at Canon for Business 2014, which took place over two weeks and hosted more than 2,600 customers of Canon Europe (comprising Europe, the Middle East, and Africa). Located near Munich, the Customer Experience Center in Poing spans 6,000 square meters and serves as a global showroom for all of the printing products and technologies now being brought to market under the Océ and Canon brands.
Joining the product line in Europe are:
• the continuous-feed Océ ImageStream 3500, printing full color inkjet on coated offset stocks at 525 feet per minute
• the dry-toner Océ VarioStream 4000, a monochrome, simplex/duplex, continuous-feed printer with a top speed of 1,200 two-up A4 pages per minute
• another dry-toner device, the Océ VarioStream 7110/7170, billed as an entry-level continuous-feed printer for simplex transactional printing at 108 and 172 ppm
• the Canon imagePRESS C800 series, consisting of the 70 ppm imagePRESS C700 and the 80 ppm imagePRESS C800, both running Canon's new "Consistently Vivid" toner and incorporating other features for heightened image quality, registration accuracy, and color consistency on media up to 300 gsm
• an inline carton board coating, cutting, and stacking solution for the Océ InfiniStream, a roll-fed, liquid-toner press designed for folding carton production in seven colors at up to 394 fpm
On May 20 at FESPA, Canon unveiled the Océ Arizona 6100 series, consisting of the six-color Océ Arizona 6160 XTS and the seven-color Océ Arizona 6170 XTS. Aimed at high-volume producers of signage and displays on rigid media, these flatbed inkjet printers can output images as large as 2.5 meters by 3.05 meters at speeds up to 155 square meters per hour. (Further details will appear in a separate report on FESPA.)
The company also used Canon for Business 2014 as an occasion to share the findings of its latest Insight Report, an annual survey of print service providers and print and media buyers. The current reporting base consists of more than 550 respondents in Canon Europe regions, equally divided between the two groups. The Insight Report discloses "disconnects" as well as opportunities, such as the facts that:
• 68% of buyers use multichannel communications, but only 20% of print service providers offer multichannel campaign management
• the use of web-to-print services by buyers has grown by over 50% since 2012, yet more than 66% of providers currently do not offer web-to-print services
• although buyers are more aware of all digital printing applications than they were two years ago, 31% did not know about print-on-demand or short-run printing
• 84% of print buyers still feel that their print service providers are meeting their overall communication needs
• 78% of print buyers believe they are receiving value for money from their print service providers