A web-to-print site is all about customer convenience, enabling your customers to order from you in a self-service fashion. One thing to understand about your customers is whether they are ordering or shopping. Sounds like the same thing, doesn't it? Well, as it turns out, when customers want a quick ordering site and they are given a shopping site, it can be very frustrating.
I was working with a printer who wanted help in selecting a new web-to-print system to replace a legacy system. His primary customer was a very fast-growing biotech company that was using a web-to-print system to keep the growing sales force supplied with the latest and ever changing marketing materials, which had been localized for many cultures/languages.
His customer wanted an ordering site. His web-to-print system was a shopping solution. You clicked on a static product in the catalog and you were taken on a multiple screen journey assuming you were heading for checkout when what you really wanted to do was order six more items quickly. There is a big difference between shopping and ordering, and some sites can be very painful when they assume shopping without considering the workflow when customers know what they want and want to order many products in the same transaction.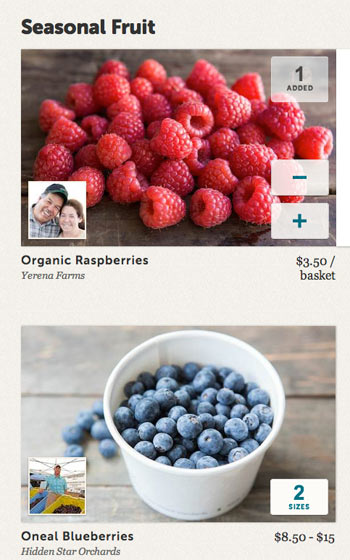 I stumbled across one of the best ordering sites I've seen on the web lately – Good Eggs, a locally-grown food ordering site. In the screen shot below, you see how they handled ordering multiple items in a seamless way. Your mouse hovers over the item (a beautiful picture of raspberries), a simple plus sign comes up, and you click and stay right where you are to keep shopping. In this example, they know that their users are going to order more than one thing; therefore, they made the user journey as simple as possible.
I was able to order 10-15 items very quickly, and then take myself to the checkout process just like I would in a retail grocery store. This is the best user experience I've seen for an ordering site where the user is ordering many items.
How does this apply to web-to-print? We have users of web-to-print who require a shopping site, and sometimes we have users within the same organization who actually need an ordering site. Consider a customer that has 100 forms up on their web-to-print site that are ordered frequently by a few key people in the company. These people know exactly what they need, and they want to order quickly. On the same site for the same company, you might provide the promotional items where marketing people are "shopping for ideas for their next promotion" – they want to browse the catalog and look at everything.
These are two different user journeys on the same site. We need to be able to build web-to-print systems that can "flex" to support both user experiences. One solution I've seen implemented quite well is to enable two different views of the catalog, a list view and a graphical view. The list view allows customers to quickly order many items on the same screen; the graphical view gives people more information and is a more typical shopping environment.
Web-to-print has the added complexity of what I call "product workflows"; a product workflow is the path the user has to take to provide the information required to place the product into the cart. For a static item that is simply printed on demand, this might be as simple as supplying the quantity (single step). On the other extreme is personalized printing where we take the user through the process of personalizing the product, previewing the product, and then submitting it to the cart. Many different product workflows are required in web-to-print because each has its own unique requirements – too many web-to-print systems try to force the user through one path for all product workflows, and this makes for a less than optimal user experience.
The whole point of e-commerce is customer convenience. This means we need to understand our customers and map out their online user journeys looking for ways to make their journeys more efficient and enjoyable. A major truth about business-to-business (B2B) ecommerce, in which the majority of printers are engaging, is that customers are bringing expectations from their consumer lives to their work lives. We used to get away with really boring, stale B2B sites, justifying their condition by saying: "The customer doesn't have a choice about where they order their business cards." This justification isn't cutting it anymore. We first witnessed it in a major way with cell phones. Employees pressured corporate IT to allow the iPhone into the guarded walls of IT because it was the preferred user experience. This has resulted on a major BYOD (bring your own device) trend that IT organizations have not only had to adjust to, but to embrace. The end-user is being emancipated everywhere, and buyers are stating their clear preferences which we are all forced to try to meet. Imagine how high the consumer's expectations are; they want the shopping selection of Amazon, the internet speed of a Google search return, and the usability of Apple products – ouch, those are some high expectations!
You have to understand who is using your web-to-print system and under what conditions they are using it. The printer I was working with had a definitive user journey he was trying to support with technology: Biotech sales person leaves a medical office, sits in his car on his company-issued iPad and orders the brochures to be sent to the doctors as a follow up. This persona and user journey requires a special kind of tool. With my software product management hat on, I would flush out the following requirements:
Mobile (responsive design),;
No Flash;
An ordering site that includes faceted search since there are many brochures to choose from; and
An excellent search functionally that allows the sales representative to search by product metadata (SKU, product name, language, etc.).
The Internet is evolving faster than any business channel humans have ever created. Web-to-print operates within this ecosystem; our customers have high expectations and it is up to us (both printers and web-to-print software vendors) to first and foremost understand how our customers intend to use the web-to-print system. Who is the targeted user, what business problem are they trying to solve? Those are the areas you should focus on. Stay out of the features, and get your focus back on learning more about customers and their business processes – that will ensure that you choose the right web-to-print solution and that you drive the adoption required to get the real ROI on your web-to-print investment that you expect and deserve.