Today's announcement from Xerox really shouldn't come as a total surprise; it's about time. However, it is a very interesting new product. Looking at history, Xerox was the first to come out with a digital production machine with the black & white DocuTech in 1990. It was a decade before there was any true competition with the launch of the Heidelberg/Kodak Digimaster. Since the mid 2000's, we have seen a regular leap-frogging of different digital print vendor offerings, with incremental improvement in each subsequent introduction.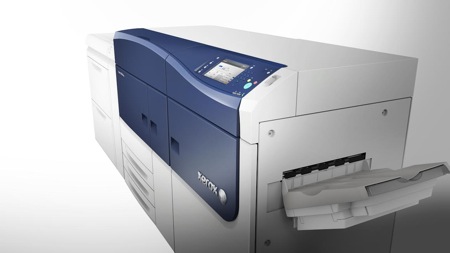 Additionally, as the use of digital presses has become more ubiquitous, driven in part by the availability of digital file creation platforms, we have started to see stratification of product lines to meet the varying needs of the marketplace. While there are those that might think there are too many strata, and the differentiation only creates difficulty for the prospective buyer, it is a good tactical position for Xerox to use to address its many competitors. The new Xerox Versant 2100 is clearly targeted at one of those strata, but also seems to compete against vendor offerings in a higher strata. It replaces the DocuColor 8080, introduced in 2011 but based on older technology. It is a shot across the bow at the Konica Minolta C8000 and Ricoh C901, both introduced in 2010 and gaining market share. In the Xerox product line of electrophotographic devices, Versant falls between its entry-level production J75, and its very successful Color 800/1000 machines, introduced in 2010, which are targeted at high entry production. That is the last step before you jump into the iGen product line.
However it raises the bar for a mid-entry-level production machine and starts to compete against machines that are considered to be in a higher strata. Coming out of the FujiXerox development group in Japan, Versant has its roots in the new engine design used by the successful Color 800/1000 line, although Xerox describes it as a clean-sheet design. For a mid-entry production machine, Xerox hasn't held back on the quality and ease-of-use features., starting with the use of the same VCEL ROS imaging technology used in the Color 800/1000 platform. It has a native 1200x1200 dpi renderer but it images at 2400x2400 dpi using a new low-gloss EA dry ink, providing an outstanding level of detail and smoothness, not just for fleshtones, but throughout the entire scale. It also features automated color management and control to ensure consistent and accurate color across the sheet and throughout the run, providing a great platform for production of photo products, targeting one of HP Indigo's sweet spots.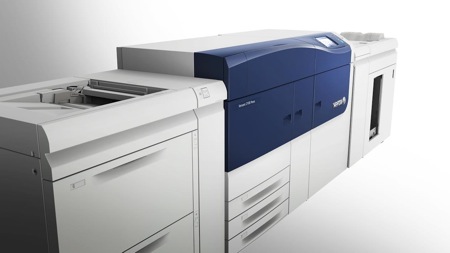 Versant uses a new compact belt fuser which provides rated speeds of 100 ppm on all weights up to 300 gsm, and also supports a wide array of substrates including linen, vinyl, magnetic stock and more. It can perfect all weights and sizes up to 350 gsm, and has auto sheet clearing for paper jams. With weights above 300 gsm, the engine slows to 80 ppm.
As the press release states, the Versant 2100 is available with either the new Xerox FreeFlow FE or a Fiery from EFI, both using the Adobe PDF engine (APPE3) and supporting all of the major variable data formats including PDF/VT. Both DFE solutions also natively support the new Xerox Stock Library Manager to make it easier to manage media profiles and help facilitate automated production.
While this new introduction doesn't target the top end production class machine, it offers an amazing array of new features, bringing many of those top-end features to a mid-entry audience. Okay...what's next? I guess we will wait and see.
See also:
Press Release: Xerox's Newest Press Delivers More Ways to Win with Print
Video: Chris Irick of Xerox Introduces the New Versant 2100 Press