In Part Two of our series about the latest developments at Dscoop, we spoke with Chris Petro, CEO of GlobalSoft Digital Solutions, a multinational provider of marketing services and solutions, and also serving as Chairman of Dscoop's global board of directors. WhatTheyThink spoke with Petro to learn more about what is happening with Dscoop on a global level, especially in light of the upcoming Dscoop9 conference in Orlando in March. Part One was an interview with Dscoop Global Executive Director Mike Fogarty, and in Part Three, scheduled for February 11, 2014, we will speak with John Tenwinkel, Director of Dscoop University, which will launch its first courses at the Orlando conference.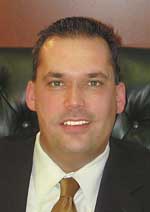 WTT: Chris, we have spoken about the evolution of Dscoop many times over the years, but it seems that the level of activity is accelerating, with recent conferences in Rome and Beijing, the upcoming Dscoop9 in Orlando, and the many other activities that occur throughout the year. Maybe you can talk to us about how the global nature of Dscoop is changing the organization.
CP: As you know, we recently held conferences in Beijing, for our APJ region, and in Rome for our EMEA region, which was the second European conference. Each of these events, and the activities being undertaken by these regions are a learning experience for the entire organization, and we are applying those learnings to the entire organization. For example, in Rome, about 50% of the attendees were first-time Dscoop attendees, and we structured the networking sessions to make it easier for newcomers to integrate with the rest of the group. In Orlando, although we don't expect that high of a percentage of newcomers, we are dramatically changing the way we structure networking opportunities based on what we learned from Rome. One thing we did in Rome was assign sponsors for new attendees. These sponsors wore red ribbons on their badges and were easily identifiable so that attendees could quickly and easily get answers to a variety of questions that made their experience more fulfilling.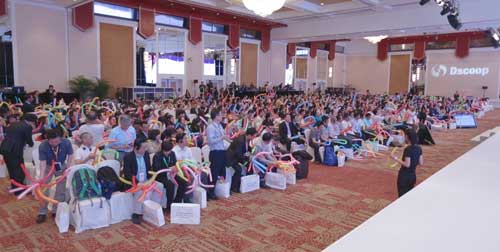 Dscoop Asia
WTT: In terms of conference sessions, we talked with Mike Fogarty about how those were being restructured.
CP: Yes. Our team, especially Alon Bar-Shany of HP, was anxious to change the format so we could keep content fresh and not just have a repeat of the same topics and speakers. I think attendees at Dscoop9 will see that we have been successful in doing this, and of course, we will be looking for their feedback as to what worked best. Those results will be shared with other regions around the world and will shape our future strategies.
WTT: In Europe, we often think that the countries don't really get along with each other, many speak different languages and there are lots of cultural challenges. Did you find that to be the case with Dscoop Rome?
CP: Not at all. The language and cultural differences are even greater in APJ. In both cases, most of the sessions were conducted in English, which is really the international language of business. But in order to dig down deeper and provide more value to members, both APJ and Europe are starting to hold smaller, more focused regional events. Instead of 2,000 people at a large conference, you might have 250 people gathering in a region to talk about labels and packaging, for example. We think this is an excellent extension to our activities and believe that it would be useful to do the same thing in North America, with perhaps six different regions. Of course there are some cultural differences in various parts of North America, and for the most part, not the issues with different languages, but we believe the regional sessions will be valuable to members, reduce travel time and cost, and allow them to drill down into particular areas of interest.
WTT: Besides the red-ribbon sponsors in Rome, can you give me an idea of what else you did to inspire more networking?
CP: We set up themed cafes throughout the conference with snacks and an espresso bar. For example, one of the cafes focused on digital wallpaper, another was a grocery store with a focus on labels and packaging. People could enjoy a cup of coffee, look at the application samples and discuss the applications with each other and with subject matter experts. You will see this type of thing happening at Dscoop9 as well. In addition, we had break-out sessions within the major sessions. For example, if I were giving a session on digital storefronts, after the main presentation, we would break out into smaller sessions, usually by language, within the session room, so that groups of 7 or 8 people speaking the same native language could discuss what they heard and learned, and share ideas about how they were going to use this information in their businesses. While we don't have the language issues to the same extent in the U.S., we believe these "sessions within a session" will be useful here as well. Sometimes attendees are not that comfortable sharing information or asking questions in a large group, where it would be easier for them in smaller breakouts. And you still have the subject matter in the room expert to facilitate and answer questions.
WTT: What stood out in your mind about Beijing?
CP: They had a completely different strategy as to how the exhibit hall was set up. They were small booths, no equipment and set up in a hallway so that there was much more opportunity for interaction between the sponsors/partners and members. We won't necessarily be doing the same thing in other regions, but it pointed out that we did need to make our sponsor area more interactive and less like a trade show.
WTT: There is a significant amount of expense associated with operating a global organization like this. How is that handled?
CP: I am happy to report that EMEA, APJ and North America are all pretty self-sufficient. We provided financial support to get them going, but in EMEA and APJ, they have done a great job of raising funds through membership, sponsors and other sources to not only make themselves self-sufficient, but to contribute back to the parent organization. I just approved the budgets for the entire Dscoop organization worldwide, and I am very pleased to report that all regions are spilling black ink.
WTT: I notice you have not mentioned Latin America. We have spoken in the past about your plans to open that region as well. Any changes there?
CP: That's our next regional challenge and there is lots of opportunity there. We have more than 200 attendees coming to Dscoop9 in the U.S. from Latin America, so there is obviously interest. At Dscoop9, we will be meeting with a Latin American contingent to make plans about how best to proceed. Also, HP will be holding a huge event in Brazil in conjunction with the 2014 FIFA World Cup, and we are looking for ways to tag onto that to engage with the potential Dscoop community in Latin America to further work out details and logistics. My guess is we will have a Latin American chapter in place by this time next year.
WTT: Where will the next APJ and EMEA conferences be held?
CP: EMEA will be held in Budapest, and we are still determining the location for APJ.
WTT: Mike mentioned the new mobile app you will be launching for Dscoop9. Anything else new we can expect to see?
CP: We will be doing live streaming of some of the sessions. We did that in Rome and it was a huge success. We will also have the debut of Dscoop University at Dscoop9, introducing the program and holding some classes. I understand you will be talking with John Tenwinkel about that in more detail.
WTT: Dscoop the organization has come a long way since its launch 9 years ago. Anything else you would like to share before we close?
CP: I'm personally looking forward to 2014, and to another great Dscoop conference. For me, the networking with members is a real high point. I like to be able to sit down in a casual environment and talk to folks about how their businesses are going and any cool new stuff they are doing. In my humble opinion, about 50% of what you take away from the event happens outside the classroom. I became a believer early on when I was trying to make a decision about a web-to-print solution for my business. I spoke with a member at a Dscoop conference several years ago who not only made an excellent recommendation, but spent four hours on the phone with me and my team following the conference going through all of the details of why he chose that particular storefront, how it worked, etc. Having access to that type of generosity and collaboration made a huge difference to my business, and I have heard dozens of similar stories from others. I think it is this type of thing that really embodies the meaning and value of Dscoop membership.