The potential of digital print is broadening, and packaging companies are only just beginning to realise the benefits on offer in terms of personalisation, customer engagement and integration with online campaigns.
The industry is growing rapidly, and doesn't show signs of slowing down any time soon. Estimated to be worth $7.3 billion in 2013, the digital print for packaging market is forecast to reach $15.3 billion by 2018 according to The Future of Digital Print for Packaging to 2018, a new market report from Smithers Pira.
So what are the reasons behind this impressive growth rate? Firstly, digital print offers many advantages to packaging companies. It can be a successful method of driving traffic and creating a buzz around a brand, as proven by Coca Cola's global "Share a Coke With . . ." campaign this summer. Designed to allow customers to 'share a coke' with friends, family and loved ones, the initiative featured a number of the world's most popular names digitally printed onto 375ml and 500ml bottles of Coca Cola.
"Share a Coke" took advantage of the variable data capability of digital presses, and used versioning and personalisation to roll out the campaign in 35 European countries over 750 million packs. Without digital print the project would not have been possible; printing the labels using analogue methods would give the same number of individual bottles, but they would then be labelled and delivered together. Randomly printing names sequentially is the only way to get the right distribution at the point of sale.
As part of their campaign, Coca Cola produced over a billion labels; putting the widespread notion that digital is only suitable for short runs into perspective. The campaign was the largest job on record for Indigo label presses, and increased both social media engagement and sales. And its effect reached way beyond consumers. "Share a Coke" has shown the packaging industry what is possible, created enormous interest, and pushed digital label acceptance forward in companies of all shapes and sizes. In fact, labels account for the bulk of digital printing market share – in 2013, their value will be $6 billion, 89.6% of all digital packaging.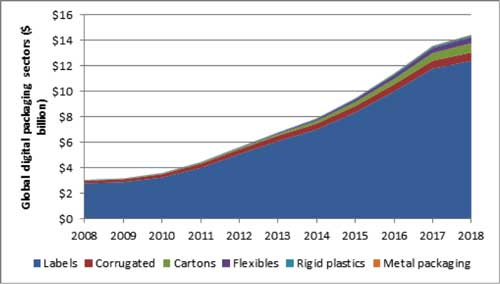 There are a number of other drivers behind the evolution of digital print. One major factor is the ability to produce short print runs economically, as packaging buyers continue to search for ways to engage with customers using innovative methods. Printing on demand means less waste, ensuring that new designs or changes in ingredients don't result in redundant stock. Technological developments in inkjet and electrophotography are meaning that digital print is becoming increasingly accessible and cost-effective for all kinds of companies, big and small.
Despite all of the advantages on offer, there has historically been reluctance in the industry to adopt digital printing processes on a large scale. A general lack of knowledge in the sector coupled with a perception that the process is expensive and difficult to manage has meant digital printing has evolved more slowly in the past. However, after successful campaigns like "Share a Coke", it seems that more and more companies need to consider digital print to avoid being left behind in this fast-moving market.
All information and data is taken from The Future of Digital Print for Packaging to 2018, a new market report from Smithers Pira. This study provides a detailed explanation of these and other trends to give your business actionable insights into the industry's market over the next five years. Quantitative market sizes and strategic forecasts, broken down by end-use, region and technology, are combined with exclusive tables and in-depth research to provide an extensive informed discussion of factors shaping the future of digital print.
How will this Market Intelligence Report benefit you?
Gain insight into new print systems and workflows being developed to bring longer print runs within digital packaging's competitive cost structures.
Up-to-date information on market drivers will ensure you're ready for packaging opportunities arising from new applications and consumer trends in point-of-sale marketing and product personalization.
Use our industry-wide knowledge of technical developments - a perspective unavailable from equipment vendors and single market reports - to benefit your strategic planning.
For more information about this report, please contact Steve Hill, [email protected].
If you want to learn more about digital print and discuss key issues with other individuals in the industry, why not attend Digital Print for Packaging? Bringing together a range of quality speakers across a broad spectrum of topics, this conference is unmissable whether you're considering digital print for your business, or would just like to know a little more about the industry. Don't miss out and book your place now.