Remember the good old days when almost all printing had to be outsourced or produced in the in-plant printing center? Then we started to see erosion from a number of sources, which has escalated to the situation we are in today, where there are many ways to get the message out in lieu of print.
One of the factors that contributed to bringing print in house, and into the office, was the introduction of the HP Laserjet in 1984, nearly 30 years ago. Twenty-two years later, the company had shipped 100 million Laserjets, and a mere 6.5 years later, as of November 12, 2013, HP proclaimed shipment of its 200 millionth Laserjet. The company estimates that some 20 to 30 million of those are still in use. The image below shows the museum that is part of the Boise customer experience center. Pretty amazing.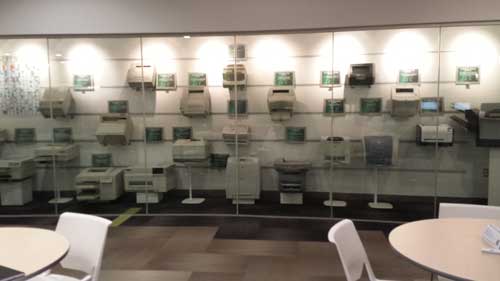 And these are not just desktop printers, although there are many of those. Over the years, HP has continued to expand its line of multifunction printers (MFPs), adding additional capabilities and raising the duty cycle on workgroup machines. As these printers continue to gain in functionality, users can produce more work locally. And with some of the newer capabilities, such as mobile enablement, they don't even have to be present or physically connected to send a print job. Based on configuration and preferences, those jobs can be sent from anywhere with an Internet connection for immediate printing or be held in a secure queue until the user releases them for printing.
This is something commercial printers should be watching closely. It is certainly not new – the growing ability to produce more work in the office. But as run lengths continue to decline and functionality at the workgroup level continues to grow, commercial printers, and even in-plant print shops, are likely to see an increasing impact, especially as it relates to document printing (as opposed to higher end marketing collateral). And you can only expect to see the capabilities and duty cycles of these printers to continue to grow.
Mobile enablement is a pretty interesting capability. A mobile-enabled printer or MFP from HP has a unique email address that lets users email documents for printing from anywhere. Newer models are Wireless Direct capable and NFC-enabled for tap-to-print access from an NFC-enabled smartphone or tablet. Millions of older printers will also be able to add mobile capability with a simple $69.99 mobile print accessory (HP 1200w Mobile Print Accessory for SMBs). This is important since according to IDC, 37% of the worldwide workforce will be mobile by 2015. That's a big number. Also, tablets are expected to outship notebook PCs in 2013 and more than 90% of all mobile devices will be print-enabled by 2015. HP was also a founding member of the Mopria Alliance and has been aggressive with its mobile printing strategy.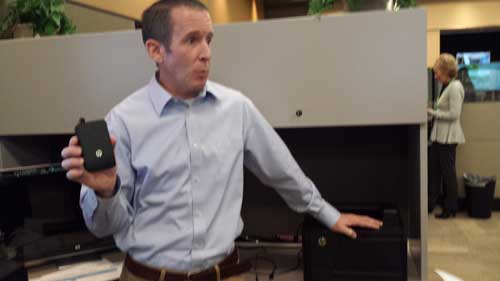 As NFC becomes more prevalent, more devices will be able to use this capability. Some of these smart printers also have scan-to-cloud capability and integrate with Microsoft Sharepoint for easy movement back and forth between digital and paper formats.
HP is also in the Managed Print Services business, taking that burden off the shoulders of administrative or IT personnel within the enterprise.
During our visit to Boise, we toured extensive R&D labs throughout the site, where new and existing products are tested for an amazing variety of things. For example, there are special rooms where the sound a printer makes when operating is analyzed and the printer is tweaked to reduce noise levels and sound quality. Other capabilities include climate-controlled rooms for testing performance of various kinds of paper from all over the world (including paper made from sugar cane and other materials) under various temperature and humidity conditions. We also used HP Kiosks to produce photo products (photo books, posters, calendars, etc.) with photos from our individual photo libraries. Printers are also tested for potential radio frequency interference to ensure regulatory compliance.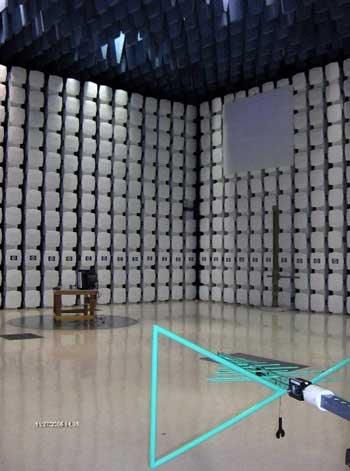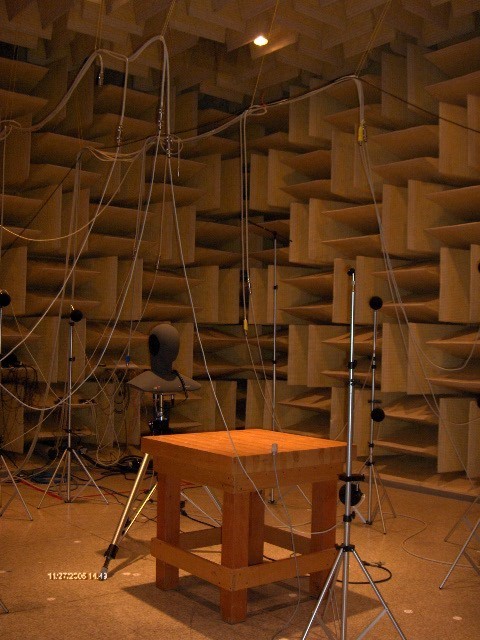 For me, the visit to HP Boise was enlightening. I had not been closely following the world of MFPs (like many of you, I am sure) and didn't realize the extent of HP's portfolio and range of services. Their market penetration can only be helped by the computer/server side of the business, where HP is experiencing growth.