From pharmaceutical counterfeiting to Europe's horsemeat scandal, 2013 saw a shift in industry and consumer requirements for product traceability. These changes are opening the door for digital print technology in terms of both packaging and labelling.
In Q1 2013, Interpol announced an agreement with 29 of the world's largest pharmaceutical companies to build on the work of its Medical Product Counterfeiting and Pharmaceutical Crime (MPCPC) unit. In 2012, the Operation Pangaea V initiative resulted in the worldwide seizure of 3.75 million units of medicines worth around $10.5 million (€8.1 million).
'No country, no drug, no medical product [is] immune from counterfeiting, a global effort is needed to combat this threat which puts the lives of millions of people at risk every single day,' said Interpol secretary general Ronald Noble.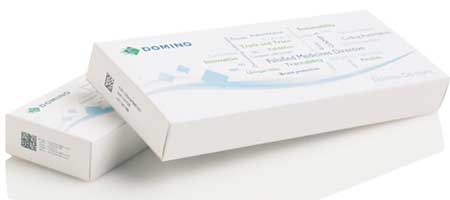 Strong traceability is already part of the agenda for pharmaceuticals. Source: Domino
In February 2011, the EU launched a consultation process, the Falsified Medicine Directive, against fake drugs. Directive 2011/62/EU came into force on 2 January 2013. This effectively means there must be a verifiable method of ensuring a drug has been produced according to Good Manufacturing Practice, and it can be tracked and checked throughout the whole supply chain. Some medicines will have a QR code that patients can check themselves, but most are for pharmacies and dispensers in hospitals.
Similar legislation is being enacted in the US. This requires unique coding to be printed on each pack to identify supplier, factory, batch and date of production. Therefore, the active ingredients of a drug can be verified from supplier to user, allowing full traceability across the supply chain to identify grey imports and counterfeit drugs.
Coding
For the most part, current coding practices consist of simple number and barcoding handled by inkjet and laser coding. Some drug companies using late-stage customisation are incorporating these features into the pack design. Mediseal, based in Schloss Holte, Germany, is one example. Mediseal uses components from Atlantic Zeiser to print the coding and serialisation at the latest possible stage in production. This helps factory efficiency, allowing MediSeal to make the changeover of packaging for different products quickly and easily.
The process uses four Omega 210 inkjet printers, with LED curing to print onto blister packs and cartons. The aluminium foil blister is printed in-line with a 2D data matrix identifier when filled, then the code is checked and if required the blister packs are printed in multiple colours to the customer's specification. The pre-printed carton blanks are inkjet overprinted with the necessary variable information and machine-readable check codes. Product tracking codes are then added.
The drug production lines need to be frequently changed over to new products, formats or country specifications. This generates more machine idle time and lower production efficiency. So combining coding and full pack printing helps boost efficiency, as well as meeting legislative requirements. The system handles multi-languages, identifying the distributors in the final country of use. There is a great deal of information held on the contents throughout the distribution chain. The technology may be expanded into other areas, such as high value cosmetics and fine wines and spirits. It may also be introduced into food packaging.
The scandal of finding horsemeat rather than beef in many processed foods played out in the UK in 2013. What came to light as a result of this scandal was the complexity of the processed food supply chain, driven by consumer demands for cheaper, more convenient food. Some of the meat involved had been flown across Europe multiple times before arriving on the supermarket shelf.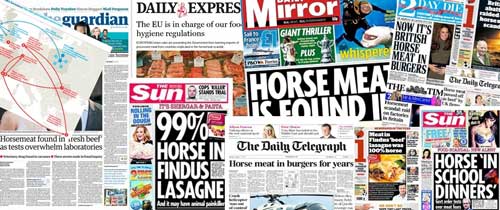 Selection of UK newspaper headlines. Source: SSS
Philip Clarke, the CEO of Tesco, vowed to 'bring meat production closer to home and work much more closely with British farmers,' as part of a raft of changes decided upon to tackle the problem. Tesco has also introduced a new testing process, so customers can be sure that what is on the label is also in the packet.
The important message coming from all parties is that the product should exactly match what is advertised on the label or packet. In the future, there will be more traceability demanded by legislators, consumers, as well as the big food processors and supermarkets.
Food traceability
These developments have pushed food traceability to the fore – and have made digital labelling and packaging a compelling proposition. The volume of labels and packaging in food dwarfs other applications, but legislation on traceability in pharmaceuticals may well be applied to foods sooner rather than later.
Some consumers are likely, for a period at least, to turn to fresh meat and products from local suppliers, such as farm shops and small butchers. These companies will see opportunities in providing ready meals as well as fresh meat, and these will require smaller runs of labels and packaging.
For the mass-produced and frozen ready meals, there will need to be greater traceability and details of the pack contents. There will be more information on the source of the meat, with country of origin, and probably some form of independent accreditation and testing procedure.
So, the threat of counterfeit products – whether a packet of drugs, a bottle of fine wine or even a ready meal – is leading to changes in packaging and labelling. This is good news for coding and marking providers to add more information on the packs. Some brands and retailers will provide more varieties with information changing, using the late-stage customisation techniques that have been pioneered in pharmaceutical applications. Digital print is well placed to deliver on these emerging trends.