Walter Payne hasn't spent his entire career in the printing industry—only the most entrepreneurial and visionary part of it.
A cable television executive by background, he became a printer by opportunity when he bought a small, struggling shop in Gastonia, NC, about 16 years ago.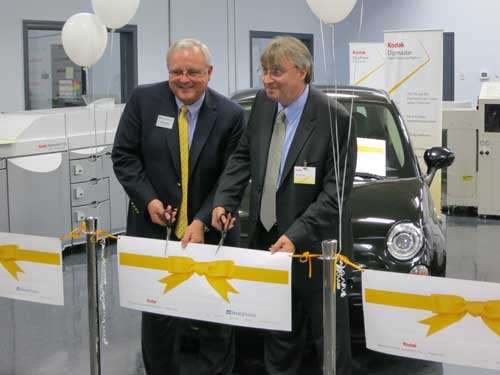 Poised to cut the ribbon for the digital production demo facility that Kodak has created at ImageMark Business Services are Walter Payne (left), president of ImageMark, and John O'Grady, Kodak's vice president and regional managing director for the U.S. and Canada.
That's when the vision began to take shape. Back then, the company that would become ImageMark Business Services was a distressed, three-person operation working out of a basement. Payne knew that in order to turn such an establishment around, "you'd want to do more than printing."
That germ of an idea evolved into a strategy combining production, direct mail, kitting and fulfillment, wide-format graphics, web-to-print e-commerce, and variable-data output—all aimed at keeping ImageMark safely out of the commodity trap and firmly on the road to the secure and forward-looking position it occupies today.
Last month, invitees to a ribbon-cutting event at ImageMark toured a new 130,000-sq.-ft. plant in which the mainstay digital production equipment comes from Eastman Kodak. They learned why Kodak, striving to broaden its marketing outreach in the aftermath of its emergence from bankruptcy, has asked ImageMark to be the site a working demonstration facility for the digital printing systems on which the manufacturer's future largely depends.
The partnership—the first venture of this type for Kodak—will involve regular visits by other Kodak customers to the demo area that now anchors ImageMark's brightly lighted, surgically clean digital pressroom. That exposure also will let Payne showcase the success of the service-providing communications enterprise he has built.
He emphasizes that the company's stock in trade is not printing, but programs—packages of marketing solutions, including printing, that enable ImageMark customers to optimize their messaging and deliver it efficiently to the right audiences.
This explains why the new building that Payne and his staff of 55 people moved into over the summer consists primarily of storage and assembly space for fulfillment operations. With about 90,000 square feet set aside for these tasks, the areas reserved for the digital and conventional press departments are comparatively small.
"Nobody wants inventory anymore," says Payne, noting the parallel opportunity that ImageMark has found in mailing and distributing the things it prints for its customers. But, he adds, pace of full-service throughput never lets up, given that everyone insists on having their work done "sooner than now."
Most of ImageMark's projects comes from four vertical market segments: healthcare; not-for-profits; colleges and universities; and automotive aftermarket. Half of the volume originates as web-to-print jobs that a customer base of 4,000 W2P users can source from an online inventory of 10,000 printable items. A large portion of what's ordered is personalized. "We print complex variable data here every day," says Payne, whose staff includes IT specialists.
Digital printing now accounts for about 60% of the volume, and over time, says Payne, digital output potentially could displace much of the plant's offset litho production. ImageMark's conventional pressroom houses a seasoned six-color press and an assortment of related equipment acquired in the buyout of a printing company in nearby Charlotte, NC, last year.
Although ImageMark's digital printing capability doesn't come exclusively from Kodak, that manufacturer has supplied the sheetfed electrophotographic presses on which the company does the bulk of its digital work.
Payne bought his first digital press from Kodak in 2003. Occupying the showplace demo area today are a NexPress 3000 color press that logged more than 10 million impressions last year; a top-of-the-line NexPress SX3900 color press with an extended sheet delivery that can handle formats up to 14" x 36"; and a Digimaster EX125 for black-and-white work.
To add pizzazz and value, the NexPress SX 3900 can run metallic gold ink in its fifth imaging unit. An offline glossing machine lays down Kodak's NexPress Clear Dry ink for a high-gloss, UV-like finish.
Having a demo facility here also lets Kodak highlight the capabilities of its Prinergy 6 workflow, a solution that sends files both to ImageMark's digital presses and to a Kodak Magnus 400 III thermal platesetter that feeds the conventional pressroom.
Supplementing the Kodak assets is an HP Indigo 7600 color sheetfed press that was installed at the time of the move-in. The company's display graphics and signage department, in operation for seven years, is built around a pair of Roland Soljet Pro wide-format color printers. Software for variable-data processing comes from XMPie and FusionPro.
Payne says that he has been doing impromptu demonstrations for Kodak since purchasing his first NexPress 10 years ago and that the partnership announced last month simply formalizes the arrangement. Kodak, which operates a standard manufacturer's demonstration center in Rochester, NY, may look into setting up additional satellite demo locations at other customer sites around the country, according to John O'Grady, the company's vice president and regional managing director for the U.S. and Canada.
Payne's reasons for opening his doors to other printers on behalf of Kodak are partly altruistic and partly business-driven.
On the one hand, there's his sincere wish to see other printers leveraging digital technologies to the same full extent that ImageMark has. "In the digital world, people become short-run print providers with color, and that's really missing the boat," Payne says. He believes that when visitors watch demos of Kodak systems in ImageMark's full-spectrum environment of marketing services, they will come away with a better understanding of all the things that digital production also can do them.
Payne also knows that tours to ImageMark will be sales exercises for Kodak, and that the failure of some of those efforts will create fair opportunities for him.
"Not everybody who comes through the door will be purchasers of this technology, and they may need help," he says. "Certainly, we'd be willing to do that."