Over the last few days, I've been asked more than a dozen times for my take on RR Donnelley's pending acquisition of Consolidated Graphics (CGX). Frankly, I have been surprised by the number of people who found the announcement puzzling. And most of the speculation has suggested that it's purely a defensive move on RRD's part in the face of declining industry sales volume. I don't agree. Instead I think the acquisition is well-timed, long-considered, and strategic. Here's why:
Early in 2004, RR Donnelly merged with Moore Wallace. Similar puzzled speculation surrounded that transaction. In fact, that deal was really a management takeover of RRD by the Moore Wallace management team led at the time by Mark Angelson. Tom Quinlan, RRD's current CEO was part of that team. At Moore Wallace, Quinlan's responsibilities had included operations, finance, and the integration of Moore and Wallace.
On Friday, February 27th, as the deal closed, the Moore Wallace team parachuted into RRD's Chicago headquarters and quickly took over. Of RRD's six top executives, five were terminated by the end of the weekend. Tom Quinlan was appointed EVP Operations and given primary responsibility for the integration of the two companies. Prior to the merger, RRD was widely regarded as a financial laggard in urgent need of an overhaul.
In the Moore Wallace deal, RRD gained more than an aggressive and focused management team. It gained a vital component of a new business model. That was the Moore Business Forms sales platform and its understanding of how to create long-term, contractual relationships with Fortune 1000 companies. And for the past decade, RRD has leveraged that platform.
Most of my consulting clients have encountered RRD's new model at least once. And most of those encounters have been painful. RRD has steadily and continuously approached other Fortune 1000 companies to pitch the value of a master print management agreement. Under those agreements, which are also offered by InnerWorkings and others, RRD assumes responsibility for the entire lifecycle of every piece of printed communication used by that corporate client. Smaller printers who have only a handful of blue ribbon customer relationships have found themselves out in the cold without warning because all print is now being procured and man
aged under one of those master agreements. And the agreement was negotiated at a level in the client company where the smaller printer has no relationship.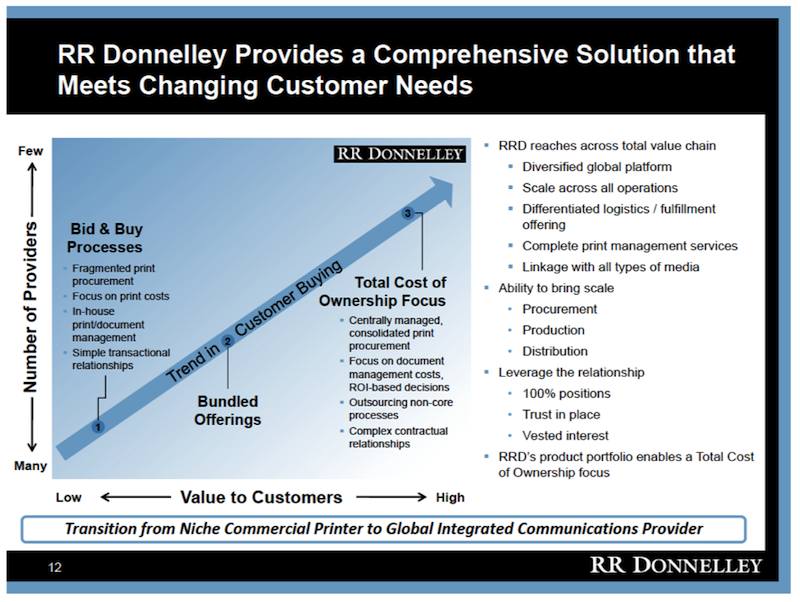 The key difference between the RRD approach to those master print management agreements and the approach of InnerWorkings is where the print is manufactured. For InnerWorkings, projects are brokered to a large-scale, pre-qualified network of regional printing companies. RRD needed a much different platform. And that leads us to CGX.
CGX had made some headway building a national sales presence. In fact, CGX attempted to mimic the InnerWorkings strategy using its own platform of regional printing companies. But CGX was never able to cut through the Gordian knot of its sales platform. Individual operating company presidents within the CGX network were accountable for the performance of their own operating companies. And they were provided with little to no incentive to play nicely either with sister companies or with the national sales effort. CGX salespeople who attempted to cross-sell into other CGX facilities often found the path incredibly frustrating. Enter RRD.
What Quinlan and RRD bring to the party is a proven model for leveraging large-scale customer relationships and selling cradle-to-grave responsibility to deliver the lowest total cost for the print consumed. And they can do it effectively with Fortune 1000 customers. What Quinlan and RR Donnelly are getting from CGX is a network of commercial printing companies concentrated where their Fortune 1000 customers are headquartered.
The successful integration of CGX into RRD will be no small task. However, Tom Quinlan and his team have demonstrated their ability to do it twice before. Where most large-scale industry consolidations have been accompanied by very public weeping, wailing, and gnashing of teeth, none of that followed the RRD and Moore Wallace deal for longer than the first week. After that deal, the takeover team went on to acquire Office Tiger, Banta, Perry-Judd's, and Bowne. When you look at what Quinlan and his team have gained in each one of those acquisitions, the strategic pattern quickly becomes clear. They've managed each of those integrations without large-scale heartburn or significant customer defections.
RRD has been very clear about its strategy for some time, even when some of its competitors have derided or dismissed it. InnerWorkings has grown steadily over the last decade and is quickly approaching $1 billion in annual top line revenue. So Eric Belcher and his team at InnerWorkings will be paying close attention to the effect of RRD's acquisition of CGX. RRD and Tom Quinlan are acquiring and about to integrate the necessary platform to deliver on any commitment they choose to make within a master print management agreement. If there is a significant competitive threat to the InnerWorkings model, which is based on its proprietary project placement technology, this is it.
Who else should be paying close attention to how RRD begins to behave in the marketplace as CGX is integrated into RRD? Well, in addition to InnerWorkings and Cenveo, both of whom offer master print management agreements to large and medium-sized corporate clients, any printing company enjoying a relationship with a medium-to-large, blue ribbon corporate customer needs to be wide awake and watching.
Since master print management agreements are pitched and won based on their cost-saving benefits, and since RRD has long had a core competence in efficient operations and cost reduction, RRD will certainly continue to pitch that primary benefit. Most often, they will pitch it to a CFO. So if you don't have a significant relationship with the CFOs of your blue ribbon clients that gap should give you pause. Without it you may have no warning that a print management agreement is in the works until it is signed and announced.
The good news is that many clients are looking for different value. That doesn't mean they simply have a bias toward using the local vendor, a smaller firm, or the nicer guys. It does mean there are clients who care more about outcomes and business results than they do incremental savings in print procurement costs. In the end, this boils down to the creation of real value. So how are you creating value for your blue-ribbon clients? Do executives in your client companies understand what and how much value you're creating for them? How might they respond when the new RRD/CGX comes calling? RRD has quietly developed a focus on large-scale client relationships, and taking responsibility for the print that gets business done. If you're still thinking of RRD primarily as printer of books, magazines and catalogs, take another look.