I was quite interested to hear from Xeikon about the latest Trillium developments. The technology will not be on display at Print 2013, but Michael Ring, President of Xeikon America, expects to have a "Trillium corner" at the show, possibly with print samples available.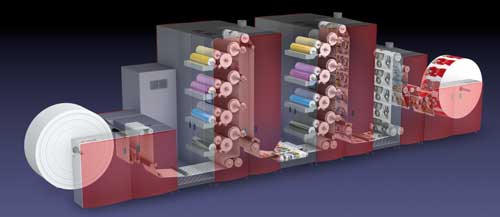 Ring pointed out that Trillium is a technology, not a product, and reaffirmed that the company is on track with its drupa promises to have a commercial product in the marketplace by spring 2014. The company is currently assessing potential beta customers in Europe and North America, with beta installations planned soon.
The initial product is expected to be a 4-color roll-to-roll press consisting of two towers (to enable duplex printing) with a full-contact heat-and-pressure fusing system at the end of the press. Initial speeds will be 60 meters per minute for the equivalent of 800 A4 images per minute and with a duty cycle of 5 million A3 prints per month. While the launch in the spring of 2014 will be worldwide, the company has stated its intent to conduct a phased launch with the first installs in Europe, and U.S. installs expected to follow six months post-launch. Xeikon indicates plans to bring faster engines to market and claims to have systems running at 120 meters per minute in the lab. The initial press has a relatively small footprint roll to roll of 11 meters long (30 feet) by 5 meters (about 15 feet) wide.
Xeikon has made available (50 Meg .zip file) animations depicting how the technology works. It uses high viscosity liquid toner that does not evaporate or fuse out the carrier oil. During the imaging process, excess toner and carrier oil are recycled. Andy Tribute also explained the process in an article published during the drupa timeframe.
Xeikon Animation
The press itself is expected to be a "significant investment," although pricing is not being disclosed at this time. However, Xeikon plans to price consumables to meet its goal of delivering higher speed at lower cost. As explained at drupa, Trillium technology is targeting what Xeikon sees as a gap in the document production market at the top end of electrophotographic printing and delivering higher quality with a wider array of substrates than current production inkjet. Primary targeted applications include direct mail/direct marketing, transactional print and books.
As our readers will remember, Xeikon was an early entrant to the color digital printing market with the announcement of its first press at Ipex 1993, 20 years ago. Benny Landa was also there with Indigo. History seems to be repeating itself a bit, with both Xeikon and Landa showing their respective "breakthrough" technologies at drupa, this time targeting different markets, with the Landa presses more focused on packaging and high end commercial print. Both plan to bring initial presses to market in 2014. We also expect to see a number of other new entrants to the marketplace in the same timeframe and expect it to get crowded quickly.