Gradually, it seems, the printing industry is getting its arms around the need to not only coexist with alternative media, but to leverage it to our advantage. Some of the latest announcements from Neenah Paper are a great example of combining the power of digital communications with the power of print. I was especially intrigued with their approach to using classy and unique printed pieces for the greater good.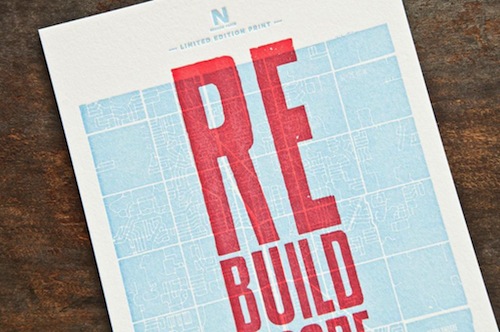 About a year ago, Neenah Paper launched a website with CRANE'S CREST Papers showcasing The Beauty of Engraving, celebrating this increasingly rare printing art form with a virtual gallery of high-quality products, a history of engraving and tips for designers, as well as limited-edition engraved samples created and curated by some of today's most prestigious and popular design, branding and typography talent.
According to Tom Wright, Senior Director of Design and Advertising for Neenah Paper worldwide, who spearheaded this initiative and the others we will discuss here, The Beauty of Engraving was a "toe-in-the-water" initiative for the company. He says, "Neenah sells and distributes the CRANE'S brand, and we have been a 100% cotton fiber paper manufacturer for 100 years, materials that are often used for high-quality engraved social correspondence. We were looking for a way to support the declining number of engraving shops. It's such an incredible art and we wanted to be able to create greater awareness about it among a more digital savvy audience."
Neenah leveraged its relationship with IEGA in the development of the site. Wright adds, "Initially, we wanted to create marketing campaigns for engravers, many of whom are small businesses that often don't have the resources to develop and execute their own marketing campaigns. Not that we have a massive marketing department, either, but we do a lot of marketing. And we could provide them with papers they could use for the print portion of the campaign."
Wright explains that Neenah also wanted to work with a design firm for this project that had done work in the engraving space. "We went to IEGA site and discovered that Two Paperdolls, a design firm located in Wayne PA, worked with them to design their site, and it is very well done. So we started the conversation and found them to be a great partner."
Interestingly, as Vanessa Kreckel, founder of Two Paperdolls, reached out to engravers to test the concept, she found that engravers didn't want marketing materials built for them, but rather, they were interested in a site that could be a repository of information about engraving with a gallery that shows engravers' work. This, they believed, would be a platform that could attract younger designers to the craft and raise awareness overall. Thus, The Beauty of Engraving was born.
The next step was to develop a similar site for letterpress, a craft practiced by Two Paperdolls. This time, with CRANE'S LETTRA Papers, Neenah wanted to take the experience to a new level. "The development of The Beauty of Letterpress site coincided with the need for the Hamilton Wood Type & Printing Museum, located nearby, to move to a new location," Wright explains. "I spoke with the Neenah Paper Foundation, and they generously agreed to contribute $15,000 in matching funds to benefit the museum and support its move, including the need to move about 1.5 million pieces of type. We were extremely pleased to be able to participate in the preservation of this important piece of printing history."
The letterpress is similar to the engraving site, a repository of information about the art of letterpress and a gallery. But Neenah took it a step further by leveraging the site to raise funds for the museum to take advantage of the Foundation's $15,000 matching grant. Visitors have the opportunity to contribute as little as $5 and in exchange receive a limited edition letterpress print, with the specific print received being dependent on the size of the donation. "We've been pleased with the results and have already raised more than $17,000, including matching funds. When donors receive these beautiful pieces, we hope it will reinforce an appreciation for fine printing and again, raise awareness for the art of letterpress among consumers as well as young designers," Wright says.
Then the recent tragedy in Moore OK struck and Neenah decided to use its proven fundraising capabilities through The Beauty of Letterpress to benefit tornado victims. "All of the donations we raise will go to a unique and appropriate source," Wright explains. "Many people in Moore need to recreate or redesign damaged homes, and Architecture for Humanity will be helping them do that. We liked the tie-in with design and with preserving history. We also sought out a local design firm, Ghost Design, to create the first round of images, further supporting the local economy."
Wright points out that for all of the initiatives, new prints are available online all the time, and he hopes that will draw people back to the sites over and over again, both to get ideas about designing for engraving or letterpress or to purchase additional pieces for their collections and to benefit the causes Neenah is supporting. "We have purchased multiple URLs," Wright says, "and we plan to continue this conversation across a broad range of topics that might include things like foil stamping and embossing. Through these efforts, we hope to bring unique exposure to the fact that paper still has a fundamental task in communications. We are a niche mill playing in niche segments and the model fits us well. Through these efforts, we are raising awareness for the craft of fine art and social printing and we are also using technology to sell paper."
Wright concludes, "We are running toward technology as fast as we can. If we run away [from technology], we are sunk. If we run toward it and embrace it and show young people what can be uniquely done with print, we build awareness and value for the craft. Printing used to be the media; and now it is part of the media mix. As a niche player, we have always been used to being part of the media mix, so for us, it wasn't a huge leap to see how technology and paper can play together. To continue to survive and thrive as an industry, we must take a proactive approach to educating the market on the unique properties of print. We hope visitors to our sites will say, 'Wow, I can do something that is really special, that makes an emotional connection with people and makes them want to hold it and touch it.'"
I hope you will take a few moments to visit the engraving and letterpress sites, and perhaps even contribute to one of the causes. I promise you, if you love printing, it will be worth your time!