A growing number of businesses from nearly every type of service organization are striving to become thought leaders in their respective fields. The reasoning for this is very simple—well-established thought leaders garner the largest share of business. Becoming a thought leader can help reposition your business in the eyes of your customers and differentiate your firm from competitors. Simply put, this translates into significantly greater customer loyalty and followers. These followers can use content to decide what products and services they buy from you while also sharing this content with others.
Strategies for Becoming a Thought Leader
Bruce H. Rogers and Russ Alan Prince co-authored a book entitled Profitable Brilliance: How Professional Service Firms Become Thought Leaders. This book identifies three key criteria for success in becoming a thought leader, and several of your industry peers are already leveraging this advice.
Develop Tightly-Targeted Thought Leadership Content
Service providers must identify and understand the audience they want to reach to ensure that they have strong appeal for prospective clients. Chicago-based Tukaiz (www.tukaiz.com) is a results-driven marketing communications service provider with over 50 years of experience. It has core business units for Creative, Imaging, Print, and Interactive for corporate marketing departments and advertising agencies. A key area of focus for the firm is demonstrating thought leadership and a strong base of knowledge to the marketing community. Every Tuesday, the company features a blog called "Tuesdays with Tukaiz" that explores emerging trends ranging from geofencing to behavioral targeting.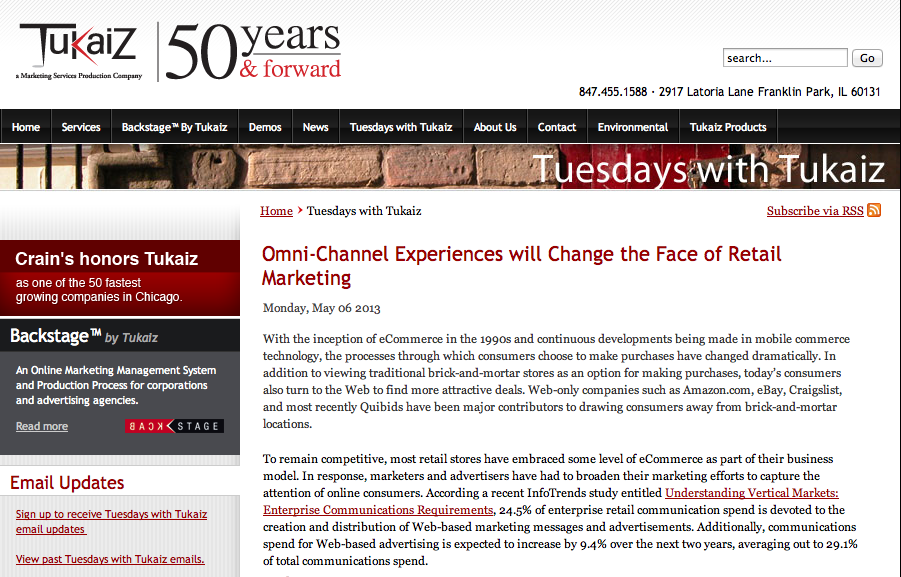 Tukaiz recently celebrated 50 years in business. The company has harnessed technology to create new and unique products and services for corporate giants like Redbox, Frito-Lay, and Burger King. The firm serves a variety of vertical markets, including high-fashion retail, insurance, and healthcare. Tukaiz has always had a philosophy of leading both the market and its customers, and it is continually reinvesting in its business. Through thought leadership, it has been directing customers to new products, services, and technologies that can benefit their business models.
Develop Thought Leadership Content that Has Considerable Value for Your Target Audience
A key premise in Profitable Brilliance is that your firm's thought leadership content must be able to make a meaningful difference to a select audience. It needs to enable your audience to generate meaningful results. If your firm's thought leadership content has considerable value, it will be shared on social media platforms for prospective clients to see.
Illinois-based Envision3 (www.envision-3.com) understands the importance of delivering results-oriented content to customers. In 2011, Envision Graphics was renamed Envision3 to emphasize its full-service capabilities in the three areas that were deemed critical to ensuring client success—Insight, Innovation, and Communication. In today's increasingly competitive market, Envision3 wants to be perceived as an experienced marketing services provider that leverages human creativity and cutting-edge technologies to offer integrated solutions and increase ROI. The company has created a number of thought leadership white papers on topics including "Streamlining your Marketing Collateral Supply Chain Management" and "Increasing Response Rates with Variable Data."
Keep Developing Thought Leadership Content
The key to thought leadership is establishing a persistent voice. You need to share insights based on your experience, conversations, customer successes with technology, and established data from public or private sources. This effort must be ongoing because it's easy for thought leadership content to become stale—some graphic communications Websites haven't created blog posts since 2010. You must provide a steady stream of information and insights that are shared over time. It's not about selling yourself directly, but producing enough value to be remembered and sought out.
Maryland-based McArdle Solutions (www.mcardlesolutions.com) is redefining the way that its communications are delivered to customers by providing an aggressive approach to true thought leadership. McArdle was founded in 1947 and has a long history in the mid-Atlantic printing and publishing markets. Today, the organization's mission is to work with clients on deploying "smart marketing strategies" that blend print and electronic media. McArdle is helping clients generate results through an ongoing stream of education and information. The firm provides its clients with ongoing education that occurs on-site and through Webinars. It also creates a structured monthly calendar. Topics range from new techniques in cross-media direct marketing to leveraging new substrates to make your direct mail stand out.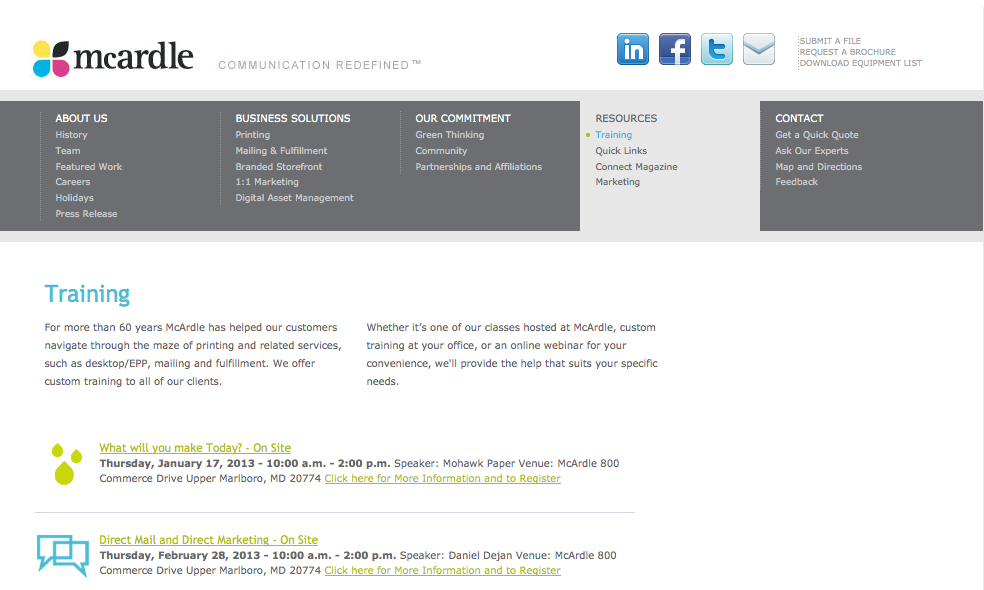 McArdle also provides its clients with a marketing guide and an ongoing publication called "Connect."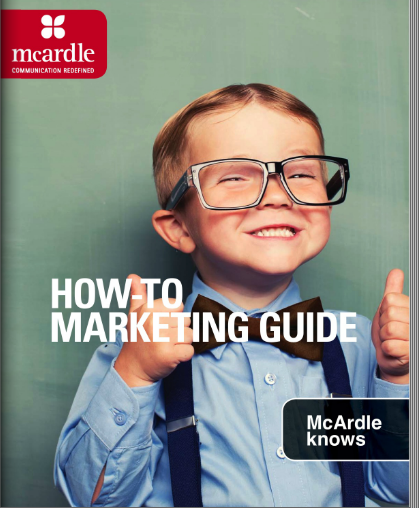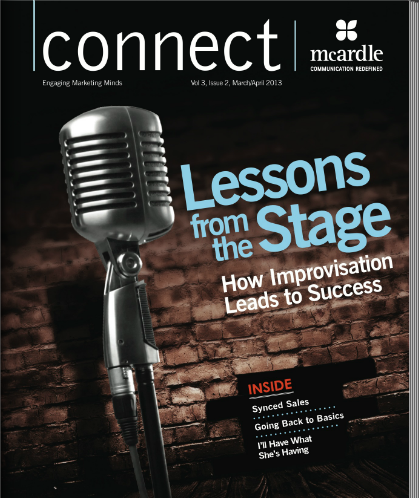 The Bottom Line
In today's ever-transforming industry, thought leaders are willing to step into the spotlight and voice their viewpoints, provide an ongoing stream of innovative ideas, and help their customers deliver results. Thought leaders like Tukaiz, Envision3, and McArdle are leveraging effective content to drive insights, ideas, and expertise. These firms are differentiating their organizations in the market by encouraging customers to think big and offering solutions to business problems. Your customers are seeking solutions and you have the expertise… it's time to share your knowledge!