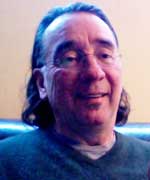 In mid-March, we noted the announcement by Blurb of its global partnership with Samsung to provide an app that makes it easy for consumers to auto-create photo books and magazines. This is another great example of the opportunities created by today's mobile and digital world that ultimately will extend the life and value of printed materials. Bruce Watermann explains, and also shares his thoughts about the future of print.
WTT: This is a very exciting announcement. As I understand it, this is the biggest smartphone launch yet for Samsung, with millions of Galaxy S 4 phones expected to be sold.
BW: Yes, the official launch is today, April 24th, with T-Mobile and other carriers including Sprint and AT&T to following in a few days.
WTT: Tell us about the photo book app that will be native with the phone.
BW: It is called Story Album, and it was developed by Samsung. Samsung developed the software that lays out the albums and prepares images for publication in book form, either digital or printed. We created the cloud-based app that handles the rendering, transactionpayment processing in seven currencies, printing, and shipping to 70 countriesfor printed book. sThe app will be pre-installed in the Galaxy S 4 phone and is slated for other Samsung mobile devices later this year.
WTT: Why do you think Samsung was interested in developing an app for printed photo books?
BW: This phone has a 5" inch screen and a 13 megapixel camera as well as a number of other great features. There is a lot of opportunity to do stuff with that camera and with the phone, and I believe Samsung wanted to give its customers way to do more with all of their photos, the opportunity to not only capture the images, but quickly and easily commemorate special life events in a much more permanent way.
WTT: This phone has a 5" screen. Sounds big …
BW: It is definitely big, but a lot of people seem to be okay with it. I think Samsung is really looking ahead and thinking about phones being a traveling computer. Certainly from the perspective of making a book, the larger screen is a good thing. That extra inch of screen space is significant if you are going to use it as a creation, rather than just a consumption, device.
WTT: Once someone creates a book in Story Album and decides to print, what happens?
BW: Our cloud-based back-end app takes over and prepares the file for printing. Users have the option of choosing a 7x7" book, which is already a standard Blurb size, or a 5x5" book which is exclusive to Samsung, kind of like a "brag book" size. The smaller book will be perfect bound and a 20-page book will sell for $8.95 plus a nominal shipping fee. The larger book has a choice of either soft cover or hard cover, what we call an "ImageWrap." We use UPS Mail Innovations for shipping which keeps the shipping costs down. Standard production is four days, but we are working on a number of options we think will enable us to bring that number down. Shipping time depends on the customer's location around the world,but runs 6-12 days
WTT: Your release references a network of six printing locations, which I assume are partners. Where will these books initially be printed and on what equipment?
BW: Our official statement about our printing network is that we utilize six printing facilities on three different continents shipping to more than 70 countries with transactions in seven currencies and eight languages. Our confidentiality agreements with our partners preclude us from disclosing who those partners are. However, the books initially will be printed on an HP Indigo 10000, and the application has been optimized for that device. This gives us the level of quality we need, and the sheet size gives us the multiple-up capability that drives the individual unit cost down to what we consider to be a consumer sweet spot, where it is an easy decision for the user to buy the printed book once they have assembled it.
WTT: I am sure you must have done some volume projections.
BW: We believe that mobile devices will soon become the standard for personal creation as well as consumption. But how quickly that happens is anyone's guess. News reports indicate that Samsung expects to ship 4X the number of these phones as compared to the S3, which was their most successful phone to date when they released it. This is pretty quickly going to become the biggest smartphone launch in the world. Of course, the photo book app will not ramp up to full speed on day one, but we initially have a dedicated HP Indigo 10000 to handle the volume if we need it. We have also worked closely with HP during the development process. They have been terrific to work with, helping us ensure that we optimize the app for that press and that we can fast-track new equipment as needed. We are upset up to increase global capacity quickly as demand grows.
WTT: Is this an application you expect to see move to inkjet?
BW: With consumers who choose to create printed items, there are two key criteria for success: quality and price. Right now, the HP Indigo has the quality we need, and the sheet size and other factors allow us to address the price criterion. I think inkjet will play a role as it continues to evolve both in terms of quality and the availability and cost of substrates.
WTT: Do you expect to see similar offerings from other phone manufacturers?
BW: If this is successful, you have to think that others will copy it. But keep in mind that it is a lot of work to carry this off. It is not just a matter of building an app. For the digital books, it is easier, but for printed products, you have to work out all of the logistics, and that is what we excel at, and why Samsung chose us as their partner. Since the beginning, we have been a global company and we already ship to all of the countries that are important to them. As the smartphone moves toward becoming the primary computer for many people, especially the 35 years and below age group, we will also be looking at how we can create new solutions with partners. You will see more from us on the mobile front moving forward.
WTT: I think many in the printing industry see mobile communications, or electronic communications in general, as a threat. What message would you have for them?
BW: Generally speaking, we still don't have at a leadership level in the printing industry people from the mobile and internet generation. The average age at Blurb is 29 years old, and that keeps me grounded with respect to what's coming. I think sometimes the printing business tries to force its way in instead of doing the things that come naturally. That happened with personalization and transpromo, and it is easy to go overboard with service providers believing that is the Holy Grail. As this generation moves higher into the organizations, they will begin to see the natural way print fits into the ecosystem, and that's when the rubber meets the road. Unfortunately, we are a little ways off from that, but it will be exciting. When I started with Corbis in 1993, there was no digital stock photography to be downloaded, or even shipped on CDs. It was all transparencies. That doesn't even exist anymore; that transition is complete. The bottom line is that print has to be always good; it can't be just okay. These consumers will consider it a waste if the quality isn't good. There is a business around that, and you have to tip your hat to the fact that some things deserve to go digital and they don't deserve to go to print. In transitional situations like this, there are always opportunities, but there are, unfortunately, casualties as well.
WTT: So looking out a few months or years?
BW: People will be willing to pay for print because it will be more rare, but the quality has to be good. Look at the Xerox iGen4 with its matte toner as an example. That's a great product and the quality is really nice. The fact that print is going to become more valuable will enable people to do more research to continue to bring innovative products to market. The digital technology will continue to be better and increasingly consistent. Keep in mind that that future audience, people who are now 35 and younger, are not going through ads in the newspaper; that's not how they find things.
I recently received a catalog from Home Depot with high end home products. I could not believe the quality and the accuracy of the color swatches. Even five or six years ago, would you trust something you get in the mail with color accuracy? These are spot on. The fact that people are now giving that kind of thought to these printed products is a sea change. I'm bullish about the future of the industry and the benefits this transition can bring. While the transition that is underway has been tough on printing businesses, those who learn to monetize print in this new environment will be successful, and there are already a number of companies who have done that.