While most U.S. demo facilities are pretty functional in nature, the Canon (formerly Océ) Customer Experience Center in Poing, Germany, was a nice blend of functional and social with a coffee bar and restaurant facilities on site in the European style. I joined a large group of customers, journalists and industry analysts for a Leadership Forum conducted at the facility in March 2013.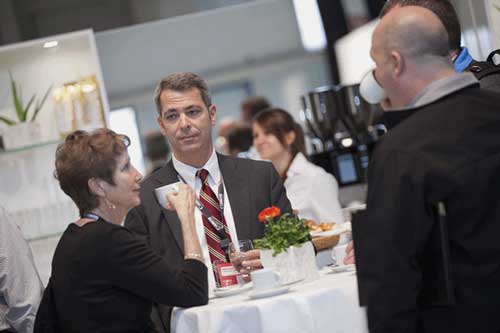 Enjoying a cappuccino break with Francis McMahon, VP of Marketing for Canon Solutions America, and Mark Hanley of IT Strategies.
The event kicked off with a welcome from Toyo Kuwamura, President of Canon Solutions America, formerly Océ North America. The new organization was launched in January. Mr. Kuwamura has been with Canon in a variety of roles in the U.S. and Japan for 33 years. The feedback I am getting from inside the organization is that he has already added significant value, especially as it relates to the integration of the Canon and Océ organizations and helping to navigate the Canon organization as members of the former Océ team learn more about Canon business processes and operations. In his talk, he emphasized Canon's Kyosei philosophy: Living and working together for the common good.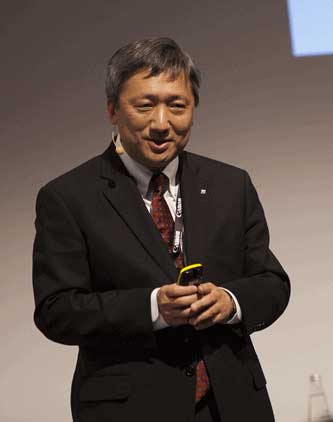 Toyo Kuwamura, President, Canon Solutions America
The event lived up to its "Leadership Forum" moniker. Day One was a packed agenda with three different tracks for attendees and a total of 12 different sessions including a keynote by Jeffrey J. Fox, author of How to Be a Fierce Competitor: What Winning Companies and Great Managers Do in Tough Times. There was a Business and Sales Track; a Solutions and Technology track that included sessions on media, finishing, workflow and short-run book production; and a state of the industry track focused on inkjet and books. Despite the packed educational schedule, plenty was left for networking and visiting the many exhibits in the Center, including Canon's inkjet offerings, the Océ JetStream and ColorStream families, as well as special areas for discussions about workflow (Océ PRISMA) and business development resources (PressGO!].
Canon staff reported that installations in 2012 of the JetStream and ColorStream inkjet presses are split about 25/75, but about 65% of the volume comes from the ColorStream presses which have been on the market longer. In the three months previous to the session, Canon reports selling 12 marking engines (some are duplex models which includes two engines), mostly in the transaction environment; however, the company is starting to see a few units purchased to produce niche graphic arts applications. The presses also support newspaper production. The company claims market share leadership in terms of production inkjet presses installed worldwide through 2012.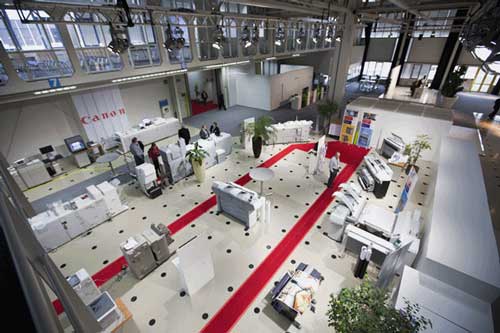 Océ JetStream 5500 demo area
Canon indicates that 6 units of the 30" wide, 833 foot-per-minute JetStream 5500, which can be configured as black only or up to 5/5 in color, will be shipped to the U.S. in July. The 5th color on the JetStream 5500 can be used for MICR or security inks in this press designed to produce 100 million impressions per month. In the U.S., about 90% of JetStream installations include MICR.
While there was a spot in the CEC for the company's Océ InfiniStream liquid toner entry into the folding carton market, it was not being shown during the event. However, Canon indicates that development is on track for commercial availability in 2014 and is planning a dedicated packaging event in Poing for the summer of 2013.
On Day Two, customers were treated to a tour of the Munich area, while the journalists and industry analysts had dedicated time with Canon executives and product specialists to gain additional insight into the technologies in the Canon production portfolio, along with a guided tour of the center that included product demonstrations.
Both groups rejoined that evening for a very special tour of a local castle which is now a museum. The museum remained open past closing hours for this special tour, which was followed by an excellent dinner at an on-site restaurant.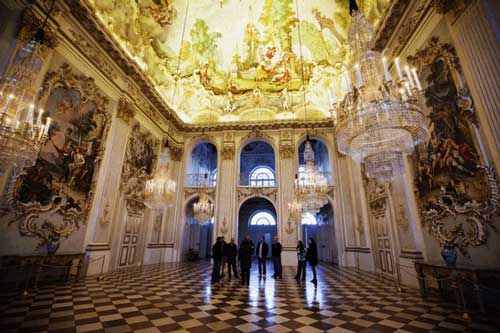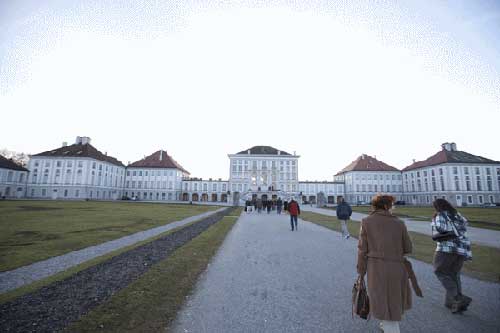 Although most of my journalist and industry analyst colleagues have visited Poing in the past, this was my first visit, and I was quite impressed. The Canon team did an exceptional job of flawlessly coordinating this large, international event. It was well balanced between educational sessions; access to equipment, services and executives; and networking opportunities. Although I am not sure what the total attendee count was, we filled two large buses, so it was not trivial.
Another thing that impressed me was the design of the CEC which facilitates multiple events going on simultaneously. On Day Two, while our group was getting the guided tour, there were several other smaller groups also enjoying the center, and the layout and facilities meant that there was no conflict. This included headsets set to a specific channel for each group so that the speaker could be heard by the group without interfering with other groups who might happen to be in the center.