Joining Canon Solutions America in Executive Position Effective April 1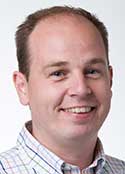 Early this month, I learned that Eric Hawkinson, Executive Director of Dscoop, will be leaving his role to become Director of Marketing at Canon Solutions America, the new organization that combines a number of the Canon and formerly Océ operations in the U.S. In that capacity, Hawkinson will report directly to Francis McMahon, VP of Marketing.
Hawkinson has been with Dscoop since its inception eight years ago, and has been an integral part of the organization's success. Dscoop, which started out as a primarily North American organization now has 8,000 members worldwide, with chapters in Europe and Asia Pacific.
Chris Petro, Global Chairman for Dscoop and CEO of Globalsoft Digital, commented, "Eric has been a great leader for Dscoop. We are certainly sorry to lose him, but I am of the opinion that any organization that can't sustain the loss of any member is a weak organization, and Dscoop is not a weak organization. We may stumble, but we have already taken steps to fill the void." Petro indicates that the organization will conduct an exhaustive internal and external search to find the right person to succeed Hawkinson.
It is also important, from my perspective, to keep in mind that Dscoop has a very powerful group of hundreds of volunteers, on its boards, on its committees and in its membership at large, that I am sure will continue to produce the value that the Dscoop membership has come to depend on. Petro added, "With change comes opportunity, and as your readers may remember, we are also looking to hire a Dean for Dscoop University. Seeking a new Executive Director and the Dean at the same time presents its own set of unique opportunities. We all wish Eric well in his new endeavor and are sure he will do well there."
Francis McMahon stated, "We are quite excited to have Eric join our team. He is a consummate professional, and while he has—and will continue to have—strong ties to Dscoop members he has worked with over the last eight years, with his integrity and character, Dscoop and HP should not be concerned about any complications."
Petro echoed that, saying, "When you are involved in something as important as Dscoop, a piece of it stays with you and doesn't die. I personally know Eric's integrity and character well, and I know he will never do anything that is not in the best interests of the organization. All three of our boards are very supportive of his beginning this next chapter of his career."
For a further statement from McMahon, see our exclusive video interview
As for Hawkinson, he has sold his home in Chicago and is preparing to move his family to Boca Raton. "I love Dscoop and am proud of how the organization has evolved, and happy that I have been able to make a contribution," he said. "I know Dscoop will continue to grow and prosper. Meanwhile, it was time for me to take on a new challenge and I am looking forward to getting started. One thing is certain, I love print, and I have chosen to stay in the printing industry and to continue to help and support this industry in my new role."