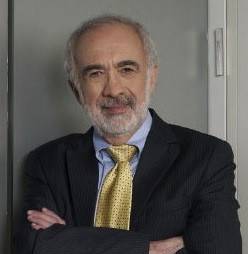 After stealing the show at drupa 2012, Benny Landa didn't bring his nanographic printing technology to Graph Expo. But he was there in person, meeting with Landa customers, along with several additional members of his team; including Mimi Sela, Corporate Vice President of Strategy and Investments, and CEO of Landa Ventures. We had a wide-ranging discussion that started with an explanation of some of the other projects Landa is working on. Landa Corporation has four operating units: Landa Digital Printing, Landa Labs, Landa Ventures and Landa Fund. It is the first two I will be focusing on in this article.

Alternative Energy
While I am sure there are a number of energy-related projects going on in Landa Labs, we spoke specifically about using nano technology in the thermal energy realm. As Landa explained it, consider water that is heated in an electric kettle. It took energy to raise the temperature of that water, and there should be some way to reverse the process – to convert the heat back into electric current as the water cools. For example, could the waste heat from power plants or automobile engines be used to generate light or provide power to other devices? This is, of course, an oversimplification of what Landa Labs is up to. But what we are talking about here is the generation, use, conversion and exchange of thermal energy between systems. While I'm certainly not qualified to comment on what the outcome of this may be, as a very energy-conscious world citizen, I am interested in following their progress as it evolves, and I salute Landa and his team for investing significant resources into this research and development. It appears that nothing will be commercially available for four to five years, but we certainly hope we will hear about progress along the way!

Healthcare
Landa Labs is also working on ways that nano technology can be used in drug delivery systems. Many medications are water soluble and can be delivered intravenously for rapid absorption. But what about those that aren't? Can they be manufactured in tiny enough particles that they can either be suspended in an IV solution for delivery or introduced into the body in some other way? This is another exciting use of nano technology Landa Labs is investigating, and commercial availability is likely to be several years away. This is also very important work about which Mr. Landa is quite passionate.

Nanographic Printing
And now for the part you have been waiting for…nanography as shown at drupa. According to Mr. Landa, the company continues to make progress against very specific goals and objectives that must be met before the product is market ready, and is also continuing to work with announced partners as well as developing additional partnerships around the world.

Quality, of course, is one of those key objectives, and the ultimate aim is to reach offset quality. The chart below reflects progress that has been made since drupa on Landa's Print Quality S-Curve. Please note that the shows cited are merely markers in time rather than a statement that the technology will, or will not, be at a specific show. As you can see, by Ipex 2014, scheduled for March 26th through April 2nd in London, Landa expects the presses to be well inside the offset quality zone, and by drupa 2016, to be in the high end of the offset quality range. Beta placements are targeted for the end of 2013 and early 2014, and beta sites will be selected from among the many letters of intent signed during drupa.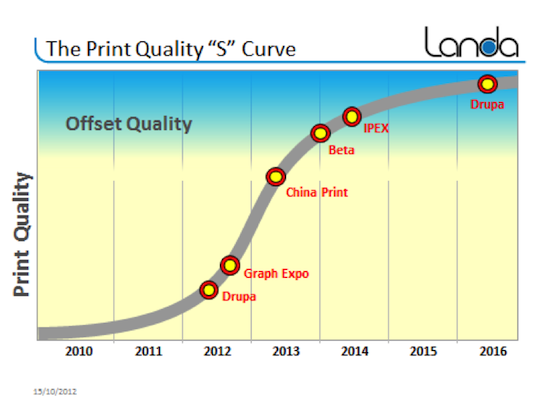 Landa indicated that he is often asked why he isn't marketing more. In a very logical answer, he pointed out that with the number of letters of intent that were signed at drupa (the exact number hasn't been disclosed but it is in the hundreds*), the focus shifted from marketing to engineering and production-there is already a pretty robust customer base out there and it is more important to get product to those folks than to expend a lot of resources drumming up more interest.

During our meeting, Mr. Landa shared print samples on a number of different substrates that showed drupa quality versus what the process is achieving today. (I tried to scam a few, but he was very alert and I failed!). The improvement is clearly visible. One of the key issues the team is working to resolve is a fine white line that appears at the inkjet head seams; that is, with multiple inkjet heads across the width of the substrate, where they are "stitched" together is leaving a noticeable, though very small, gap. The labs are hard at work on this issue and a number of different solutions are being investigated.

As you can see from the steep post-Graph Expo incline on the S-Curve chart, the team is pretty optimistic that significant progress will be made over the next few months. We'll be staying in touch with Landa as 2013 unfolds to see how they are doing against these aggressive goals. We will also be interested in following the beta process depending on the level of transparency the company and its customers are willing to offer.

One question I had for Mr. Landa was why he would want to manufacture, sell and support his own presses rather than focusing only on providing the (likely) more profitable consumables. His response? "We want to control our destiny. We are very pleased with the partnerships that have been established, but we also feel that we may be able to move at a different rate of speed than our partners as we bring this technology to market, and we need to be able to meet the clear and present customer demand."

So stay tuned. More to come!

*A recent article states that the number of orders in the queue is 400. This number has not been confirmed by anyone from Landa Corporation.