In addition to the Tokyo headquarters visit I wrote about Friday, analysts and editors were also invited to Shanghai before leaving Asia to attend a plant tour of Canon's Suzhou facility. The facility is located in the Jiangsu province, an hour and a half bus ride west of Shanghai. The plant was established in 2001 at a cost of $67 million and is capitally affiliated with Canon Inc (66.5%), Canon Finetech Inc ( 23.5%), and Canon China Co Ltd (10%). They produce office copy machines, MFPs, and page handling devices (input and finishing). The plant shipped its first MFP in 2002 and is responsible for w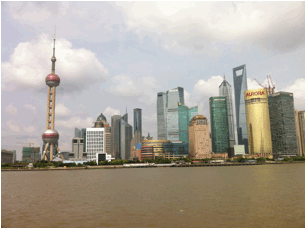 orldwide production of the imageRUNNER Advance line. The plant passed the 1 million shipped milestone just 5 years later in 2007. In 2011, Canon Suzhou Inc was responsible for $1.4 billion in sales and is the largest production site of its kind in the world.
The facility is overseen by Chairman & CEO of Canon Suzhou Inc Katayama Kazunori. He spoke to us briefly and answered questions before we were led by him and others from his team on a tour of the production facility. Kazunori shared with us that the facility employs over 8,500 and the average age of its workers is 21.5. This was the first of two figures I found to be stunning. The relatively low average age stems from the fact that the majority of the employee base is involved in production-related activities and the plant has an annual turnover rate of 20-30% which brings in new - and presumably younger - workers on a regular basis. Still, the plant retains the majority of its employees and gives them opportunities to advance. Pay is also quite a bit higher than the Chinese minimum wage law.
Kazunori indicated several reasons for Canon choosing to locate an advanced production facility in this area of China. The first was the region's wealth of other manufacturing which enabled them to be near parts suppliers. There are 10,000 parts makers in this area of China. The second was a wealth of labor resources that are both technologically savvy and highly capable. The region has many with scientific and academic backgrounds and there are many colleges in the area as well.
The plant is located on a property that will also allow Canon to expand this facility should the need arise.
The biggest challenge Kazunori has encountered running a manufacturing plant in China today is rising labor costs. Canon is countering this phenomenon that is being driven primarily by the emergence of an affluent middle class in China by focusing on efficiency in production and reducing the number of people required at each stage of the manufacturing process. Canon is also using more automation, as evidenced by several AGVs (automatic guided vehicles) spotted on the plant floor.
Having finished our briefing we donned shoe covers and headed out to the production area. We weren't allowed to photograph in this area and it would have been difficult to capture the feel of it in two dimensions anyway. The place is big. Really big. One thing I noticed right away was that employees all have a different color hats based on their role and experience. Earlier I wrote about Canon Chairman & CEO Fujio Miterai moving production from an assembly line into cell production. The hats and roles are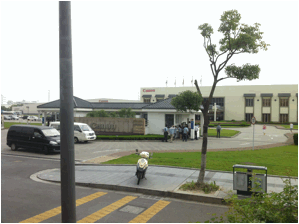 a result of this move. Pink hats are for newer employees while blue hats are for those more experienced. Yellow hats are for employees checking quality assurance at every step of the process. Canon's philosophy is that quality should be part of a cell team and not a separate check after the fact. This ensures quality throughout the entire production process. Many traditional manufacturing facilities separate production from quality, but Canon has integrated them into the cell production system.
The other benefit that comes from having a mix of new and experienced employees on the same cell team is less pressure on training needed to counter recurring turnover. Based on a quick observation of hat color, most teams had a good mix of experienced employees who help to train new workers.
One of Canon's larger goals is to have its production system become a model for the industry. Toyota was able to attain this in the automotive world, having had many auto producers study the Toyota Production System (TPS) for years now. I got the sense that Canon wants to reach this same level of production competence and emulation.
Though many parts are sourced from outside suppliers, Canon also has a parts manufacturing facility on-site. A reason given for this was to locate service parts operations closer to the manufacturing facility for instant feedback about any problems with specific components. Another reason was to reduce inventory needed to run production. The facility operates on JIT, or Just In Time, a production strategy that improves efficiency by having parts show up for manufacturing when they are needed to avoid storage and handling costs. Suppliers are required in many cases to have parts at the plant every 2 hours. This was the second figure I found stunning. That is a very small window for JIT in a manufacturing environment. If you assume a 10 hour production day parts arrive from each supplier 5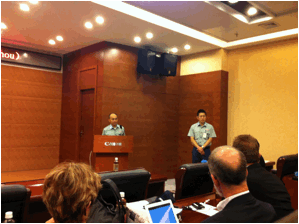 times in a single day. This type of coordination with off-site and on-site suppliers provides for a very high level of production efficiency.
The facility was, unfortunately, impacted by the recent earthquake in Japan in 2011. Some components - drums and toner - are supplied by Canon Inc in Japan. March and April production was just 50% of the plant target. They recovered by running at 150% of capacity (1,500 units/day) during September and October to replenish inventories.
The Suzhou plant was very impressive, not only for its scale but for its production system and management of human resources. Getting a chance to see how Canon is manufacturing its products along with the time spent with company leadership in Tokyo was very instructive and reason to look for good things to come from Canon for some time.