WhatTheyThink joined several other editors and analysts at Canon's Tokyo headquarters to learn more about the company and hear from Chairman & CEO Fujio Mitarai on their strategy to navigate the recent market uncertainty and continue to grow the business founded by Mitarai's uncle in 1937.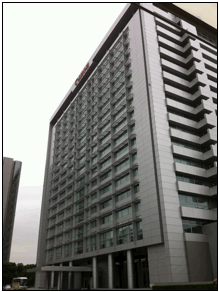 Mitarai has been CEO since 1995 and is known for having led Canon from a dozen individually operated divisions - many at a financial loss - to four main divisions that focused on profitability over sales. Today Canon is comprised of 3 "Business Fields": Office, Consumer, Industry/Other. The office segment makes up some 53% of Canon's business and is the division that comprises their digital color production systems along with office MFPs.
Chairman Mitarai's management style has been coined the "Mitarai way" and includes an aggressive focus - some would say obsession - on the bottom line. Many see his 23 years in the United States where he eventually became President of Canon USA as the impetus for his combining a western focus on profits along with traditional Japanese values. Mitarai is also a very hands-on executive in a business culture that often sees CEOs as more symbolic leaders.
His series of 5 year plans each had distinct goals for the company. From 1996-2000 the main objective was to reform production and improve financial positioning. This saw the focus on profit over sales as well as a move to cell production over typical assembly line approaches.
2001-2006 saw a focus on HR and a change in wage systems from seniority based to skills based. Europe became a focus on the marketing front and many consolidation moves were made in that area as well. A move to fully digitize the product line was also pursued in earnest.
Mitarai's phase 3 (2007-2011) was impacted by the global financial crisis of 2008 seeing sales, profit, and net income all decline after a record setting 2007. A rebound in 2010 was followed by another dip in 2011. In March of 2012 it was announced that Mitarai would return to the presidency to replace Tsuneji Uchida and lead the company through 2015 as Europe's debt crisis continued to create uncertainty. Europe comprised a majority 31.3% of Canon sales in 2011 and remains an important market for the company. If you follow soccer and the Euro Cup you'll see this market focus in the form of big sponsorship. I failed to ask Mitarai if he had a favorite team in the cup, but he was probably too focused on Japan working to qualify for the 2014 World Cup!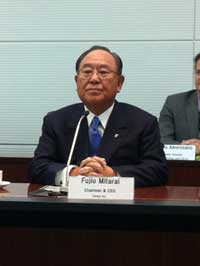 Phase 4 plans call for 5-7% increases in net sales through 2016, when the company hopes to have identified someone to take over the day to day operations of the company from Chairman Mitarai. One of the goals for this period and for the next 10 years, Mitarai said, was to build their medical offerings into a major pillar of Canon's business.
Consolidated net sales in 2011 were ¥3,557 billion ($45.6 billion), which was down from 2010 but above 2009 and, again, company executives expect this to improve year-over-year by some 6%.
Canon has always been a company led by technology and innovation and their continued investments in R&D show a commitment to innovation. They are consistently in the top 5 US Patent recipients and were #3 behind only IBM and Samsung in 2011. They invested 8.7% of net sales to R&D in 2011, which was higher than competitors.
Canon under Mitarai's leadership has 6 key strategies going forward:
1. Achieve #1 position in all core businesses
2. Develop new business through global diversification
3. Establish world-leading production system
4. Reinforce global sales capabilities
5. Build the foundations of an environmentally advanced corporation
6. Impart a corporate culture and HR befitting a truly excellent global company
We also heard from Group Executive of the L Printer Products group Yoshinori Ikeda, who gave an overview of the large format printer business. The company aims to be the #1 imaging provider - part of the 6 key strategies outlined by Mitarai. Currently Ikeda acknowledges some work to be done to bolster the Canon brand in this area, he pointed out the recent Océ acquisition gives the company a very broad product lineup that none of their competitors like HP and Epson have. The key distinction here is black and white CAD (missing at HP and Epson), and color CAD (missing at Epson).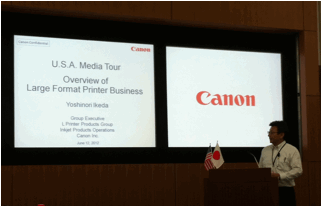 The Canon/Océ integration is still underway but Ikeda did note that Océ has a very solid and loyal customer base so it will take time to fully integrate the two brands and for now they will continue to operate as separate product offerings. One of the key reasons for the acquisition was to acquire high speed inkjet technologies and the integration of those technologies into Canon products is already happening.
We also got a glimpse of some new technologies and products that will be announced soon in a product demo, but many of these things were not yet announced so you'll have to stay tuned to WhatTheyThink for their announcements. Some of these are related to color advancements, while others follow the objective Chairman Mitarai outlined in his goal to make products "work together" better. All very exciting stuff.
We also got a chance to see a production facility in China. I'll cover this in more detail in part two on Monday.