Only four months till Graph Expo 2012, which is hard to even think about after 12 days at drupa 2012. But it is coming at us fast. At this drupa, I heard more than normal griping from my fellow members of the press corps about exhibitor press conferences. There's a message here, and I wanted to take the time to reinforce it, with plenty of lead time for exhibitors to respond. Some of the comments about drupa press conferences can be found here, here, here and here.
Here's the Challenge
Please:
No more "death by PowerPoint"
Please don't drown us in speeds and feeds; we can read as well as you can, maybe better
Easy on the paper … if you can't or don't want to invest in flash drives, give us a download site for a digital press pack. None of us wants to carry home 50 pounds of paper, and too much of it ends up in the trash or left on hotel room floors for the poor staff to clean up. Not a good use of your money or our time. European PR firm duomedia did a great post-drupa job of consolidating all press materials from all of its clients in one place online. Love it!
Every executive on your staff doesn't need to speak. Really.
Bring in some new faces. Kudos to Delphax for having Len Lauer, CEO of Memjet, at its press conference, and not just as window dressing, either; Mr. Lauer announced that Memjet had settled all of its legal issues … important information considering how many Memjet OEMs there were at the show. And Esko brought in parent company Danaher EVP Dan Daniel to speak not only about its organization and strategy for its acquisitions, but also to comment on its intent to acquire X-Rite Pantone. Nice to get some "face time" with a company that is gaining a larger footprint in our industry and one many of us didn't know enough about.
Of course, the Landa Nanographic extravaganza has gotten more than its share of coverage. But beyond that, Mr. Landa took the time to schedule a number of hour-long small-group "board room style" meetings with members of the press that were relaxed conversations where we were able to have a meaningful conversation and get to know the company on a more personal level. There were only five of us in the group I attended. I, personally, would do more of those if they are made available. And I think it is a good use of the executive's time.
Where are the customers? Without them, let's face it, you are nothing! Let us hear from them. At drupa, Highcon and EFI were two examples where customers played a leading role.
Do you have a vision for the future? Let us hear about it. Show some leadership. Our industry needs it.
Don't have anything new to share? Then don't hold a press conference. Too many of those, and we just might not be back next time, when there really is something new to share.
And Speaking of Customers …
For many of you, your booth could use some customer touches. If you can't get them to spend time in your booth speaking to customers, at least invest some time in making sure they are prominently feature in your booth, collateral ad signage. HP did a fabulous job of this at drupa, with huge signage all over the place featuring real customers with real quotes about how HP helped them grow their businesses. Not only was it great customer recognition, think about how excited (and increasingly loyal) those customers were when they saw themselves bigger than life. Here's an example: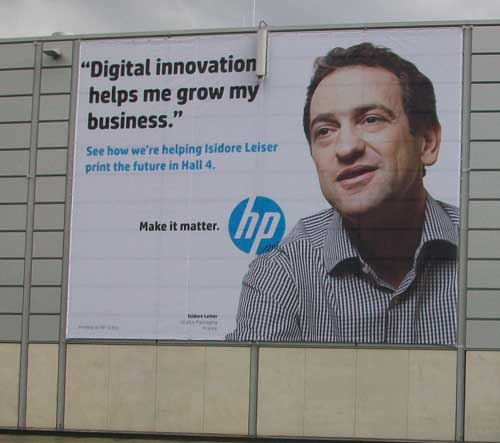 At drupa, HP and Xerox featured real customer examples and awards, as did EFI in its press conference. Canon/Océ had lots of customers featured throughout its stand. Xeikon had a "Customer Walk of Fame," featuring different customers each day. These are just a few examples and I hope we see many, many more at Graph Expo.
Oh, and you equipment manufacturers, why not offer to do real production for customers like HP did at drupa instead of having machines producing stuff that will mostly end up in the landfill?
Four months, lots of time. You can do it! I have faith in you! Maybe we can pull together as media attendees to vote on the best press conference(s) and the most customer-focused booth(s). Hey, GASC, there's a challenge for you … let's see some voting in the Press Center!