Encad's announcement last week of the NovaJet 1000i is another indication of Kodak's serious intention to increase its presence in the commercial print marketplace. Encad, a wholly owned subsidiary of Kodak, is part of the Commercial Print Division headed up by James Langley. The NovaJet 1000i is the first product to be jointly developed from Kodak and Encad technologies. At a press briefing held in Düsseldorf, Germany, in January, Encad's CEO Barry Lathan positioned the NovaJet 1000i as the fastest printer in its class, with photo-quality printer speeds of up to 150 square feet per hour. Kodak adds this product to its expanding portfolio of inkjet solutions, which includes recently acquired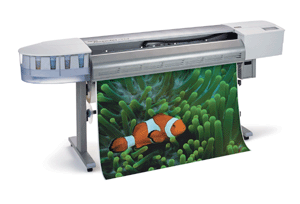 Kodak VersaMark (formerly Scitex Digital Printing).
The NovaJet 1000i incorporates a number of innovations, including Image Masking Technology, a print masking technique that incorporates a proprietary ink tiling method. It is the first product to use Kodak's new Quantum Inks for both indoor and outdoor applications. The NovaJet 1000i also features a unique Rapid Evaporation Drying System dual drying system which, via a heated nose and ambient airflow, dissipates moisture and allows prints to go straight to the take up reel, thus improving overall throughput.
Lathan indicated that a key initiative for Kodak's Commercial Print Division is the enhancement of its offerings in the workflow arena. The NovaJet 1000i is packaged with software that manages workflow with software enabled calibration, automated networking setup, and remote printer access. It also integrates tools for integrated job tracking, job accounting and supplies management.
As Kodak gears up for On Demand and drupa, we believe they are poised to make additional announcements that will serve to enhance its portfolio of offerings for the commercial print marketplace. WhatTheyThink will keep you informed as and when further developments occur.