As part of our series on drupa Media Week held in Düsseldorf the week of January 26th, drupa plans for the following companies are covered today:
Mitsubishi Heavy Industries, Ltd.
QuadTech
Inca Digital
Artwork Systems
Baldwin
Mitsubishi Heavy Industries, Ltd.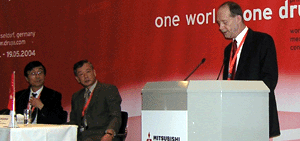 Mitsubishi was represented at drupa Media Week by Fumio Wakisaka, Deputy General Manager, Paper & Printing Machinery Division; Minoru Ota, General Manager, Printing Machinery Group; Tomoo Muraoka, President Directeur Général, Europe ; and James Gann, International Marketing Executive.
Mitsubish has a 40+ year history in the printing machinery business, since delivering its first press to the Japanese market in the 1960s. The company cites its expertise in paper machinery manufacture as a unique competitive advantage it has in the manufacture of printing presses, being the only company that manufactures printing machinery, paper manufacturing machinery and paper converting machinery. The company was founded in 1870 with its roots in shipbuilding. Today, this segment of Mitsubishi, one of several companies within the parent organization, manufactures over 700 different products, generates $25 billion in annual revenue and has over 60,000 employees. The printing and paper machinery business represents about five percent revenue contribution to Mitsubishi Heavy Industries and employs about 1,400.
Mitsubishi's drupa theme for 2004 is Contributions for your Success. The exhibit area will be divided into three primary zones:
Future Technology, including two unique products currently under development, the Reusable Plate System and the Diamond 16 MAX-V web offset press with variable cutoff. The Diamond 16 MAX-V web offset press with variable cutoff will allow printers to print A-size magazines, B-size inserts and American letter-size on a single press with a simple change-over.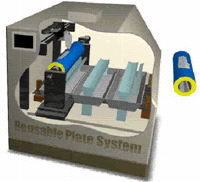 The Reusable Plate System, which will be used with web presses, will allow printers to reuse CTP plates (currently manufactured by Mitsubishi Chemical) up to 20 times without sacrificing quality. In the rewriting process, the original layer of polymer is removed, and a new polymer coating is sprayed on for reimaging. The rewritable plate has a life of 100,000 impressions per job and reduces aluminum waste by 95%. The company has chosen to pursue an offline production system for these plates for quicker press make-ready. In its current prototype model, it can erase and rewrite a plate in 14 minutes. The company has a target of reducing this to 3 minutes per plate by the time the product is commercialized.
New Technology, showcasing technologies that will be come available at drupa or shortly thereafter. Two presses from Mitsubishi's lineup will be demonstrated here, the Diamond 3000 TP and Diamond 3000 LX, both with new value-added features. The Diamond 3000TP, with its single-pass perfecting, will now have inline aqueous coating for high value added one-pass printing. It will also have a new plate changing system that enables simultaneous plate changing at all units. This means an 8-color plate change can be completed in just over 1 minute. The Diamond 3000LX will include new automation that streamlines the process of transmitting digital data to the press, including pre-set functions, shelf-checking and removal of printed output while the press is running.
Digital Zone, reflecting Mitsubishi's participation in CIP4 and NGP. This zone will demonstrate MAX-net, which integrates MIS and prepress into the press production process. In discussing Mitsubishi digital strategies, company representatives indicated the company is engaging in research and development of digital color press offerings that use liquid toner, but does not expect commercialization of such technology in the near term.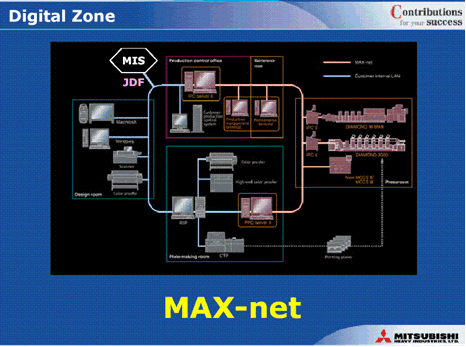 QuadTech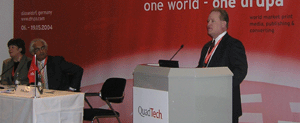 Karl Fritchen, who assumed the role of President of QuadTech (formerly QTI) following the untimely death of Harry Quadracci, kicked off QuadTech's presentation. QuadTech is a wholly owned subsidiary of QuadGraphics founded in 1979 to market QuadGraphics innovations to other printers. QuadTech employs about 660 people worldwide (225 of which are in Engineering) and produces 55 different products. Annual sales are just over $100 million, and 15-18% of sales is invested in R&D. The company launched its new corporate identity at drupa Media Week, with a tagline of Our Passion is Your Success.
Soma Patel, QuadTech's Technical Manager, unveiled QuadTech's drupa plans and the new products the company will show there (located in PrintCity), including:
Heliostat, an electrostatic assist (ESA) that improves ink transfer from gravure cells by the application of an electrostatic charge, suitable for both water-based and solvent-based inks. The product is applicable to both publications and packaging gravure.
Autotron 2600 Packaging, which delivers total register control for packaging, developed by PressTech, UK-based company acquired by QuadTech in 2002. It features MiniCam scanning head technology perfected for recognition of low-contrast marks.
Color Control System, a tool for comprehensive press optimization, which QuadTech categorizes as a prerequisite for effective Color Management. Customer experience indicates this solution can also significantly reduce paper wastage.
Data Central, a management information system that is a step toward a Lights Out pressroom. Its two primary functions at launch are automated setup via JDF data and performance reporting.
Inca Digital
Inca Digital was formed in 2000 and is one of several inkjet printing spin-offs from Cambridge Consultants in the UK. The company is venture-capital backed and manufactures flatbed piezo inkjet printers for creation of grand format displays and signs on rigid substrates, based on print heads manufactured by such companies as Spectra and Xaar. Inca Digital, which is now profitable, employs 98 and had 11.3 million in revenues in its year ending April 30, 2003. Inca was represented at drupa Media Week by Bill Baxter, Managing Director, and Heather Kendle, Director of Marketing.
Inca Digital will be showing two new products at drupa:
The Spyder 150 has a 60x40 bed size and is aimed at photo shops and as an entry-level solution for the graphic arts market. A prototype will be shown at the PMA show in Las Vegas in February. By drupa, the product will be ready for commercialization and will sell in the $300,000 range.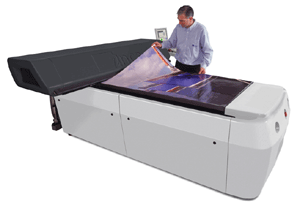 The company will also be showing an upgraded version of its Columbia flatbed printer that will represent the top of the line product for Inca Digital, is aimed at the short-run screen printing market for runs of 250 and below. A 3.2x2.2m wide version (10.5x7.2 feet) will be available as well as the 3.2x1.6m version (10.5x5.25 feet).
Inca Digital also announced a collaborative effort with Sun Chemical designed to commercialize single-pass printing in sheet-fed corrugated board printing for packaging. By single-pass, Inca means that the print heads are stationary while the materials pass underneath the print station with the entire width being printed at the same time. A prototype will be shown at the Print City stand at drupa. The technology is expected to be commercialized in 2005 and is expected to be able to address runs of one to 5,000 sheets, including variable data applications. The solution will support both PDF and JDF workflows. To deliver 200x300 dpi print at a 520 mm print width, the new product will sport over 4,000 nozzles per color. In the drupa demonstration, Inca expects to be printing at 3000 square meters per hour. Sun will provide inks and distribution for the product.
Artwork Systems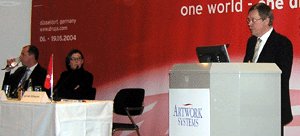 Guido van der Scheuren, Chairman of the Board, reported that Artwork Systems currently has 271 employees, 52 of whom are engineers. The company generates revenues of €45 million. Artwork Systems is the parent company of Enfocus, a wholly owned subsidiary.
Petra Tant, Product Manager, Labels and Packaging, shared the details of updates to the company's ArtPro and Nexus products that will be shown at drupa. Both products are being optimized for the packaging industry and will utilize PDF and JDF workflows, incorporating Enfocus PDF certification which maintains a complete audit trail through all editing and workflow phases. A second generation of its WebWay offering, a production-oriented collaboration space with links to production workflows, will also be shown at drupa.
The company will also introduce Mnemo (pronounced nimmo), an asset management solution for prepress production. Tant categorized the product as the prepress operator's infinite memory. The application runs on OSX with an SQL database.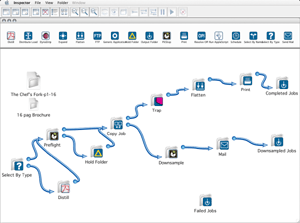 Filip Carrein, Product Manager of Commercial Color & Publishing, discussed the enhancements to the current version of its Odystar solution, the first product born from the synergy of Enfocus and Artwork Systems. The current version of Odystar is a native PDF 1.4/JDF workflow running on Mac OSX with a highly automated workflow and employing Certified PDF throughout. It features fully integrated PitStop technology and new trapping technology. Odystar is designed to easily integrate any hot-folder based application, supports AppleScript, and has a slick, intuitive interface. At drupa, additional functionality will include support for Runlist/Joblist technology, distribution across multiple platforms for load balancing, increased JDF support, and support for native PDF 1.5. WebWay and Mnemo will also be integrated with the Odystar workflow in a modular fashion.
Baldwin Technology Company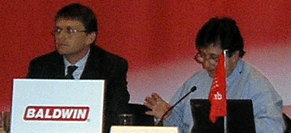 Shaun Kilfoyle, Vice President of Marketing and Vice President of Baldwin Americas, and Karl Püehringer, Corporate Vice President of Operations and Vice President of Baldwin Europe, took the opportunity of drupa Media Week to update the media on the current status of Baldwin's restructuring. Baldwin employs 530 people worldwide, a 30% reduction over the last two years, and revenues have increased slightly with continued growth projected through the end of FY 2004 (June 30).
Baldwin has refocused on its core business of press accessories and controls, with a successful turnaround effort over the last 24 months. These core competencies include cleaning, dampening, drying, ink & glue, fluid management, web controls and cleaning consumables. The company spends 8-10% of revenues on R&D.
During drupa 2004, Baldwin will feature an applied cleaning systems pavilion showing the P3 Series of its PREPAC technology, a self-contained press cleaning cartridge technology with a proprietary technology that is effective cleaning calcium carbonate buildups caused by use of lower grades of stock as well as single cleaning chemistry for UV, Hybrid and Conventional printing applications. The company will also introduce its Tower Clean System for cleaning single-wide newspaper and cold-set semi-commercial printing applications. To address European market trends toward reduced alcohol use in offset printing, Baldwin will be introducing the Digital Double Doser, providing for the precise control of alcohol. Baldwin will also unveil its S-18 Web Catcher, which catches a web break and prevents it from damaging printing units, as well as the LithoSpray Maxima spray dampening system for commercial web printing.